Liverpool prepares for the arrival of the Coca-cola Christmas truck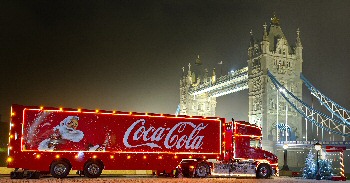 LIVERPOOL is preparing to welcome in Christmas with the arrival of the iconic Coca-Cola Christmas Truck as it departs on its nationwide tour headed for Liverpool's City Centre, where it will reach Church Street on Wednesday, 3 December 2014.

ON Friday, 28 November 2014, the unmistakable Coca-Cola Christmas truck will embark on its tour of 46 locations, starting its journey at the Scottish coastal town of Elgin and passing through Liverpool on its way to the South Coast.

People from across Liverpool will have the chance to take photos with the famous truck as it lights up (just like the advert), whilst enjoying a snowy winter wonderland setting, a refreshing Coca-Cola or Diet Coke and music from a live choir and a local band tipped by many as the next big breakthrough act from Liverpool.

The Coca-Cola Christmas Truck will arrive in Liverpool at 12pm on the 3 December 2014, stationing itself on Church Street in the City Centre where it will stay until 8pm, before continuing on its nationwide tour.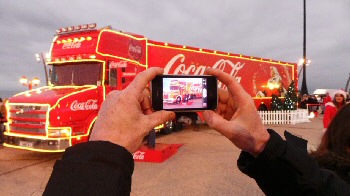 "To many, the sight of Coca-Cola's iconic 'Holidays Are Coming' advert signifies the start of the Christmas season" said Bryony Cox, Event Manager for Coca-Cola. "The advert has become an iconic part of Christmas and we're delighted that we can take the truck across country to give a little happiness to as many people as possible."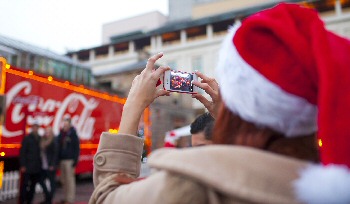 This year Coca-Cola is encouraging people to give a little happiness over the festive season. Alongside the 'Holidays Are Coming' advert, this year Coca-Cola has launched a new TV advert 'Give a Little Happiness'

The Coca-Cola Christmas truck tour has widespread appeal across the country and in 2013 it was more popular than ever with almost two million visits to the website to check out the route.
During the tour over 200,000 people appeared in the photos taken from the visits and throughout the Christmas campaign, festive cheer was shared 57 million times using #HolidaysAreComing.

Ever since the Coca-Cola Christmas truck first appeared on screens in November 1995, it has become a regular feature of festive TV schedules in more than 100 different countries. It is universally recognised as a personal countdown to Christmas. To follow the truck on its nationwide tour, visit:- holidaysarecoming.com.

Green targets smashed by Birkenhead shopping centre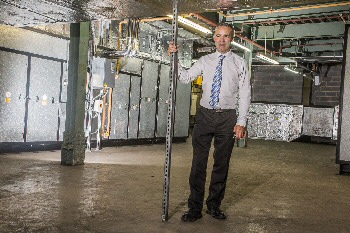 A BIRKENHEAD shopping centre has smashed its energy saving targets after investing more than £500,000 in the latest green technology systems.

Bosses at Pyramids Shopping Centre have been finding ways of making the popular Wirral retail hub more energy efficient in an effort to boost their green credentials and slash the £200,000 annual utilities bill.

In a 12-month period, running to July this year, the huge energy bill was cut by 13 per cent, triple their original target of four per cent, saving the shopping centre a grand total of £26,000.

The environment conscious overhaul has included a hefty upgrade of the heating system in the indoor part of the shopping centre and the latest LED lighting and energy efficient lift systems and equipment such as barriers within the Pyramids car park on Salisbury Street. There are also more energy efficient pay on foot equipment in both the shopping centre's car parks.

Derek Millar, Commercial Director for Pyramids Shopping Centre, said:- "Our efforts to improve our energy efficiency do not stop here because there are more plans, which we are close to rolling out, for similar improvements with LED lighting in the outdoor part of the shopping centre and new energy efficient fittings in the Conway Street car park. Our energy efficiency savings graph will be a sliding scale upwards in the next couple of years as our energy consumption starts to go down drastically. This work is important for a number of reasons. We know we have many shoppers who are interested in our green credentials. Helping to protect the environment is important to them and as the main shopping centre in the Wirral, they want to know we are doing our bit to support the green cause. Also bringing down the energy bill is important and part of our commitment towards the businesses which Pyramids Shopping Centre is home to. If we can make savings in this way, this is reflected in the service charge they have to pay and so it is great news for our existing tenants but also for attracting new businesses who are looking to open here."

It was announced last year there would be a £1m investment programme at Pyramids Shopping Centre and this included the £160,000 upgraded heating system in the indoor part of the scheme which has now been installed. But in the shopping centre's efforts to boost its green reputation, almost double that has now been spent on improving its energy efficient technology.

The busy shopping centre is home to around 140 stores and eateries including a host of high street favourites such as Next, The Body Shop, Marks & Spencer, H&M, River Island, Burger King, and Greggs.

Tommi Collins, Manager of The Body Shop at Pyramids Shopping Centre, said:- "I think this is terrific news and shows a commitment from the shopping centre to the community and to protecting the planet. These are values which fit in very well with our business and we all need to do our bit to stop impacting so heavily on the environment. I think it matters to our shoppers too and I will definitely be sharing this news with them. We would also be in favour of anything which saves our business money too because it is this sort of cost cutting which means you can look to spend money elsewhere, perhaps on refreshing the look of the store and improving the shopping experience for our customer."

The shopping centre also has a strong recycling record with 100% of all glass and cardboard collected being recycled. The latest figures, from April to June of this year, show the shopping centre recycled close to 90% of all its waste.