Liverpool ONE welcomes Côte Brassiere in to the City Centre
Photographs by Patrick Trollope.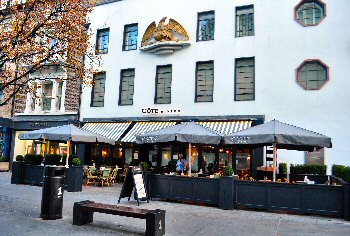 THE venue is not only historic, but also a must see for US Tourists; and the food is amazing! Côte, is now open and its 2,707 sq ft restaurant at Liverpool ONE's Paradise Street, is something to shout about! The French brassiere chain's Assistant Marketing and PR Manager, Josie Price, who is also a fully qualified chef, told our Editor that:- "We took a very long time picking the correct venue. We wanted history and also an interesting building to open our bistro restaurant in." As Josie said, they wanted history and what an amazing location to pick! The restaurant is in what was the World's First overseas US Consulate, opened in 1790. It was founded by the then fledgling United States of America due to Liverpool's importance as centre for transatlantic commerce and a vital trading partner for the former 13 Colonies. It was opened by Consul James Maury, in that year; it stayed open until 1962. Since then the venue has changed hands and uses. For a period of time it became 'The Eagle Pub', until the redevelopment of the area and Liverpool ONE was built. After Liverpool ONE opened it became a Sony Centre store and now it is a Brassiere! The brand has traditionally been focused on the South and South East of England, but in recent years it has been expanding to key locations throughout the UK. The only other in the North West to date is in Manchester, but none of them have this history! In fact the large Golden Eagle that it retained throughout its history remains above the door... Well, an identical fibreglass replica, as the originals are now being preserved and are roosting inside Museum of Liverpool, at Pier Head, following a 2 year restoration project by National Museums Liverpool and Grosvenor Estates, who own Liverpool One. Harald Samuelsson, joint managing director of Côte has told the press that:- "Liverpool has a thriving restaurant scene, driven to a great extent by the success of Liverpool ONE. These factors combined made our decision to debut in the City an easy one. We are in a fantastic and well established location, and look forward to bringing great value, high quality all day French dining to Liverpool." When our Editor Patrick Trollope met up with Josie, he had to sample some of the delightful food on offer, so as it was formerly US territory, and on Josie's recommendation he tried the Steak. "To do a good sirloin steak it is extremely hard. I have had many over the years, but this one; I have to say was amazing! It was not stringy... It had amazing taste and texture, plus it smelled divine. That was before I added the Peppercorn Sauce. When I got the 10oz, I wanted to use my fingers to prod it, to see if it was bouncy or firm, but held back. Josie looked quite amused at my reaction. I quickly distracted myself with the chips, that came in a small tub, wrapped in paper, but I will get back to that part of the dinner. I think you can guess, I'm very fussy about my meat and I like my steak Medium, but more on the Well than the Rare side. It should have a slight hint of pink, but also slightly browned, but not to the point of no return! If fully brown, well that is just a waste of a piece of good quality meat... Also, in my view, lightly done, ie. rare, might be tender and juicy, but that is to close too uncooked for me. This is cooking, to a customer's taste is extremely hard for a chef to do, but they did it as close as you can to perfection! Dark brown, followed about a few millimetres of light brown, this was spot on! When I cut in to it the meat was so easy to slice. It also oozed flavour in the mouth and I nearly forgot the sauce and the chips. Then I thought I should put the chips on the plate and add the sauce. Sadly, I was driving, so I could not have wine with it, so I had a pot of tea, but I did not want to drink it... If I was going to have a wine, a Cabernet goes well with steak and the Cote, being French have many amazing wines to offer. Again, more on that later... I did not touch the tea till after the food, as I did not want to spoil the taste, if you are wondering. Anyway, the sauce was also very nice, not over-powering and very complementary to both the chips and also to the steak. Often when you have Sirloin steak, it comes with chunky chips, but this came with delicate ones, about the same size as you would expect at McDonalds. They were fantastically cooked, just as the steak, not burned and had a light golden skin, whilst inside they were white, fluffy and soft. Oddly when added to the sauce, they soaked it up, but did not disintegrate as so many do. I finished it and was extremely satisfied. I never, well not normally turn down desert, but I did this time... Even though it was being offered to me, as a lunch, this was extremely filling and satisfying as it was. Talking to others who had been in, and from my own experience, I can say, it is full of gastro delights and I will return and try out more of the menu... The staff and the ambience are also extremely pleasant. It is also good not to have annoying over powering music, that is common in many restaurants now. The age of most customers is from 25 upwards. It's not a student or young person's venue, so being next to the Hilton and the Liverpool John Lewis, is probable the best location for it. I look forward to seeing how this restaurant evolves. If it holds as it is now, well, it will be one of the best in the City, and with fantastic prices! As for the wine, well we kindly got 2 sample bottles to try... We will tell you more after Christmas about them!" said Patrick. The total area of eating establishments in Liverpool One, which range from grab-and-go operators to premium casual dining, total almost 40,000 sq ft. The new additions also include a number of other North West and Liverpool firsts, such as Bill's Restaurant, Byron, TGI Friday's, Tortilla and Hotel Chocolat's Cocoa Bar Café. Côte brings to 10, the number of catering brands that have now joined Liverpool ONE, since January 2013. For more information about the venue go to:- Cote-Restaurants.Co.UK.
| | |
| --- | --- |
| | YOU CAN ORDER PHOTOS CLICK HERE TO FIND OUT HOW! |

KEEP up-2-d

ate




with our free daily news emails.



Are you subscribed? Si

g

n

u

p

today

to

our daily email news service via... Formb

y

-

Re

p

orter

.com



If you subscribed you can keep in up-to-date with what's going on in and around Merseyside. It is free and we do not send out massive amounts of emails. Your email is kept under the UK's Data Protection Act, so you can be sure that you will not have problems.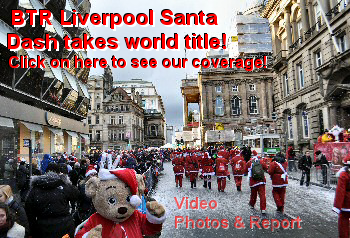 --- MORE NEWS REPORTS BELOW ---

Prowse and Amsterdam + Rain + Eoin Glackin played live at the Arts Club, Liverpool...
Click on here to see

more about the gig!

Loom band life line for children with cancer
Southport's Christmas Baubles damaged by high wind
Jude the Giant to Light up Estate
Commissioner urges partners to keep funding PCSOs
Travel Money Bureau - Debenhams - Readers Offer
Reminder - West Lancashire Light Railway Santa Specials
The Little Thearter will be playing host to:- "Dock Wittington and his Cat!"
Public welcome at Trust board meeting
United Utilities urges Winter Wise warmth towards older people in Southport
Record number of cruise ships set to sail along the Mersey
Southport Co-Op and the Royal British Legion Commemorate WW1 Christmas Pudding Donation
8 arrested after nationwide fuel fraud raids
A festive chapter for youngsters
Join us at the NSPCC's Liverpool Carols by Candlelight concert
Police pick up award for outstanding contribution to road safety
Our Lady Of Lourds Cathlic Nursery and Primary School unveils results of a £50k Energy Makeover
Hospital nurse joins fight against ebola virus in Sierra Leone
BTR Liverpool Santa dash takes world title
10 point plan to tackle empty properties in Liverpool
Witness appeal after suitcase stolen from train at Liverpool Lime Street
It's beginning to look a lot like Christmas!
Karen Potter Craven Minor JFL
Cyclists told to stay safe and stay in the law
Children's diabetes team among England's best
New cancer centre for Merseyside and Cheshire moves a step closer
Play partnership to support families in Liverpool
'Chadafusion' Restaurant is a "hidden gem" in Southport!
Click on here to see

more about the restaurant!

Santa Cam 2014 is on it's way!

WE are getting ready with our new high tec webcam, night vision camera is being got ready to capture his movements this Christmas on Merseyside. In the past, most of you complained that the image was at times extremely dark, so this year we hope to get an even better picture. The webcam will be active as normal over Christmas Eve and Christmas Day. The page will have the normal Santa Cam World Wide Network links as well as some new additions. So if you have kids who want to see Santa fly past or if you want to watch out for him as well, well log on to here next week for the link and times of activation. Please note that we can not guarantee we will capture him as he fly's over, but he has said he will wave as he goes past!

| | | |
| --- | --- | --- |
| | Click on to read on! | Click on to read on! |

...HAPPY BIRTHDAY...


Sophie Cowley, Happy Birthday from all of us on the catwalk...

Patrick Trollope - Happy Birthday!

Email us to put your or a friends birthday in one of our editions...


If you have someone you want to say happy birthday to, for free, then use the email address below to send us the names you want us say happy birthday to, and/or a photograph. Email us today!
B.O.A. 70th Anniversary DVD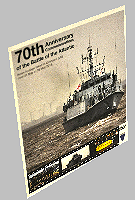 THE video footage we have taken at the 70th BOA events this year in Liverpool has now been fully edited is available to buy, on a DVD, from our Online Shop, on Mersey Reporter very soon. For each DVD sold, £3.00 will go to the Liverpool's Lord Mayor's Charity Appeal. (Registered Charity No. 229539) At this stage we can only do UK postage options, but if you are outside the UK, you can still order copies, but only via emailing our newsroom at:- news24@merseyreporter.com with your FULL address and we will get back to you with a postage cost and a payment link, should you wish to continue.