Ditch the gym - sing your way to a New You this New Year!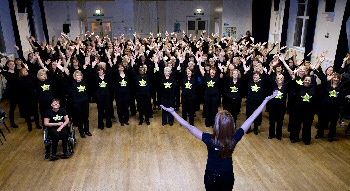 NEW Year is typically the time for New Year's resolutions based around getting fit and losing weight but your local Rock Choir is offering the chance for a different way to improve your overall health and increase your chances of getting a little more of that illusive work life balance in your life!

Studies have long supported the notion that singing in a group has a multitude of health benefits, as it's an uplifting and engaging experience. Singing in a choir encourages team work and the sense of reaching a shared goal in addition to being a great opportunity to make new friends and expand your social life.

A 90 minute session at Rock Choir can also burn in excess of 200 calories as the choir members not only exercise their lungs, but also spend time on their feet learning dance moves. Local Rock Choir leader Anthony Seaman, who runs fun weekly session in Birkenhead, Liverpool, Maghull / Ormskirk, Southport and West Kirby knows first hand how much singing as part of the choir has helped local choir members. "It's amazing to see how much the members benefit from taking part in Rock Choir on a weekly basis. I've seen confidences grow and friendships develop and it's awesome to see, especially when they have taken part in a performance!"

Researchers at the Sidney De Haan Research Centre for Arts and Health at Canterbury Christ Church College found that the positive feelings also counteract feelings of stress or anxiety and help to distract people from internal negative thoughts and feelings. According to Professor Stephen Clift FRSPH, Co-Director of the Sidney Haan Research Centre:- "Singing, especially in a group environment such as Rock Choir, encourages deeper, more controlled breathing, giving the lungs an exercise work out. It also gives a boost to the immune system, reduces stress levels, improves mental wellbeing, enhances concentration and memory and builds confidence."

Rock Choir wants to get the nation up on their feet singing and having a great time meeting new people in their local area and is inviting everyone to come along for a FREE first session. To register go to:- RrockChoir.com/NewYou15.

Rock Choir is the UK's largest contemporary choir, with more than 17,000 members in over 300 local communities. There are no auditions and no requirements to read music or have any previous singing experience. Rock Choir members get together each week to attend fun, friendly rehearsals where they are taught specially arranged pop and rock songs. There are lots of exciting performances throughout the year and many of them help raise money for charity. For a free taster session or more information about times go to:- RrockChoir.com or call:- 01252 714 276.
Get your 2015 off to a winning start with Arrival
THIS New Year could bring many reasons to celebrate for 1 lucky bus user in the North West, as Arriva is giving away the chance to travel for free throughout 2015. Arriva, which operates services across Southport, is rewarding people who visit its website to take advantage of the discounted online prices that are being offered on all 4 weekly tickets until the end of January, by entering them into a free prize draw to win an annual travel pass. Debra Heaton, marketing and communications manager from Arriva North West, commented:- "Our 4 weekly travel passes already offer great value to our customers, presenting at least a 40% saving when compared to purchasing daily tickets. But, by buying online this month, people can still take advantage of an additional 10% off the cost of a 4 weekly ticket*, making bus travel even more affordable for savvy bus users. These online prices will no longer be available after 31st January, so as an extra incentive to those looking to invest their money wisely this New Year, we're also giving people the opportunity to travel for the next 12 months for free if they buy online. Unfortunately, good things cannot always last forever, so if you want to scoop a New Year bargain, and also be in with the chance to clear the rest of your travel costs for 2014, the time to act is now!" Arriva's 4 weekly tickets enable unlimited travel throughout your chosen area. You can purchase up to 3 months for free at the special web price, and activate them when required. Each purchase will earn another entry into the prize draw. The winner will be selected at random week commencing 5 February 2015, and notified thereafter. For more information, plus terms and conditions visit:- ArrivaBus.co.uk/last-chance. Timetables and information about your local services can be found at:- ArrivaBus.co.uk/North-West.

* See Arriva Bus website for Terms and Conditions

North West Ambulance Service Director on the New Year's Honours List
THE North West Ambulance Service (NWAS) is very proud to confirm the award of the Queen's Ambulance Service Medal in this year's New Year's Honours List, to its Director of Operations, Derek Cartwright. Derek, who has worked for the Ambulance Service for almost 30 years, is 1 of 5 recipients of the medal, which is awarded to members of the NHS Ambulance Service who have demonstrated exemplary, distinguished and meritorious service. Based at the Trust's headquarters in Bolton, Greater Manchester, Derek, regularly travels the length and breadth of the region to fulfill his duties and is the second NWAS manager to receive the award after Cumbria and Lancashire Head of Service, Peter Mulcahy in 2012.

Chief Executive, Bob Williams, who nominated Derek for the award comments:- "I've known Derek for a very long time and his commitment to the Ambulance Service, and in particular its staff, is unending. He is a great asset to the Trust, a much valued member of the Board and this award is very much deserved. I'm very proud to call him a colleague and pleased he has been recognised in such a prestigious way."

Derek started his Ambulance career in 1986, working on the patient transport service for two years before progressing into the emergency service. He continued to develop and rise through the ranks, taking on training and management roles before being appointed onto the former Greater Manchester Ambulance Service Board in 2003.

On establishment of the North West Ambulance Service in 2006, Derek was appointed to the post of Area Director for the Cumbria and Lancashire area and subsequently became the Director of Emergency Services for NWAS in 2009. Derek was appointed as Director of Operations in March 2014 after acting to this role since 2012.

Talking about his award, Derek comments:- "I'm very proud to be awarded the Queens Ambulance Medal. I wish to thank the North West Ambulance Service for my nomination and also my family who have supported me over the years in the work I do, which at times can lead to a very disruptive family life, I can't remember when I last saw in a New Year at home with my family! My career with the Ambulance Service spans almost three decades and throughout that time I have worked with a lot of great people focused on providing the best possible service to the people of the North West. My acceptance of The Queens Ambulance Medal is on behalf of all those good people many of whom continue to work tirelessly to improve the quality of the service that we provide for our patients."

Derek lives in Bolton with his wife Joanne, has 4 grown up children and one grandchild who keeps him on his toes! He is a lifelong supporter of Bolton Wanderers, an active and Registered Beekeeper and, keeps chickens.
Chief Superintendent Jon Ward has received the Queen's Police Medal
FOLLOWING the announcement that Chief Superintendent Jon Ward has received the Queen's Police Medal in the New Year's Honours List, Chief Constable Sir Jon Murphy, said:- "On behalf of all the officers and staff of Merseyside Police I would like to congratulate Chief Superintendent Jon Ward on receiving his Queens Police Medal in the Queens Birthday Honours List. I am sure members of the public will also join me in thanking him for his commitment to the force in helping to make Merseyside a safer place. Jon has 28 years experience and is held in high regard by his colleagues. I am delighted that he has received this honour in recognition of his commitment and dedication to the Police service."
Chief Supt Jon Ward, who originally comes from Grange-Over-Sands, Cumbria, joined Merseyside Police in 1987 as a Constable and now Area Commander for Liverpool North, said:- "It is a real honour to have received the Queens Police Medal and at the same time it is extremely humbling. I could not have achieved it without the help of the many colleagues and partners from other agencies I have worked with over the years and most notably the support of the communities where I have had the honour to serve. I joined Merseyside Police as a Constable back in 1987 and my first beat was in Sefton. Since those early days, as well as returning to Sefton I have worked in Liverpool, St Helens and Wirral in various ranks and have had the pleasure of working for a fabulous force with colleagues who are committed to providing the public of Merseyside with a 1st class Police Service. I would like to thank my family, and also colleagues from both the force and the many partner organisations I have worked with over the years. There is no doubt in my mind that the honour I have received also recognises their support and commitment to the people of Merseyside"