Sandstormers!!!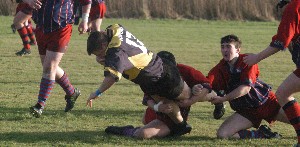 Photograph by Patrick Trollope.
SOUTHPORT Rugby Team, The Sandstormers were left furious by the tactics of Widnes St Maries A team last Saturday - as angry supporters, players and officials protested at their loss.

The match kicked off with Widnes using Southport as another excuse to warm up five first-team players in the wake of the cancellation of play in the conference league, notably eight divisions higher than their lowly opposition.

Widnes with this in mind may have been expecting a walk over, but with the sturdy resilience that Southport presented with such tactics in their last meeting, this was not to be.

The first half progressed with Widnes laying down the first try within minutes of play. But the response from the opposition was swift and immediate after a near length of the pitch run by Dave Sewall leaving Widnes' defense in disarray.

This was the start of what Southport hoped would be a mauling as the half continued to attack with superb running from Chris Brown, Sewall which saw a conversion on the second of many tries to come.

Indeed the grim determination in which the players from Southport played paid off. The tries from Simone Shakespeare, Neil Lawton and Frank Dunn were followed by two more tries from Brown. Widnes was left to gauge a half time gap of 18-4 from what seemed an unstoppable opposition.

But the turning point of the game had yet to appear. Widnes' coach made the decision to add a further 4 first team players from the substitutes bench to the squad in his bid to master the Southport steam train in which two were Great Britain internationals..

A great battle of tackling ensued in this second half, but this move from a rather unscrupulous coach put the final nail in Southport's coffin. As quality of the Widnes play showed over its opposition and tries flew in on the Southport try line. This left a series of rather dubious decisions from the referee, giving enough reason for concern that an element of bias in favour of Widnes swayed the match, resulting in a 32-18 romp.

Despite the tirade of tries that Southport suffered during the second half, their final consolation amid furious protests saw Simone Shakespeare earn man of the match for his excellent command of the pitch.

But a bitter taste was left in the mouths of Southport players and officials. Indeed coach Doug Parkin has now forwarded an enquiry into the validity of the match result given the fact that Widnes were allowed to field almost all of their first team for this match.