New plan to secure rail services for the North
"RAIL services will be maintained and capacity on key routes will be increased as part of a deal to secure additional rolling stock for the North of England" announced the Transport Secretary, Patrick McLoughlin on 8 January 2015. A spokesman for the Department for Transport said that:- "the plan means that existing rail services will be maintained from May 2015. This follows a decision by rolling stock leasing company Porterbrook to move trains running on the TransPennine Express route to the Chiltern franchise. In addition, the Department for Transport has agreed a plan with the operators of the Northern and TransPennine Express routes to offer more carriages and seats."

But the Rail UNION RMT said it has:- "exposed the truth" behind this:- "much hyped, new trains for the North" spin from the Government which unveiled a block of new campaigning events and welcomed the news that 2 more big local authorities, Lancaster and Newcastle, have passed motions condemning the cuts plans wrapped up in the franchise plans for both Northern Rail and Trans-Pennine Express. Patrick McLoughlin said:- "Rail services across the North are vital for passengers and for the economy. By helping people access work and leisure more easily, we are securing long term economic growth across the region. That is why we have worked hard with Northern and TransPennine Express to ensure we expand services and enhance passenger journeys."
Department for Transport said that:- "Over the coming months, the agreement will deliver a number of benefits to passengers." Department for Transport also added that information about the following services:- "We are adding more carriages between Manchester and Blackpool! Capacity on selected services between Blackpool North and Manchester Airport / Manchester Oxford Road will be increased, providing extra seats for the benefit of passengers in destinations including Preston, Bolton and Salford. Plus additional capacity on Cumbrian Coast services Longer trains will provide extra capacity to Carlisle, Maryport, Workington, Whitehaven, Sellafield and Barrow-in-Furness, with potential to create additional jobs. There will also be an enhanced early morning service from Carlisle to Sellafield, arriving in time for the morning shift at the Power Station. Also we are committed to adding electric trains on Manchester Victoria to Liverpool and Liverpool to Preston routes. Refreshed electric trains, providing faster, smoother and greener journeys, will be rolled out on busy commuter routes between Liverpool and Manchester Victoria from May, at a faster rate than previously planned. In addition, refreshed electric trains will be rolled out on the Liverpool to Preston route in the autumn of 2015. This will free up existing diesel trains to create additional capacity elsewhere on the north's network. That is not forgetting we are revising services for South Cumbria and Windermere. A new 10:53am service from Windermere to Manchester Airport will be introduced, while the existing 13:33 service from Barrow-in-Furness to Manchester Airport will depart at 12:13pm, to provide more balanced services throughout the day. The 6:18am Manchester Airport to Barrow-in-Furness service will no longer run, but a new, direct service, the Manchester Oxford Road to Barrow-in-Furness, running from 17:14, will be introduced, with a connection for Windermere. We are have also revised services on the South TransPennine route. An hourly service will be maintained between Manchester Airport, Sheffield, Doncaster and Cleethorpes. The vast majority of these will remain as direct services. Limited amends are planned, with customers for the 15:55 between Manchester Airport and Cleethorpes and the 16:26 Cleethorpes to Manchester Airport needing to change at Doncaster. Lastly, changes will be made to services between Manchester, West Yorkshire, North Yorkshire, Yorkshire Coast, Humberside and the Northeast. All services will be operated with a minimum of 3 carriages or 181 seats, whereas at present some services on the route are operated by 2 carriage trains with 116 seats."
But the RMT added in a press release that:- "The 'new' trains' story is pure Government spin. The 156 classed units being borrowed from Northern are 28 years old, and are replacing modern 170 classed units which are going south to Chiltern railways, because the rolling stock outfit Porterbrook can extract more money out of Chiltern than they can out of Trans-Pennine Express. The extra capacity claims are also exposed as completely bogus, as the aging 156 units are going to run as two coupled together giving a capacity of just four carriages; whilst the 170 stock they are replacing are three cars that can be coupled as well, giving a 6 car set. The announcement coming out shortly for the Cumbrian coast, which the minister referred to is also being spun to mislead the public as it will amount to nothing less than freight locomotives pulling what are in effect heritage carriages. Against this background of smoke and mirrors being puffed up by the Government and their spin doctors, 2 more major local authorities have joined the growing list opposing the Northern and TPE franchise plans." But the RMT did say that:- "Newcastle and Lancaster; is a move welcomed by us in the RMT and is more evidence that our continued campaigning is winning top level support in communities right across the North." Also the RMT has publicly expressed its "surprise that Lib-Dem's in Newcastle abstained on the issue; showing again just why they are sinking without trace as a political force as they cling on to the bankrupt policies of their Tory coalition partners."

RMT also commented:- "The government has been forced to confirm in writing that the Invitations to Tender (ITTs) for the new Northern and TransPennine franchises will be delayed into February at the earliest, but there are now growing uncertainties at the DfT about the current TPE franchise extension and problems over the electrification in the Region that look like dragging on well into the new year."

Nick Donovan, Managing Director for First TransPennine Express (FTPE) said:- "A great deal of background work has been undertaken by ourselves, Northern Rail and the Department for Transport that seeks to ensure capacity and frequency of FTPE services across our network is maintained for the timetable change in May 2015. I am delighted that we have been able to work together and develop a plan that aims to protect rail services for the huge majority of customers in the north of England and, indeed, deliver some additional capacity at a time when demand across our network is higher than ever."
Alex Hynes, Managing Director, Northern Rail said:- "Rail travel is increasingly popular in the north of England placing capacity at a premium. That is why we have been working with First TransPennine Express and the Department for Transport to ensure customers would not be disadvantaged by the loss of some FTPE trains. In doing so we are delighted to be able to provide more seats for customers on some of our busiest routes. Through deploying more electric trains to take advantage of newly electrified routes, we are able to help maintain capacity for FTPE and add more seats for customers in Cumbria, Lancashire, Greater Manchester and Merseyside."

RMT General Secretary Mick Cash said:- "The bluster from the Government about 'new trains for the North' has been exposed as a pack of spin, subterfuge and downright lies. The truth is that the more modern rolling stock is being shipped south, with aging units, running reduced formations, dumped onto Trans-Pennine Express in yet another lashed-up measure which is an insult to the whole region. While George Osborne has been spouting a stream of rhetoric about a 'Northern Powerhouse' the real truth is that the whole region can expect sub standard, bodged up services for many years to come. RMT activists and our supporters in the community will continue to be out in force across the region in this New Year with a renewal of our fight against the rail franchise carve up. RMT's message is clear, the fight to stop the outrageous attack on jobs, safety and services under the Northern and TPE franchise plans continues in 2015 and the union is sending out the clearest possible signal to George Osborne, his Government and Rail North that they need to scrap this attack on transport operations and to cut the hot air about improving services when they are actually condemning the North to years of rail misery."

That RMT campaign is now taking what it says are "5 key messages" out to the travelling public:-

► SAY NO to Driver Only Operated Trains.

► Keep OUR Ticket Offices Open.

► Keep OUR Stations Staffed and Safe.

► STOP CUTS to the Transpennine Express Network.

► OPPOSE Massive Fare Increases.

The list of new campaigning events is as follows:–

LANCASTER - On Monday, 12 January 2015, between 16.00 and 18.00, the RMT will be meeting outside Lancaster Railway Station.

MANCHESTER VICTORIA - Monday, 12 January 2015, between 16.00 to 17.00, meeting outside Manchester Victoria Railway Station

BARROW-IN-FURNESS - Tuesday, 13 January 2015, meeting between 08.30 to 11.00, outside Barrow-in-Furness Railway Station.

BLACKBURN - Saturday, 17 January 2015, meeting between 10.30 to 12.00, outside Blackburn Railway Station.

Find out what else the government is doing to support and grow the UK economy:- gov.uk/government/topics/uk-economy.
What are your thoughts on this? Please email us and let us know by emailing us to:- news24@southportreporter.com.

British Transport Police officers help canine commuter find her way home in a tail with a happy ending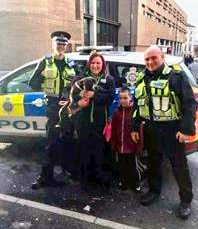 THE British Transport Police Officers were on hand to make sure a 4 legged passenger was reunited with her family after she hitched a ride on a Northern Rail service.
Princess, a 4 year old Staffordshire Terrier, found herself far from home after she escaped from her back garden in Rochdale, on Friday, 2 January 2015, and headed to Castleton Station where she hopped on board a Northern Rail train to Manchester for a doggy day trip.
She jumped off the train at Manchester Victoria, where she was met by Station Staff, who handed her over to PC Christopher O'Connor and PCSO Lee Howard.
When they realised Princess was travelling alone, they set about attempting to find her owners with PC O'Connor tweeting an appeal for help from his Twitter Account. This was then retweeted by colleagues at Greater Manchester Police and Northern Rail while PC O'Connor and PSCO Howard set off, with Princess in tow, to the Dogs Trust to have her scanned for a micro chip. And thanks to a lot of teamwork and the power of social media, Princess' owners, the Hughes family, were soon tipped off that she had taken a trip into Manchester on the train!

Amanda Hughes said:- "I knew she'd got a train into Manchester within 40 minutes of her going missing. I'd posted it on my facebook account and someone replied saying they'd spotted her on Twitter and facebook. They said they were sure it was Princess, but I thought it's just not something she would do. We don't live far from the Station, but we always walk her in the other direction, so how she found her way there and then jumped on a train is a mystery, but she is a bit of a character."

Now recovered from her adventure, and with a new micro chip, it's unlikely Princess will be getting a rail pass anytime soon... "The funny thing is, when I collected her and we went home on the train she was scared stiff yet she managed to make the journey all on her own. I can laugh about it now that she's safe and sound, but at the time we were worried sick." added Amanda.

PC Christopher O'Connor who, along with PCSO Howard, escorted Princess to safety after her adventure said:- "She's a lovely dog and she was a real pleasure to deal with, she was so affectionate and friendly. This was definitely 1 of our nicer jobs, we got a great deal of satisfaction from seeing her get home safely. It's great to think that, thanks to a lot of teamwork with colleagues at Northern Rail and Greater Manchester Police, there was a happy ending."
Unite Student Gets Call Up From GB Team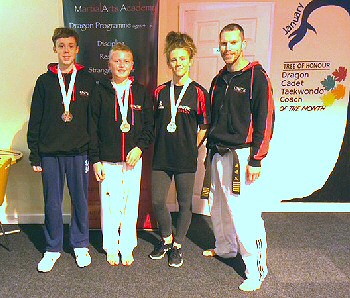 UNITE Martial Arts Academy are celebrating the remarkable achievements of 1 of their students this week as he was selected for the Taekwondo national development squad after starting classes only one year ago. Joe Dove recently put on an excellent performance at the National Championships in September, bringing home a Silver medal amongst a very strong field. Joe will test his skills and train amongst the best athletes in the country at the Taekwondo national performance centre in Manchester and benefit from world class coaching and performance analysis. This will give him a great opportunity to hone his technique and look towards competing at international level. If you would like to try Taekwondo Unite offer 4 free classes for age 4+ including Olympic style sparring, we are based at Tulketh Street, Southport and Mayflower Est, Formby. Visit:- UniteMartialArts.com for more info or call:- 01704500323.
Bag containing passport and flight tickets stolen from train at Manchester Piccadilly.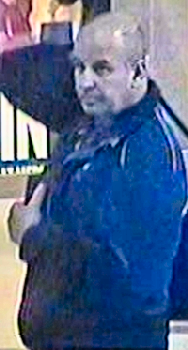 THE British Transport Police have issued a fresh appeal to track down a thief who stole a bag, leaving its owner stranded in the UK for Christmas.

Officers have eliminated from their enquiries a man they initially wanted to speak to and have now released images of another man they think could have vital information that would assist the investigation.

The incident occurred at around 2pm on Tuesday, 16 December 2015, as the victim travelled from Hull to Manchester Airport to spend Christmas with his family in China. His bag, containing his passport and tickets, was stolen from the luggage rack on the train.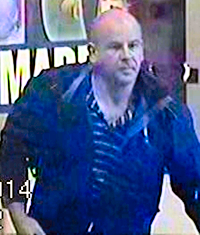 Investigating officer PC Carly Rickwood said:- "When the victim changed trains at Doncaster he stored his bag in the overhead racks. When the train arrived at Manchester Piccadilly he looked up and realised that his bag had been stolen."

Officers believe the man in the CCTV image could have vital information about the theft and urge him or anyone who recognises him to come forward to assist with their enquiries.

PC Rickwood added:- "The bag contained the victim's passport, his flight tickets to China and expensive electrical equipment. Sadly because of this act the victim missed his flight and could not see his family at Christmas. Theft at anytime is bad enough but at Christmas, supposedly the season of goodwill to all men, it seems particularly cruel, especially when it has prevented the victim from spending this special time of year with his family. If anyone has any information please contact British Transport Police on:- 0800 40 50 40, or text:- 61016, quoting reference:- PSUB/B6 of 05/01/2015. Information can also be passed anonymously to the independent charity Crimestoppers on:- 0800 555 111."