Tony Schumacher at Formby Books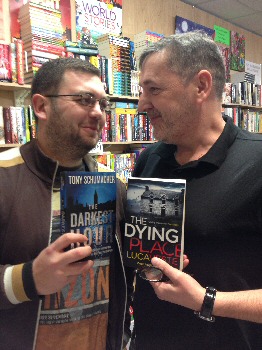 ON Saturday, 17 January 2014, from 11am to 12 noon, the Liverpool based crime/thriller author, Tony Schumacher, will be at Formby Books. He has just hit the charts in both the US and UK and looks likely to have a film deal soon. 'The Darkest Hour' is a gripping and fast paced thriller similar to John Le Carre, Philip Kerr and 'Frederick Forsyth'. Set immediately after the end of WW2, he has like others decided that the Germans won and his hero is a Gestapo investigator, but as Tony is an ex-Policeman he has worked exceptionally hard to make sure he delivers a fast paced thriller that will stay in your memory for ages... Pop on down to Formby Books, 22 Chapel Lane, Formby, Liverpool, Merseyside L37 4DU, UK and find out more!
'Stretched Limousine' is crusted!
MERSEYSIDE Police working with partners have crushed a vehicle as part of an on going operation to ensure the safety of passengers being carried by limousines and Public Service Vehicles. Since December 2014, Merseyside Police, working in partnership the Driver and Vehicle Standards Agency (DVSA) and Liverpool City Council, have been engaged in running Operation Craton.

The aim on the operation is to reduce the number of people killed and seriously injured as a result of commercial vehicle collisions on the roads of Merseyside and to raise awareness regarding the dangers of failing to comply with the:- 'Road Vehicles (Construction and Use) Regulations 1986', EU 'Driver's Hours' regulations and the:- 'Local Government (Miscellaneous Provisions) Act 1976' and Council By-Law in respect of Taxi and Private Hire regulations. As part of this operation a 'stretched limousine', which had been illegally modified with a 3rd axle being fitted, was seized and was crushed on Friday, 9 January 2014, because it did not meet UK safety laws. The vehicle was also operating outside of the conditions of the insurance policy and driver's licensing conditions.

Companies running Public Service Vehicles (PSVs) with 8 seats or more must have an operator's licence to show that they meet strict rules on safety procedures and financial standing.

If a limousine company does not have an operator's licence and is not registered for Private Hire with a local authority, then there is a risk that the driver may not hold the correct licence, any insurance could be invalid and it might not be constructed or maintained to a safe standard.

Chief Inspector John Hogan, head of Merseyside Police's Matrix Serious and Organised Crime Roads Policing Department, said:- "The limousine and novelty vehicle industry has seen rapid growth in recent years and we want to see these legitimate businesses continue to thrive. However, those operating vehicles outside of the law puts the safety of their passengers and other road users at risk, and create unfair competition for legitimately run businesses. This is something that we aim to address through robust enforcement. The force working with partners from DVSA and Liverpool City Council will make full use of their powers to stop the small minority of operators who threaten to bring the industry into disrepute and to put the safety of their passengers and other road users at risk. The few businesses who insist on operating illegally and with little regard for passenger safety can expect to be prosecuted and lose their vehicles indefinitely or even, as in this case, for good!"
The operation has already seen 4 illegal vehicles seized and over 44 fixed penalty notices issued to drivers operating outside of the law. Prohibition and Defect Notices have also been issued to 41 drivers, for:- "using a vehicle in a defective condition or for failing to comply with driver's hours legislation."

Constable Craig Arnold, Merseyside Police's Vehicle Crime and Commercial Unit said:- "We have stopped a number of these vehicles during this operation and by acting on community and industry intelligence have found some of them to be operating illegally. These illegal drivers and companies are running outside of the law are preventing law abiding, professional drivers and companies from growing their businesses. These vehicles are regularly being hired by parents for teenagers and children attending parties and the like; as such we take the safety of those passengers very seriously."

A Driver and Vehicle Standards Agency (DVSA), said:- "DVSA is pleased to be working with the Merseyside Police and Liverpool City Council to help target non-compliant vehicles and drivers. It sends a clear message that robust action will be taken against those who flout the rules and risk the safety of passengers and other road users."

To see the video of the vehicle being crushed please click on the video below:-

The British Polio Fellowship launches nationwide school colouring competition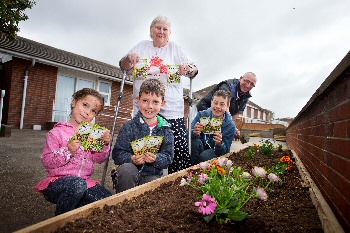 FOLLOWING on from a successful 75th Anniversary Year, The British Polio Fellowship has launched its national:- "Sowing the seeds of hope" colouring competition as it looks to raise awareness of Post Polio Syndrome (PPS) amongst British school children in 2015. The competition follows on from the charity's highly successful 2014 "Sowing the seeds of hope" wildflower planting, which saw it team up with agricultural industry leader Syngenta, who provided seeds for charity members and schools across the country.

"Many people believe that Polio is a thing of the past, but with approximately 120,000 people suffering from PPS, that couldn't be further from the truth. The charity is already working hard to spread the PPS message to the general public and this colouring competition is about spreading the PPS message to an even younger audience so that the next generation grows up aware of the Polio legacy. We are doing this through an activity that's creative, engaging and educational." said Ted Hill, CEO of The British Polio Fellowship.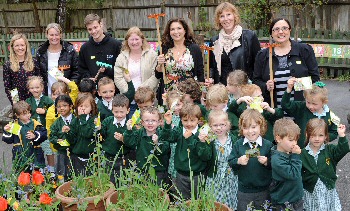 The competition, which is open to school children, will see primary school age youngsters colour in wildflower line art emblem inspired by the "Sowing the seeds of hope" campaign, which was also used to mark the charity's PPS day. Aside from the competition offering children a bit of fun in school, the charity has also provided a number of educational angles aimed at giving pupils more context around the issues relating to Polio.

The competition could be used to broach the subject of disability and discrimination with children of a young age, whilst the history and science of both Polio and diseases like it may also offer good educational angles. The charity is also offering to arrange visits from its ambassadors to a select number of schools in order to further promote the message, including Paralympians Anne Wafula-Strike and James Crisp and Polio academic author and Medical Doctor (MD), Professor Gareth Williams.
"We appreciate that education is the most important thing to think about when running competitions like this, yet Polio is a disease which broaches a number of issues from health to history. Inspirational personalities like James Crisp, who despite having had Polio, has won three Paralympic medals at the London 2012 games can also pay the schools a visit, talking about their own experience of the disease and helping the children with their colouring." said Ted Hill.

The winners of the competition will be announced later in the year, with the deadline for entries 30 September 2015. Teachers and Parents are encouraged to send photos of their children's wildflower colourings with some appearing in The British Polio Fellowship's bi-monthly magazine, the bulletin, as well as on the charity's social media streams.

The "Sowing the seeds of hope" colouring pack can be downloaded from the charity's website or for more information, contact freephone:- 0800 018 0586.
SAFE - Update
THE next meeting of Southport Access For Everyone forum will be held at the Victoria Methodist Church, Sussex Road, Southport PR8 6DG. On Monday, 26 January 2015, at 7pm. This is a free public meeting. The premises are fully accessible for wheelchair users with adequate car parking facilities, and light refreshments will be served before the meeting commences. Anyone with an interest in disability issues you are very welcome. For more information visit:- SouthportAccessForeveryone.Org. For further enquiries you can also phone:- 07866531036
Public Warning following the loss of prescription medication
MERSEYSIDE Police in Birkenhead are asking the public to be vigilant following the loss of prescription medication last week. The medication was lost between 8pm and 11pm on Wednesday, 7 January 2015, in the Litherland area. The medication consists of:-
16 tablets of Tramadol Hydrocloride.

They could be extremely harmful if taken when not subscribed to someone. Anyone who comes across this medication, or any other prescription drug, is asked to hand them to their nearest Police Station, Surgery, Hospital or Pharmacy.