BBC FOLK AWARDS WINNERS IN
'THE BIG SESSION'
OUT of a shared love of British traditional music, some of the most innovative, and creative folk-based songwriters and performers around today are coming together for the first time for one not-to-be-missed session at Southport Arts Centre, Sunday 23 February 8pm.

Veteran folk bandits the Oysterband take to the stage with a host of outstanding younger talent, including (for the first time) singer and fiddler Eliza Carthy plus emerging performers singer Rose Kemp, techno traditionalist Jim Moray, fretboard wizard Benji Kirkpatrick and uillean piper James O'Grady. Collectively and individually they play and sing each other's material, reinterpret traditional songs and music solo, a cappella and as a full band in all kinds of unexpected combinations.

Last Monday (9 February), Eliza Carthy excelled in the BBC Folk Awards 2003, winning an unprecedented three awards - 'Best Album' (Anglicana), 'Best Traditional Song' (Worcester Town), and the top award of 'Folk Singer of the Year' (completely an incredible hatrick with her parents, Martin Carthy and Norma Waterson, who won the accolade in the previous two years!). Oysterband didn't go home empty handed either - for their support to upcoming musicians through 'The Big Session' tours they were awarded 'The Good Tradition' award.

Tickets for The Big Session are priced at £10 (£8 concessions) available from the Box Office on (01704) 540011.
The Artists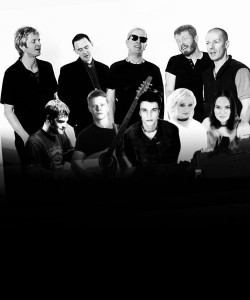 Oysterband
Nearly 25 years after founder members John Jones, Alan Prosser and Ian Telfer began playing together 2003 finds them with renewed energy, a new album (Rise Above) and a new idea for a touring show. Acoustic but exciting, danceable but literate, rootsy and folk-tinged yet unmistakeably living in the modern world, Oysterband are simply a great live act.

Eliza Carthy
Whilst she describes herself simply as 'a modern British musician', it's her sheer talent, charisma and style that have resulted in both critical and popular acclaim in the folk world and beyond it. Her outstanding live performances have seduced even the most hardened of dissenters, and perhaps more than any other, she has paved the way for a host of other talented young artists to follow in her wake.

Rose Kemp (daughter of Steeleye Span's Maddy Prior and Rick Kemp)
A promising young talent making her mark on the scene, seventeen year old Rose is already forging her own individual style, drawing on indie, folk and the singer/songwriter tradition for her own powerful songwriting.

Benji Kirkpatrick
An engaging and experienced solo performer. His wide range of musical influences gives him a unique style, fresh and powerful.

Jim Moray
Jim was nominated for the 2002 BBC Radio 2 Young Folk Awards, has performed at numerous festivals, played gigs throughout the UK, and is currently working on his debut album.

James O'Grady
An outstanding young uillean piper (who also doubles on fiddle and low whistle). Worked with renowned Scottish aggregation Capercaillie, played the music for Braveheart with a Scottish orchestra and currently performing as part of Luke Daniels' folk/classical fusion outfit Lost Music of the Gaels.