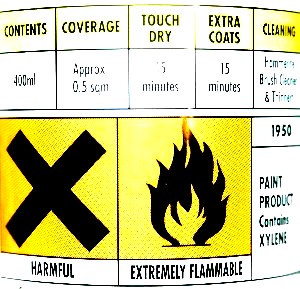 WEEK TO FOCUS ON DANGEROUS SUBSTANCES
THIS year's European Week for Safety and Health, starting on 13 October 2003, will focus on dangerous substances in the workplace. The fist time I spotted this I thought that this could be fun... but alas it is not. No.... on a serious note, all of us in all walks of life should make an effort all year round to be aware of what we use and dispose of and its effects on the environment and our selves. The week is organised in the UK by the Health and Safety Executive (HSE), and is annual. The even has become the largest workplace health and safety event in Europe with thousands of businesses using the week to look at ways of making their working environment a safer and healthier place for their work force.

The campaign for this year's week gets underway in May when HSE will launch a free action pack of material to help participants with their plans. Details of how to obtain a pack will be announced later this spring.

HSE will be encouraging organisations to look at ways of preventing ill health and reducing adverse effects in the workplace including cancers, respiratory diseases and skin diseases.

John Thompson, head of HSE's chemicals policy division, said:- "We are delighted that dangerous substances will be the theme for European Week 2003. The majority of the 1.3 million companies covered by specific chemical legislation are small and medium sized enterprises. Many of these do not think of themselves as using chemicals. They see them simply as branded products - but they can also be hazardous chemicals. Others only partially understand what they need to do to protect their employees and other people from risks from the use of chemicals.

Our best estimates suggest that each year about 6,000 people die from cancer due to occupational causes; and up to 7,000 new cases of asthma are occupationally caused or have work as a significant contributing factor. In addition, 66,000 people suffer from new or existing skin disease caused by work - around two thirds have dermatitis or eczema.

All this is preventable. Employers, workers and stakeholders can use the week to start to make an impact."