SOUTHPORT Ultramagnus fire up the Picket...
Live at the Picket (Liverpool)
WILDNESS is a trait from the rock scene that has long been one of controversy associated with individuals often seen as geniuses or madmen. But it is also a trait that has long been missed from music when shown in its true form.

Ultramagnus may not be a name that rings in many an ear of the local Liverpool scene. But on the performance at this venue on February 7, it certainly rang the changes, as this band burst onto the music scene that allowed chaos and melody to become a unified embodiment of what Livercool should really be all about.

Despite singer Mike Evans being uncannily similar in looks to that of Chris Cornell from Soundgarden. They are not to be confused with System of a down, nor are they to be taken as the next messiahs of indie grunge rock mixed with Sonic Youth. But perhaps they are all of these influences rolled into one as we were treated to a powerful and completely mad performance from this four-piece outfit.

Indeed tracks from the somewhat unheard of album 'Be reasonable I am not that wise' may yet see a return to music stores to sell in droves. As the opener 'Maphonic' showed the most perfect piece of grunge in recent years. But this was the beginning of something rare and masterful as the second song Nemo proved to be a haunting piece of grunge metal.

The arrival Adrenachrome proved to be the best song of the night. It was a range of a somewhat torn piece music. Literally wrenching the heart of a Sonic Youth sound into the shape of dichotomous moments that was undeniably pure indie power.

The procession of songs that followed saw a cacophonic stage act that showed nonchalance and sound reminiscent of nineties grunge. Until of course the unmistakable song 'fish' motored with challenging, intelligent lyrics coupled with absolute stage mayhem. Which may invent a new word power phrase 'arse guitar play' into a meaning that coins real coolness mixed with madness.

It is easy to see why they have such a cult following. But if there was anything missing from their set it was simple to see. Their powerful range of fragmented rhythms cried out for at least one guitar solo that would see them jump from obscurity to popularity in a flash.
Report & photographs by Dominic Bonner.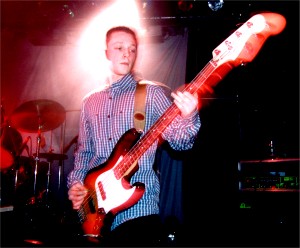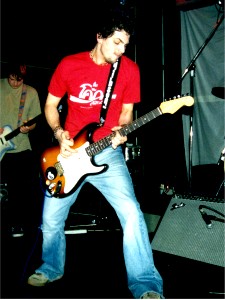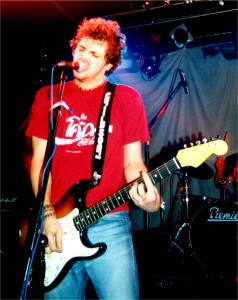 Ultramagnus appear at the Zanzibar, Seal street in Liverpool on February 22.