Government Cash to aid plight of deaf
SOUTHPORT hearing services are set to receive a massive boost of funding as part of the governments drive to improve facilities for the deaf.

The announcement earlier this week of an 94 million pound package by Secretary of State for Health Alan Milburn, to provide free digital hearing aids for all deaf people is seen as a step to concur with new national guidelines. The scheme will benefit the whole country and its deaf communities.

A visit by the Royal institute for the Deaf in January to Southport deaf services set out national guidelines for the introduction of hearing aids and audiological systems. The bid subsequently submitted by Southport and Ormskirk NHS trust aims to gain two members of staff and more equipment with an information package to gain further improvement to current services.

Director of Southport and Ormskirk Hospital NHS trust Jean Axon said, "We want this to happen as soon as possible as it is an exciting development that will have a positive impact on our local residents. We hope to make our initial assessments by the end of May. And then begin to issue the new improved aids possibly six weeks later."
How you can help save the Our School?
Photograph by Patrick Trollope.
NEXT few weeks we will be doing an in depth report on the shocking announcement that was made last week.
Birkdale School for the Hearing Impaired has
been marked for closure. The school one had 116 pupils, but now only has 25 in it today. The class bellow is doing a lesson, just like any other school, but with a big difference. All the staff are trained to teach deaf pupils and have special equipment that would not be available in main stream education.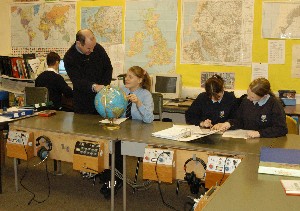 One of the perants told us "My daughter is 14 years old. Birkdale School FHIC do the most wonderful work there. She has absolutely blossomed. She isn't bullied or taunted and her education has improved tenfold since going to the school. All the pupils are treated as individuals. Their strengths are worked on and their weak areas bolstered and supported. My daughter came home and said 'Mum, I have got some work on the wall!' This was the first time ever. She was also chosen in a 'starring' role in performing arts. She didn't have any self esteem when in mainstream. When I tried to re-assure her, she said I was only being nice because the reality was that she was never included or chosen before, so she 'knew' she wasn't any use. She has begged me not to put her back into mainstream and the nearest school for the deaf which uses speech and not signing is across the country in Yorkshire near Tadcaster. It looks like it is a brilliant school but why do I have to send my beautiful daughter away so that she can have the education that she both needs and deserves?"
We will be covering this topic in full and welcome your input (the readers) as to ways we can help raise cash and also stop the closure of this valuable asset.