Community partner on board for culture
SUPPORT for Liverpool's major events is well on track thanks to the latest sponsor. Merseyrail have become the Official Community Partner for this year's programme of major events highlighting their commitment to the Liverpool City Region (Merseyside).

The events include the visit of the three Cunard Queens in May, June's International Mersey River Festival, the Transatlantic 175 weekend in July and the Liverpool International Music Festival (LIMF) which takes place across the August Bank Holiday weekend.

The partnership is part of Merseyrail's commitment to supporting local communities around their network. Developing these relationships within the communities, and supporting regeneration in the Liverpool City Region is at the heart of Merseyrail's social responsibility values.

Merseyrail, managed by Merseytravel, will play a key role in getting people to and from major events in the City this year and will encourage people to plan their journey, consult the Merseyrail website and app for travel information and to allow plenty of time for their trip.

Alan Chaplin, Merseyrail's interim managing director, commented:- "It's fantastic that the City is hosting such a spectacular selection of events, and we are thrilled to be part of these occasions. Attracting people to the Liverpool City Region will boost jobs and productivity; all great news for communities and the local economy."

Assistant Mayor and Cabinet Member for culture, tourism and events, Councillor Wendy Simon, said:- "It's wonderful news that this major rail operator has become an official partner for what is set to be a busy few months for Liverpool. This partnership demonstrates the important contribution one of our key transport providers is making towards the cultural vibrancy of the City, ensuring our communities continue to prosper through major events and education programmes which promote community engagement and social inclusion. The advertising alone is worth tens of thousands of pounds to the City and helps us spread the word about all the amazing activities that we have to look forward to. There is already a buzz around One Magnificent City, with people eager to be part of the historic Mersey meeting of the 3 Cunard Queens in May and our world record attempt in July. So it's great that we can build on an already strong working relationship with Merseyrail and work together to promote both the events and push that travel message so people can their plan their journeys and make sure they don't miss out on what is set to be an unforgettable Summer."
Student accommodation review set to take place
A task group is to be set up to review the amount of student accommodation in Liverpool. It follows moves by developers in recent years to create large scale student flats in the City centre which are generally good quality, with a range of facilities and close to universities. The number of students in the City Region (Merseyside) is growing, with some establishments reporting annual growth in new admissions of up to 18%. Currently the number studying in the City Region is around 50,000; equivalent to the population of Torquay or Inverness; with the bulk attending Liverpool's 3 largest universities. The review will examine what impact the conversion of City Centre sites is having on other competing land uses such as businesses and retail, as well as the infrastructure of the area. The group will include representatives of the universities, student bodies and developers and will aim to reach conclusions on:-

► The suitability and viability of the current student accommodation offer in the City Centre.

► The need for growth to meet future demand.

► The impact on the City Centre and other affected areas of continuing to grow the accommodation.

Mayor of Liverpool Joe Anderson said:- "I have asked for this review because, although we very much welcome and value the contribution that students make to the City, we need to be mindful of the recent rapid growth in student accommodation, and the knock on effects it could have should there be any marked fluctuations in demand. It is crucial we have a diverse mix of uses of buildings in the City centre for residents, businesses, students and visitors alike."

Councillor Ann O'Byrne, Cabinet member for housing, added:- "Liverpool is hugely popular with students because we have fantastic universities and the City is known as a friendly and welcoming place with a vibrant culture and night life. We very much welcome them, and many of them choose to stay on after their studies and make the City their permanent home. This review will help guide us in making sure we have the right amount of accommodation in the right places."

A report recommending the setting up of the task group will be considered by the Cabinet on Thursday, 2 April 2015. If approved, the review group will agree a final report and recommendations in May 2015 which will then be considered by the Cabinet.

Trust staff help develop national Care Certificate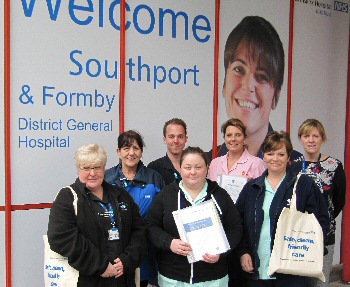 HOSPITAL staff in Southport and Ormskirk have helped develop the national Care Certificate to support the training of healthcare assistants and support workers. The Care Certificate meets concerns raised in the Cavendish Review that followed the inquiry into the quality of care at the former Mid Staffordshire NHS Foundation Trust. The review found formal support and education for healthcare assistants and social care support workers was inconsistent. A common national qualification was needed to assure the public that all those who provide care achieved a minimum standard of training. Southport and Ormskirk Hospital NHS Trust was one of 13 health and social care organisations that was asked to pilot and report on the effectiveness of a care certificate to NHS England. Nicky Williams, Assistant Matron Nurse Education and Training, said:- "Healthcare assistants found working towards the Care Certificate hugely useful, not least because it underpins our values as a supportive and caring organisation. The certificate developed their confidence and improved job satisfaction. They also felt better supported, learning more about what good practice looks like and gaining the confidence to challenge poor practice if they saw it."

From April 1 2015, every healthcare support worker new to the NHS will need to pass the Care Certificate. The Trust is also considering incorporating the certificate into training for other health care support workers. Nicky said:- "The care porters give can be overlooked in a clinical environment like a hospital but they play an important role in comforting and putting patients at their ease. We wanted them and our patients to benefit from the Care Certificate, and a small group of porters and domestic staff took part in the pilot. Those who did said it made them feel more valued as part of a team and helped everyone understand people's different roles. I am proud of the NHS and Southport and Ormskirk trust, and the staff I have worked with while piloting the Care Certificate who are a credit to themselves, the organisation and the teams they work in. Their enthusiasm, commitment and desire to make a difference is something to be celebrated."

Jonathan Parry, Chief Executive, said:- "Caring is everyone's business in our Trust. Whether you are a porter, a nurse or a member of the domestic team, thanks to the Care Certificate they will be empowered to play their part fully in making sure patients are safe and properly cared for."
Conference to discuss 'kinship' care
A conference is being held in Liverpool on Friday, 27 March 2015, to promote awareness of kinship care. Kinship care is where a child who would otherwise end up in foster care is placed with a family member or a close friend of the family.

It has huge advantages as it ensures continuity of care for the young person because they remain with someone they know, but the council is keen to know what more it can do to support carers.

Liverpool City Council currently spends £5 million supporting children in kinship placements who are living with their family members subject to Special Guardianship Orders and Child Arrangement Orders.

Speakers at the event, which is taking place at Everton Football Club, include Pauline Thornley; the founder of PADA (Parents Against Drugs and Alcohol), Sam Smethers, Chief Executive of Grandparents Plus, West Derby MP Stephen Twigg and representatives from the City Council, including Chief Executive Ged Fitzgerald.

The delegates will include carers, young people, social workers, housing providers and Merseyside Police.

Councillor Jane Corbett, Cabinet member for children's services, said:- "We have around 90 kinship carers in Liverpool and we know from experience that it is hugely beneficial for the children as it means there is a level of continuity of care for the young person. We really value kinship carers, often they are members of the child's extended family. We will be listening very hard to what they tell us, and coming up with ideas in order to strengthen their relationship with Children's Services. I will also be taking the opportunity to thank them for doing such a fabulous job for Liverpool children."