Runshaw College unveils state of the art Science and Engineering Innovation Centre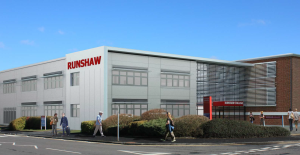 WORK on a new multi million pound Science and Engineering Innovation Centre (SEIC) has begun at Runshaw College's Euxton Lane Campus in Chorley. The state of the art facility, due for completion in September 2016, will host cutting edge laboratories and workshops, accommodating up to 400 new students across a wide range of engineering and science programmes.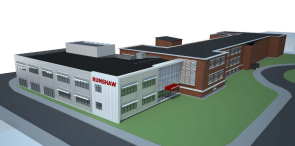 The new SEIC will support the College's aim to revolutionise the employability of students in the region. The career focused approach of Runshaw College university qualifications, combined with its Apprenticeship programmes, will ensure that science and engineering skills training locally will be transformed in both volume and quality through this new development.

Housing the College's new line of Science and Engineering 2 year 'Career Degrees', the 2 storey SEIC facility will provide organisations with a skilled workforce to meet local demand, together with a range of additional opportunities. Employers will be able to access SEIC facilities, including state of the art laboratory and 3D printing equipment, and will benefit from participating in, and networking with other employers, through the Runshaw College Strategic Training and Skills Board.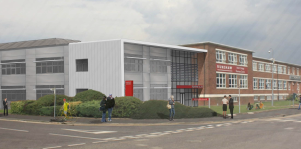 Claire Foreman, Deputy Principal at Runshaw College, says the new Centre will boost the local economy and transform the employability of those studying Science and Engineering programmes at Runshaw:- "Lancashire has the largest concentration of aerospace production and high technology manufacturing in the UK and these sectors are anticipated to grow over the next few years. Similarly, the need for qualified science professionals is predicted to increase, with demand in particular in pharmacology, physiology, biotechnology, drug metabolism, toxicology and pathology. Our new SEIC has been designed to support growth in these sectors and to enhance our current partnerships with local businesses. We aim to deliver real business benefits through the provision of innovative education and training programmes, working collaborative with employers to ensure the creation of a highly skilled workforce for the future."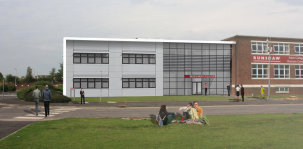 The new centre has been made a reality through funding from the Lancashire Enterprise Partnership (LEP). The LEP play a crucial role co-ordinating the county's economic priorities and focusing on opportunities that maximise job creation and economic growth. The SEIC forms part of the LEPs 'Hub and Spoke' programme, providing educational centres of excellence with new industry focus facilities.

Edwin Booth, Chair of the Lancashire Enterprise Partnership said:- "This exciting new centre will help provide and retain highly skilled young people in support of Lancashire's successful science, engineering and technology industries, which we need in order to prosper in the future. It is very good news for Runshaw College, for Chorley and for Lancashire as a whole. Our Growth Deal, which is supporting this new centre in Chorley, will deliver an investment programme valued at more than £500m, with the potential to create 8,000 new jobs. Our commitment to Chorley and Lancashire demonstrates our intention to invest in key priorities that will support the long term growth of the local economy."

Stroke Association Thanks Knowsley Community College Hospitality Students
THE Stroke Association's Knowsley group has thanked Knowsley Community College's Hospitality students for their part in a social event for stroke sufferers.

The Communication Support group, which aids those with speech and language difficulties after suffering a stroke, arranges different activities on a regular basis to provide support and guidance to its members.

Taking place at Bistro 36, the College's in house silver service restaurant, KCC Hospitality students helped to hold a social event for members of the support group, offering them a chance to build their communicative skills whilst enjoying a positive atmosphere and a range of freshly prepared pastries and foods.

Discussing why KCC was chosen over the group's usual meeting place, Theresa O'Sullivan, Communications Support Coordinator for Knowsley at the Stroke Association, explained:- "We chose to do something a bit different by choosing Knowsley Community College to build some positive relationships with young people."

She was full of praise to the learners involved, continuing:- "all of the students involved were a credit to Knowsley Community College and the service was fantastic."

Looking ahead, she says:- "The Stroke Association will certainly be hoping to attend again and are already looking at Christmas lunch!"

The event is one of many held at Bistro 36, which is run by Hospitality and Catering students at Knowsley Community College, with food prepared fresh with care and dedication and hospitality offered to the highest of standards. The Bistro has previously paid host to a range of events, from local community group attendance to award ceremonies and foreign exchange visits.

To experience the great food and service, book your own hospitality at Bistro 36 by calling:- 0151 477 5775.
KCC Students Helped to Understand Addiction Dangers
CATERING and Hospitality students at Knowsley Community College now have a better insight in to the dangers of alcohol and drugs in pressured environments after a talk from a former professional footballer. Andrew Brownrigg, now retired, but formerly of clubs such as Sheffield and Kidderminster Harriers, discussed his own battle with addiction as a result of stress and pressure.

Describing his sporting career, Andrew told students that high pressure environments such as the hospitality industry, and the cultures around them, can lead to people experiencing difficulties with addiction. After 6 years clean and sober, he was able to provide inspiration to KCC students, and advice on how to deal with pressure and avoid the dangers of drugs, alcohol and addiction.

Students were enthusiastic about sharing their opinions and asking advice, and Andrew was keen to share his experiences. Lecturer David Critchley said the event was "a very inspirational talk for our students."

Speaking of Andrew's stories and explanation of the dangers of addiction, he continued:- "the talk certainly helped learners have a better understanding of the pressures of their work environment and how best to deal with them."

The talk was organised with Hospitality Action, a charity that offers vital assistance to those within the hospitality industry in need of support or facing crisis.
5% April passenger growth for LJLA
LIVERPOOL John Lennon Airport experienced a growth in passenger numbers of over 5% in April 2015; the 3rd consecutive year on year monthly increase in passenger throughput.

Passenger figures for the 1st four months of 2015 are now over 4% higher than for the same period in 2014 and reflect the recent upsurge in business at the Airport.

April's figures follow on from a 3.5% increase in February and an 8% increase in March, compared to the same months in 2014.

The growth in passenger numbers follows the recent introduction of a number of new services, including Blue Air's flights to Bucharest and Bacua in Romania, Flybe's Belfast City flights, easyJet's Zante flight and Wizz Air's flight to the Latvian capital Riga. The volumes of passengers on existing services have increased too, with airlines reporting higher numbers of passengers on many of their routes from Liverpool compared to the same time last year (2014).