Get involved in designs for major new cancer hospital for Merseyside and Cheshire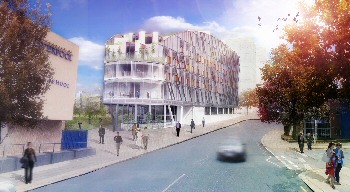 PEOPLE from Merseyside and Cheshire with experience of cancer are being invited to help design the region's flagship new specialist cancer hospital at an event on Tuesday 26 May.

The Clatterbridge Cancer Centre NHS Foundation Trust, which provides the region's specialist cancer service as well as carrying out groundbreaking research, is set to open a major new hospital in the heart of Liverpool in 2018. It will become the region's main cancer hospital providing state of the art radiotherapy, chemotherapy and other anti cancer therapy, inpatient wards, outpatients and daycase services.

The Clatterbridge Cancer Centre is currently developing detailed designs for the new hospital, which will be built next to the University of Liverpool and Royal Liverpool University Hospital.

And it is inviting people across the region with experience of cancer; whether as a patient, relative/carer or other capaCity (e.g. an advice or support service); to get involved by giving their views at an event next week. People with insight into making buildings accessible for those with additional needs including dementia and disabilities are also very welcome.

The Transforming Cancer Care event will ask people what factors are important to them in the design, layout and facilities within the new hospital. Staff from The Clatterbridge Cancer Centre will also be keen to hear people's views on cancer services and how to give patients the best possible experience of cancer care.

Helen Porter, Director of Nursing and Quality at The Clatterbridge Cancer Centre, said:- "This is a once in a generation opportunity to transform cancer care for the 2.3m people in Merseyside and Cheshire. We're developing a fantastic new hospital that will provide state of the art cancer care and we would like patients, carers and others with experience of cancer to help shape the design of the building and the services we provide in future."

The Transforming Cancer Care event is at 1pm, on Tuesday, 26 May 2015, in Wirral Postgraduate Centre, on the Clatterbridge Health Park, Clatterbridge Road, Bebington, Wirral, CH63 4JY. To book your place, please contact Pam Kelly on:- 0151 552 1823, advising of any special needs.
The Country Fair Southport
COME Along to The Southport Country Fair on Friday, 29 May 2015 to Sunday, 31 May 2015, We have Lots of Great Events for you to enjoy such as:-

► Main Attraction - On Sunday - Mister Showtime - Steve Colley FMX/Trials motorcycle stunts with dangerous high flying and daredevil stunts.
► Reptile House with Snakes and Lizards.
►Honey House Bees (Sun).
► Racing Pigeons.
►Ferrets.
►Shopping Mall and Craft Marquee.
►70 to 80 Trade Stands.
► Falconry Side Saddle displays Sun Gun Dogs and Scurry.
► Fun Dog Show Fri and Sun Enter your own Dog 1pm.
► Food Hall.
►Donkey Rides.
► Air rifle shooting range.
► Ferret Racing.
► Lots of Kids Attractions (Bouncy Castle, waterballs etc).
► Bar and Catering.
► Archery.
► Southport Stamp Auction.
► Superjumper.
► Fairground Rides Donkey Show Sun Southport Original Cruiser motorcycle Club Southport Budgies Remember!

FRIDAY ONLY - All Adults £3.00 and Kids go Free! (week of half term )

Times:- Open 10am - 5pm Daily

Prices At Gate:- Friday only All Adults - only £3.00 HALF PRICE All Children - FREE Sat / Sun Adult - £6.00 Senior Citizen/Disabled - £5.00 Children - £2.00 Child free up to 12 noon Saturday.
Family Ticket:- only £16.00 (2 Adults, 3 Children) Advanced and Online
Advanced - £5.00 Please Note: The last day to purchase tickets online is
3 Days before the first show.

Venue:- Leisure Lakes, The Gravel, Mere Brow, Southport, PR4 6JX, UK

MyTicket celebrates 1st anniversary with news it is a permanent travel product for young people
A pilot bus ticket to reduce the cost of travel by up to 50% for young people has been so successful that it is to be made a permanent product; just as it celebrates its 1st birthday. MyTicket was unveiled by Merseytravel in partnership with commercial bus operators a year ago for 5 to 15 year olds as an affordable option for unlimited all day travel across the Merseyside bus network for just £2. It was initially launched for a 12 month trial period and has proved to be such a big hit with young travellers that it has been given the green light to continue on a permanent basis.

Councillor Mark Norris, Lead Member for Customer and Corporate Social Responsibility, said:- "We launched MyTicket a year ago following our pledge to make transport more affordable for young people and it's fantastic that we can announce on its first birthday that it will continue. I'm sure the news that it is now a permanent ticketing product will be welcomed by young people who have always been very positive about MyTicket. It's clear it's a popular product that provides real value for money. This is just the start of our journey to bring down the cost of travel and we want to look at what we can do next to improve the offer for more young people."

Elisabeth Tasker, Managing Director of Stagecoach Merseyside and South Lancashire, said:- "It's important for us to make bus travel as affordable and convenient for young people as possible and we are pleased MyTicket has been so well received. This is an excellent example of how working in partnership with Merseytravel and other bus operators has provided tangible benefits to passengers."

Howard Farrall, Area Managing Director Arriva Merseyside, added:- "MyTicket has been a huge success and its great so many young people are travelling by bus throughout Merseyside. We are delighted the ticket has been so well received."

Already more than 1 million MyTickets have sold and young people have hailed it as a great way of getting out and about and meeting up with friends without breaking the bank. During a recent focus group with young people, schoolchildren from Rainhill and Broadgreen schools gave lots of positive feedback, with comments including: "£2…goes a long way", "MyTicket is brilliant, don't ever stop doing it", "I love MyTicket because it's my ticket" and "MyTicket takes me here, there and everywhere."

It is just 1 way that Merseytravel is working with partners to help young people by removing potential barriers to access education, work and leisure opportunities. Options for extending MyTicket to the age of 19 are currently being explored due to feedback from young people and the compulsory age of education increasing to 18 from September 2015.
For a list of the participating bus operators and also ideas on places to visit using MyTicket, visit Merseytravel's website.
Europe's Best Dance Company, Northern Ballet arrives in Blackpool next week for 2 nights only
GET swept away by unrivalled storytelling, dance and live music as Northern Ballet performs Madame Butterfly at The Grand Theatre, Blackpool from 26 May to 27 May 2015. Recently awarded Best Company at the European Taglioni Ballet Awards, Northern Ballet specialise in creating and performing classical story ballets and will bring world class ballet to the doorstep of audiences in the region.

Madame Butterfly is choreographed by Artistic Director David Nixon OBE and is one of Northern Ballet's most popular full length productions. In this heartbreakingly tragic ballet, audiences will be transported to Japan where the doomed love affair between American Naval Lieutenant, Pinkerton, and his young Japanese bride, Butterfly, begins. Madly in love and prepared to sacrifice everything, Butterfly's world falls apart when she is betrayed and forced into a dramatic climax. Recreated especially for the new tour, Madame Butterfly is a 2 act ballet featuring all new sets and is performed to the famous Puccini score played live by Northern Ballet Sinfonia.

The programme also features Perpetuum Mobile, choreographed by Christopher Hampson, Artistic Director of Scottish Ballet. Performed to Bach's Violin Concerto in E Major, the 17 minute long Perpetuum Mobile provides an excellent introduction to the technical and athletic talents of Northern Ballet's dancers. The piece showcases the incredible strength and prowess of the Company to leave audiences breathless.

David Nixon said:- "Perpetuum Mobile is a beautiful neo-classical work and Madame Butterfly a wonderful dramatic narrative piece; so this programme is a perfect introduction of the two faces of Northern Ballet. Our Company has incredibly talented dancers and these two works will provide the opportunity for audiences to see the dancers performing at their most physical as well as demonstrating their abilities as dance-actors of the highest standard. Introducing this new strand of touring is designed to enrich the dance offering within the region, challenging the perceptions of which stories can be told through ballet and providing audiences with something different than Swan Lake or The Nutcracker."

Tickets for Northern Ballet's Madame Butterfly with Perpetuum Mobile are on sale now and can be booked online or by calling the box office on:- 01253 290190.