Crosby baths... takes centre stage.....
Report and Photographs by
Dominic Bonner.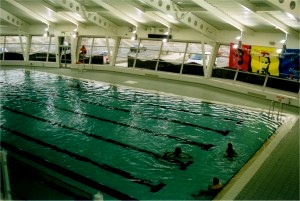 A new leisure development built on the former site of Crosby baths has been hailed as an astounding success.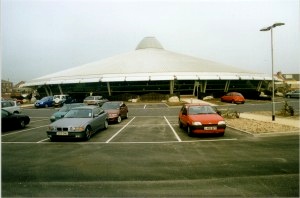 The new dome-like building, estimated at a cost of six million pounds. Enables a new range of activities that formerly was not able to offer in the old building; it features new activities on offer such as a sports hall, an aerobics hall, two swimming pools, an exercise arena and a bar that will stay open until 11 pm at night. In which a whole host of activities and even pool parties to take place in the multi-purpose building.

Expenditure of some seven thousand pounds on publicity has proven to be a worthy investment. In its opening week, the centre has seen thousands pass through its doors, many have been enticed by the free membership on offer and hundreds have marveled during preview visits at what is on offer from this state of the art building.

Duty manager Tracy German said, "We have been that busy it's been almost too much to cope with. It's an amazing response from the public which is a great footing for a prosperous future."

Remarkably, this project looked as though it was never going to happen as councilors once wrangled over the development and its future site. The decision to keep the former site has seen an unparalleled foresight, which will undoubtedly change attitudes towards leisure and future developments in the area.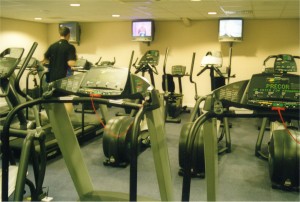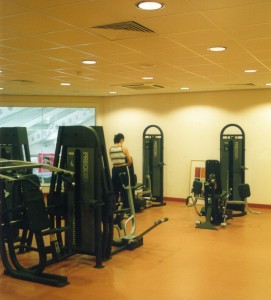 Local Man shot dead in Saudi Arabia
Report by Dominic Bonner.
A MAN who was a former resident of Southport was murdered late on February 20 as he sat in his car in Riyadh, Saudi Arabia, late at night on February 20.

Robert Dent, a 37-year-old man and commercial officer for BAE systems was shot with a powerful assault rifle as he waited at traffic lights on his return home to his family. The suspect named Saud ibn Ali ibn Nasser, 30, a Toyota car salesman, was found nearby in the possession of a gun and arrested.

Reports have since alleged that Nasser has firm links with Al-Qaeda and Osama Bin Laden. Fueling the current state of tension in the Middle East and the west as America prepares for war in Iraq.

Dent had plans to return to Tarlton to visit his parents later this year. He leaves behind a wife and two children. No plans yet have been confirmed for the return of his body to the UK.
PRIMARY SCHOOL CHARITY EVENT
WATERLOO primary school on Liverpool road in Waterloo is set to host a charity event to bolster funds for the school in its efforts to gain new equipement.

The Table Sale will take place on February 22 and will start at 10.30 to which the school invites all who wish to attend.
Just the Ticket
Report by Dominic Bonner.
TICKETMASTER is to expand its Manchester Call Centre operation, making it the most up to date call centre in the Ticketmaster worldwide network.

The move to a newly redeveloped building on Lever Street will create 350 new jobs in the city over the next 3 years, taking the number of people employed by Ticketmaster in Manchester to over 750.

A new call centre was opened recently by Sir Howard Bernstein, Chief Executive of Manchester City Council, and accompanied by Pippa Fulton, star of the BBC's 'Fame Academy'.

Creative Industries Manager Andy Lovatt said, "I am delighted that Ticketmaster has chosen to expand its operations in Manchester. The city's music and entertainment industry is renowned worldwide, and this announcement represents a further strengthening of England's Northwest as a cultural centre."