SOUTHPORT Sandstormers WIN!!!!!
Photographs by Patrick Trollope.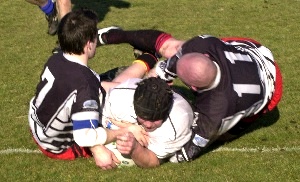 SOUTHPORT'S Sandstormers put in a heavy blow to Chorley Panthers on Saturday 16 February. Last time the two teams clashed the Sandstormers were no more than a breeze, loosing 32 to nil. Despite Southport's shirts not being cleaned in time for the match.... this time the storm hit and the Panthers ran for shelter. The first few minutes Corley's Martin Ridang slammed down a try and the game looked as if it was going to be a repeat, but a lightning response by the Stormers had them taking the game from then on. The final result is 18 to 4. Southport, with the smell of victory still in the minds of the player will clash with St Helens in the North West Counties Cup this weekend!
Tries for Southport by Steve Tobin, Chris Brown and Carl McAirdle.
Conversions for Southport by Danny Sinclair.