Free concert sounds big presence of Foresters Friendly Society in Southport
A free brass band concert will trumpet the presence of hundreds of members of the Foresters Friendly Society in Southport. The organisation is holding its annual general meeting in the Town from Saturday, 13 June to Monday, 15 June 2015, and has invited along the award winning Foresters Brass 2000 to entertain townsfolk and delegates. The ensemble will perform at the bandstand, on Lord Street, Southport, between 12.45pm and 1.45pm, on Sunday, 14 June 2015. It will form part of the 3 day conference that will see some 500 Foresters members flock to the Town to discuss the activities that the organisation plans to undertake in the year ahead. Band chairman Helen Parker-Bates said:- "It is an honour to play as part of the annual general meeting of the Foresters and we hope that the people of Southport and our members enjoy the performance." Foresters has around 200 regional branches with each 1 organising social events such as coffee mornings, theatre trips, dinner dances and charity fundraising. It also provides members with Tax exempt savings products, investment bonds and life insurance policies. Foresters Friendly Society chief executive Paul Osborn said:- "We expect that more than 500 Foresters members will be in Southport and inviting Foresters Brass 2000 is a good way to entertain our delegates and offer something to the Town that's hosting our event. It was 4 years ago that our annual general meeting was last held in Southport and we're really pleased to be back. The Floral Hall is a magnificent setting to hold our conference so we think new delegates will be impressed and it is sure to be a popular choice with those who have been before. With so many people visiting the Town, I expect local hotels and restaurants will benefit from our stay." Officially founded in the 18th Century, long prior to the welfare state, the friendly society was designed to help its members in the event that they fell on hard times. Today, the organisation continues to be run as a mutual for the benefit of its members. The closest branch to Southport is in Ashton-in-Makerfield, near Wigan.
Police comment following sentencing of Troy Lewis for firearms offences
MERSEYSIDE Police can confirm that Troy Lewis, 39, was sentenced to a total of 5 years, four months at Liverpool Crown Court, on Monday, 1 June 2015 for firearms offences. Troy Lewis, from Aigburth, was sentenced after being convicted of 2 counts of possessing a prohibited firearm. Lewis was arrested and subsequently charged with possession of a firearm after he was stopped while driving in St Bernard Close, Toxteth on 8 December 2014. During their search of the vehicle, officers found a bag containing 2 revolvers. The bag was hidden on a factory built platform within the engine compartment. A mobile phone was also found. The firearms were later identified as a .45 calibre revolver handgun and a .32 Colt revolver handgun. The following day, 9 December 2014, officers searched his home address at Marmion Road and recovered ballistic body armour. During interview, Lewis stated he was transporting the firearms for a 3rd party, he refused to name and he believed them to be antiques. Detective Superintendent Chris Green, Matrix Serious Organised Crime Major Investigation Unit, said:- "Those people who are found in possession of firearms are committing an extremely serious offence. Even if they don't intend to use them, looking after or storing them makes it easier for other criminals to commit serious crime. Lewis is now facing a long time in prison and I hope his sentence makes other people realise that possessing firearms of any type, whether brand new or decades old, carries huge risks and is simply not worth it. Lewis claimed he thought the firearms were antiques, but regardless of the age of the revolvers they were viable and potentially dangerous weapons. We would urge anyone intent on possessing such weapons to think carefully about whether it is worth spending a long time in prison for. We won't tolerate criminals who use guns to create fear and intimidation on Merseyside and we are also determined to crackdown on the people who help them by storing and looking after illegal weapons. We will be relentless in our efforts to crack down on serious and organised crime and I would continue to appeal to the public to tell us if they know where firearms or drugs are being stored." Anyone with information can contact MSOC Officers on:- 0800 230 0600 or Crimestoppers, anonymously, on:- 0800 555 111.

New traffic lights at M6 Junction set to go live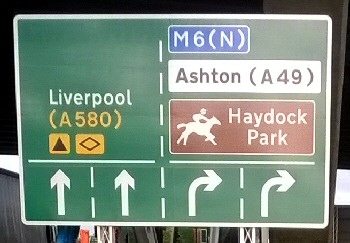 A new sensor controlled traffic light system is due to be up and running at a busy M6 Junction, near St Helens, improving Journey times for drivers.

Highways England had hoped to be able to start using the system at Junction 23 of the M6, known as Haydock Island, when the new road layout opened last month following a £4.1 million transformation.

However a timed system is currently being used while engineers work to fix teething issues with the sensor controlled lights. The traffic lights on the A49 approaches to the Junction have also been temporarily switched off to reduce queuing.

All of the remaining work at the roundabout, including landscaping and footpath surfacing, is due to be completed by Monday, 15 June 2015, when the new traffic light system will also go live, with the most of the work taking place overnight.

The new system uses sensors to monitor traffic levels and adjust the traffic light settings accordingly to minimise queuing.

Andy Withington, Asset Delivery Manager at Highways England, said:- "We'd like to thank drivers for their patience while we work to get the new traffic light system up and running, and also to apologise for the congestion they may have experienced in the past few weeks. We have temporarily switched off the traffic lights on the A49 approaches so that drivers can use the Junction as a normal roundabout. Drivers travelling on the A580 should still find it much quicker to use the shortcut through the Centre of the roundabout as we now have four lanes running in each direction, including dedicated lanes for the M6. We are doing everything we can to resolve the teething issues we've had with the new traffic lights so that road users can start fully benefiting from the improved layout as quickly as possible."

The new road layout means that drivers can now cut through the Centre of the roundabout to turn right onto the M6 rather than having to travel all the way around it. Vehicles leaving the M6 can also turn right onto the A580 East Lancs Road, bypassing the roundabout, which will reduce congestion overall.

A dedicated Left Turn Lane has been created for the A49 from the roundabout; the Exit Slip Road from the Northbound M6 has been extended; and the entire Junction has been resurfaced with an antiskid coating.

The project is 1 of Highways England's pinch point schemes, which aim to help stimulate new development and local economic growth by improving road safety and tackling congestion bottlenecks.