Brantano calls for Southport parents to join charity walk
SHOE retailer, Brantano has partnered with road safety charity Brake and is calling for children and parents in Southport to join the charity's Giant Walk campaign. With 6 children a day killed or injured on our roads last year the annual event, which takes place on Wednesday 10 June 2015, aims to get children learning about road safety in their classroom, promoting the benefits of safe walking and cycling to school, and walking to call for safer driving in their community.

In addition, Brantano is launching a range of exclusively designed Brake shoes for boys and girls, which will be available in stores nationwide from June. Each pair of shoes will come in a presentation box, which contains a fun yet informative leaflet to educate children on road safety, along with high visibility safety products such as reflective stickers, a traffic light key ring and a handy reflective strap band. For every pair of Brake shoes purchased a donation will be made to the charity to help fund the lifesaving work it does in campaigning to prevent road deaths and injuries, and supporting people bereaved by traffic accidents.

Derek Marshall Store Manager at Brantano, said:- "At Brantano, we are already committed to providing a service that looks after children's foot health and we are keen to promote and encourage the health and environmental benefits of walking to school. The collaboration with Brake allows us to not only raise awareness of the importance of correctly fitting shoes for children's foot health but also to reinforce messages about the dangers of roads and the importance of safe road use to both children and parents, as well as promoting the health and environmental benefits of walking and cycling to school."

Philip Goose from Brake, said:- ""Brake's Giant Walk is a great way for schools to call for safer roads in their community for children to be able to walk or cycle without fear or threat from traffic. Every year as part of this great event schools use resources and support from Brake to run fantastic lessons across a variety of subjects around the theme of road safety and active travel. It's a chance to teach children about road safety and why walking is healthy and eco-friendly, and also to call on local drivers to make a big difference by slowing down to protect children on foot and bike. We're urging schools to sign up now to take full advantage of the resources and support Brake offers to help schools get involved."

Brake's Giant Walk already has 45,000 children from over 200 schools registered to take part and planning to walk a whopping 17,000 kilometres. To register your school for this exciting event, visit the website, call:- 01484 550061 or send an email.

Gearing up for a great show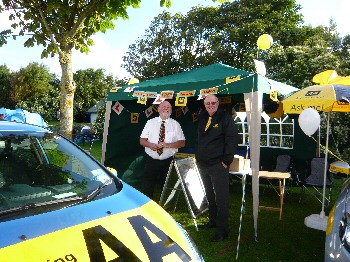 YOUNG people from the age of 11 will be able to get their first driving experience at this year's Woodvale Transport Festival at Victoria Park next month. For the 1st time festival organisers have arranged for AA franchised driving instructors to run 30 minute tailor made sessions throughout the two days of the event on 20 June and 21 June 2015.

Keith Maidment School of Motoring will be running the sessions for 11 to 16 year olds in new Ford Fiestas, which will be located in a secured area near the bandstand. Keith says:- "This is a great chance for young people to get their first driving experience in a safe and controlled environment with professional AA qualified driving instructors."

Young people do not require a provisional driving licence but must be aged between 11 and 16 and above 1.4 metres in height. The 30 minute experience will include basic driving skills including road safety, clutch control, gear changing and reversing.

Those completing the session will be awarded a certificate of achievement.

Spaces are limited so pre-booking is advisable with £10 deposit. The 30 minute slot is £25. Telephone Keith on:- 07747 530116. Some spaces may be available during the weekend. Also there will be free parking at Princes Park, where admission tickets will also be sold. Dogs are also welcome.

Public camping is available on site and costs just £50 for 3 nights.

On the gate tickets cost £5 a day for adults, £2 for children aged 6 to 16 and the under 5's are free. Advance tickets are available for the two days and are available at a reduced price via the shows website.

For further information visit:- WoodvaleRally.Com or email them. Payment for camping and trade stands can be made by cheque with a stamped addressed envelope to:- Woodvale Rally, PO Box 30, Southport, PR9 9ZN.
Deceased estates notice - Lilian May Jackam
Pursuant to the Trustee Act 1925, any persons having a claim against or an interest in the Estate of Lilian May Jackam (also known as Lillian May) Jackam (Deceased), late of Birch Abbey Rest Home, 55 Alexandra Road, Southport, Merseyside, PR9 9HD, UK, who died on 04/10/2018, are required to send particulars thereof in writing, to the undersigned Solicitors, on or before 24/05/2019, after which date the Estate will be distributed having regard only to claims and interests of which they have had notice. Churches Solicitors, 12 High Street, Fareham, Hampshire, PO16 7BL, UK. Ref:- 'T553015.'
..Paid Advert..
Contact us:-
(+44) 08443 244 195
Calls will cost 7p per minute, plus your telephone company's access charge.
Calls to this number may be recorded for security, broadcast, training and record keeping.

News24@SouthportReporter.com
4a Post Office Ave, Southport, Merseyside, PR9 0US, UK


Our live Southport Webcam image above.
To see it live, please click on image.

Event Notices

More events that are taking place on Merseyside can be found on our Event Listings Calendar.

Click on here to see our event calendar.
Are you going to this event? If you are please let us know what you thought of it!

These are our other websites within the Southport & Mersey Reporter Network.

Mersey Reporter

Formby Reporter

Liverpool Reporter

Southport TV
| | |
| --- | --- |
| | © - Southport Reporter® is the Registered Trade Mark of Patrick Trollope |
..