Multimillion pound boost for seaside Towns to create jobs, boost the economy and create local growth
MINISTERS welcomed the extension of Coastal Communities Fund to 2020 as part of the government's long term economic plan to revitalise seaside towns and unlock their economic potential.

Launched in 2012, the Coastal Communities Fund has already invested nearly £119 million on 211 projects local infrastructure and economic projects across the UK. This is helping to create almost 13,700 jobs and provide more than 10,280 training places and apprenticeships.

Communities Secretary Greg Clark said:- "Britain has a proud seaside tradition which this One Nation Government is determined to revive so they can be year-round success stories. Unlocking the economic potential of our seaside towns will create jobs, build infrastructure and boost local economic growth. We know our multi million Coastal Communities Fund is already having a big impact on communities and local seaside economies, and the extension of the fund will mean other areas will have the chance to bid for funding."

Coastal Communities Minister Mark Francois said:- "I'm delighted our Coastal Communities Fund will continue. This Government investment ensures areas can create skilled workers and year round jobs that will build stronger communities and stronger local economies. This fund, together with the creation of our Coastal Community Teams, will be an important catalyst for change and help secure the long term future of our seaside towns so communities can drive forward their vision, unleash business opportunities and thrive."

19 of the 39 Local Enterprise Partnerships (LEPs) are in coastal areas and as part of the government's growth deals, more than £700 million has been committed to projects in these areas to improve transport infrastructure, broadband connectivity, improving flood defences and improving opportunities for local people.

8 out of the 24 enterprise zones are in coastal areas which offer incentives for businesses to start up or expand including Business Rates relief, superfast broadband and simplified planning; with a further two prospective coastal enterprise zones in Blackpool and Plymouth announced in the March 2015 Budget. Coastal enterprise zones have delivered more than 5,300 jobs to date and helped to secure nearly £275 million of private sector investment to coastal areas.

Case studies...

► National Coastal Tourism Academy, Bournemouth, £2m

In 2012, this project received £2m to create Europe's first National Coastal Tourism Academy. The Academy delivers training support to coastal tourism businesses through virtual and personal business guidance and on-line resources, coastal tourism research and development.

It has also created a new attraction; a Coastal Activity Park; in Bournemouth, and delivered a Visitor Experience programme which includes events in and around Bournemouth.

To date the project has created 10 direct jobs and its support for 218 businesses to date is expected to deliver over 150 additional jobs. Nearly 100 vocational trainees and over 2,000 non vocational trainees have benefitted from training provided by the project.

► National Lobster Hatchery, Padstow, Cornwall, £150,000

In 2012, this project received funding to enhance its stock of commercial species of European lobsters and undertake research and education programmes. It also runs a visitor centre on Padstow quayside which promotes the importance of sustainability and responsible marine management. Since receiving the grant, the Lobster Hatchery has attracted an additional 3,500 visitors taking total visitor numbers to over 8,000 a year. It also created 5 direct jobs and boosted employment within the local area with an increase in tourism expenditure creating over 16 indirect jobs.
UK Television Company looking for contestants for the 2nd series of the hit ITV quiz show
THE television company called:- 'Hungry Bear Media' are currently looking for contestants for the 2nd series of the hit ITV quiz show:- '1000 Heartbeats' hosted by Vernon Kay.

Assistant Producer, Jack Kisby-Carroll told VAMPHire.com that:- "We are looking for fun, outgoing and confident contestants from across the UK and from all walks of life to take part! The quiz is made up of not only general knowledge, but also picture puzzles and brainteasers. There is £25K up for grabs, but the players must keep cool and calm under pressure as they are up against your own heart! We are about to film the 2nd series and we need more contestants! If you or anyone fancies taking part in the next series of 1000 Heartbeats, email us at:- apply1000heartbeats@hungrybear.tv for more information or to ask for an application form. We will be holding national auditions across the UK in August 2015."

So do you think you have what it takes, if yes, have a go and send them an email...

Gabriella Murphy of Liverpool Wins Veolia 2015 Apprentice of the Year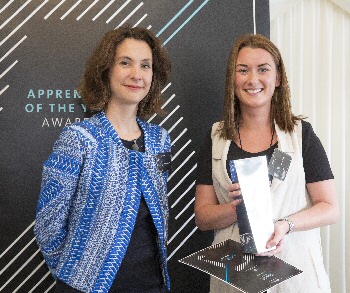 WITH the Government planning to create 3,000,000 apprenticeships by 2020, UK resource management leader, Veolia has demonstrated its long term commitment to apprentices as central to its long term people development programme at a special awards ceremony at the House of Commons today.

Skills Minister, Nick Boles MP and Veolia's Senior Executive Vice President, Estelle Brachlianoff, presented its 2015 Apprentice of the Year Award for Hazardous Waste Services to Gabriella Murphy, a 24 year old Invoicing Administrator from Huyton, Liverpool.

Selected from 500 Veolia apprentices across the UK, Gabriella works at Veolia's Physico-Chemical Treatment Plant (PCT) at Lower Bank View in Liverpool. Here Gabriella handles all site administration including wages, purchasing and general enquiries. She is also a qualified First Aider and has completed Skin Surveillance Training meaning she is responsible for performing safety checks on all site personnel.

As a result of attending Roby 6th Form College and St. Edmund Arrowsmith Catholic High School, Gabriella has completed AS Level English Language, Philosophy and Religion. Now with the help of Campus Veolia, the company's in house learning and development centre, Gabriella has utilised her NVQ in Business Administration (Level 3) to drive improvements to the processes of the PCT plant and its administrative key performance indicators. She is a great team player with a real zeal to learn new skills and she always displays a can do attitude.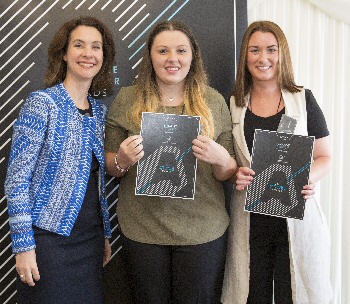 Estelle Brachlianoff, Veolia's Senior Executive Vice President, UK and Ireland, said:- "As a 2 time winner of the National Vocational Qualifications Employer of the Year award, we see many of our future leaders emerging from our apprenticeship programme which is central to our investment in the company's long term development. As we continue to push forward with our strategy of Resourcing the World the talent we grow is key to ensuring the skill sets needed to preserve resources in the future are developed today. We are also proud to be amongst the leading employers in the development of the new national Trailblazer higher apprenticeships which are the benchmark for quality training programmes that will anticipate business needs."

Skills Minister Nick Boles MP said:- "Through hundreds of exciting apprenticeship programmes talented young people like Gabriella are receiving the training, qualifications and income to start a rewarding career. At 24, Gabriella has already developed a range of high quality skills and is blazing a trail for other young people looking to build a great career. It's crucial that employers like Veolia continue supporting high quality apprenticeships which help young people build their skills and help boost the UK's productivity and prosperity."

Congratulations also go to finalist Hannah Dennis, age 21 from Crewe, Cheshire who was a very close runner-up. Hannah, who is an ex-Ruskin Secondary School and South Cheshire College student, has been an Apprentice Administrator for Veolia's Underground Storage Facility at Britain's oldest working mine since December 2013. The Rock Salt at Winsford was formed 220 million years ago and the mine lies almost 200 metres under the Cheshire countryside.

The release features a young finalist from Crewe; Hannah Dennis and the Winner of the Apprentice of the Year for Hazardous Waste Services; Gabriella Murphy from Huyton, Liverpool.