What is the Fox and Goose Cosplay Night all about?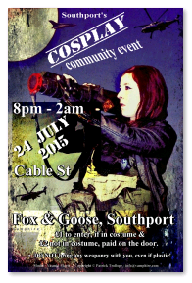 FIRST off, what is Cosplay? If you do not know there are still many people who are a little unsure about what exactly Cosplay is, so do not worry. It is a 'geek' term, meaning costume play and is all about the practice of portraying a fictional character. The rising of Cosplay into popular culture is credited of being initially in Japan, with the US following very soon after. People Cosplay for a multitude of reasons and costumes doesn't necessarily mean spandex or cape. The idea is dominantly into pop culture, but any area of a fictional world can be covered. Sadly their is still a bit of controversy that surrounds this area, as mass media still puts it out to the masses in an enlightened way. Currently a major representation of the misogyny that it is just women who dress up and it is all about spandex, but that is not reality. In reality the idea is all about self expression. Cosplay costumes are associated mainly with comic book characters, anime, video games, and main stream films, but true costume enthusiasts can use any area of fiction to develop ideas, from Star Trek and Harry Potter, to the monster in the classic horror film, The Cabinet of Dr. Caligari. Not forgetting comics from the Beano and Dandy to children's TV like Thunderbirds or even Muffin the Mule. People can spend thousands of pounds to next to nothing on their costumes. Hardcore fans love to get elaborate costumes that are correct to the nearest detail; others just loosely represent fictional character. The true motivation is to have fun and enjoy performing as some one or some thing other than you. It is a way to release and express yourself and a form of acting. For some it is a challenge and often frustrating hobby, but for all the hard work, watching the costume and the character come alive, and that is the reward for them. This is a test event being held at the Fox and Goose, so it will allow you to find out more about the very fast growing popularity of art form. After reading this, we hope it has got you curious about dressing up. If it has please pop down and have a go, as you might find you have a newfound respect for Cosplayers... Also you will guarantee to have some fun no mater what portraying a loved character, or the appreciation from peers. This is not being a child as well, as if you do this properly, it requires attention to detail that gives you many technical challenges. The skills you learn from this can not only help you, should you wish to go into costume design for the media and theatre, but also with your every day life, from development of problem solving skills to development research skills. We do not expect you to go that far into it or to have the most amazing costumes, but please do try and if you love it, hate it, live it and breathe it, or merely accept it, this is a chance to find out witch one you are? The night will also have live entertainment and a few fun things to try. But please do not bring any weapons with you, even if your character has them normally.... For updates please check the Fox and Goose Twitter Feed and our Facebook Page... If you are going, please spread the word as if this is a success, we are developing this over the next year to something very special, but only if we have you, the Cosplay and soon to be Cosplay community behind us! Don't miss it on 24 July 2015. 8pm to 2am. £1 to enter if you are in a costume and £2 if you are not in a costume…

The poster photograph is by Patrick Trollope, of model Yasmin-Marie!
Ace's rags to riches journey from stray to Police Dog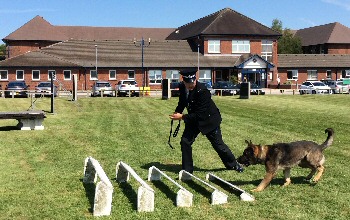 A German Shepherd found as a stray, aged just 15 weeks, has passed his Police Dog training at Merseyside Police with flying colours.

15 month old Ace was discovered walking the streets in Lancashire as a puppy last year. Had he not found a home after a week, he could have been put to sleep. But Cefni GSD Rescue in Sheffield saved the day and took him in.

It quickly became apparent to staff that he had the drive and alertness required for a life of public service with the Police, so when officers from Merseyside Police's Dogs Section called 4 months ago to see if the Centre had any suitable dogs, Ace's future was secured.

He was put on a 13 week training programme to train him to become a Police Dog and performed so well he completed the course a week early.

Yesterday, staff from Cefni GSD Rescue made the trip from Sheffield to see him officially welcomed to the force when he showed his physical prowess running up ramps, leaping over fences and through windows at Merseyside Police's Training Centre, on Mather Avenue, Liverpool.

His handler, Constable Tony Eyres, from the Dogs and Mounted Section at Merseyside Police, said:- "Ace has got the most drive out of all the dogs I've trained. He is a natural and he loves to do it. Drive is great but you've got to harness it properly, and Ace does. It's great to know that our partners in other agencies, such as Cefni GSD, are able to spot qualities in a dog that may not be suited to a guide dog, but which will help to make a great Police Dog to join us in our fight against crime. We work closely with rescue centres around the country and are delighted that the dogs they have provided to us are now helping to us to keep the streets of Merseyside safe."

Constable Simon Coley, from Merseyside Police's Dog Training Unit, said:- "Some dogs are bred to be Police Dogs and some dogs want to be, Ace wants to be. I feel so proud to see Ace passing out today. He's clearly loving his new job as a police dog, it's wonderful that despite having a tough start in life and being unwanted, he is doing such a valuable job helping the community and is very much a valued member of our team."

Marcia B Jones, from Cefni GSD Rescue in Sheffield, spoke of her pride at seeing Ace make the grade. She added:- "It's a very proud moment. It was great to come along today to see the ceremony. Ace was in a poor condition when we first saw him, so it is particularly satisfying to see him in such good health and we know he will be very well looked after. his bond with Tony is fantastic. We hoped he would one day be appreciated for the great dog he is so it's wonderful to see."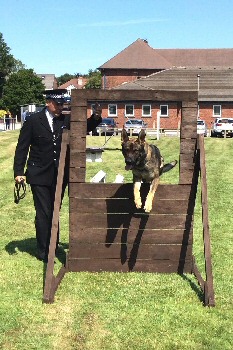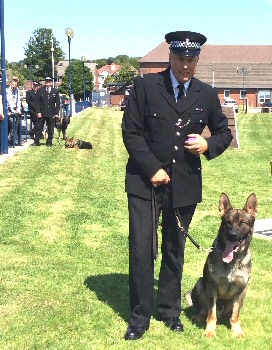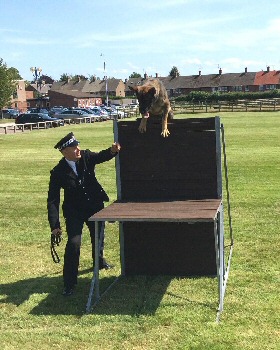 A video interview with Ace's handler, Constable Tony Eyres, from the Dogs and Mounted Section at Merseyside Police and footage of Ace in action can be found on YouTube.
House prices continue to be pushed up by shortage of instructions in North West
UK House prices in the North West of England continued to rise in June 2015, with 53% more of the region's surveyors reporting an increase in asking prices; pointing to renewed acceleration in house price inflation during the 2nd ½ of the year, according to the latest RICS UK Residential Market Survey. While the average stock of homes per surveyor remained firm at 61, demand from prospective house buyers in the North West decreased from 15% to 6% in June 2015, despite a further drop in mortgage rates from lenders. The West Midlands and London saw the strongest increase in potential buyers during the month. Over the next 3 months, 46% more surveyors in the North West expect house prices to rise further, whilst only 15% of respondents expect sales to increase over the coming months. Across the rental sector, the demand and supply imbalance is also visible, with instructions - which have been broadly unchanged for the past couple of years; showing no signs of a material increase, and are at growing odds with the rising demand that is putting further upward pressure on rents.

Derek Coates MRICS, of Venmore estate agents in Liverpool said:- "Sales activity continues to be strong, however the lack of properties coming on to the market will have an effect on prices."

Simon Rubinsohn, RICS Chief Economist, added that:- "Although much of the discussion about supply shortages has focused on the owner-occupier market, the latest RICS Residential Market Survey demonstrates in no uncertain terms that the issue, at least at a headline level, is just as visible in the rental sector. This is most clearly reflected in both the house price and rental projections over the medium term which comfortably exceeds the likely growth in wages. There had been some hope that the removal of political uncertainty following the general election would encourage more properties onto the market but the initial indications are that this is not proving to be the case. Additionally, the recent flat pattern of appraisals by respondents to the survey suggests this is not about to change anytime soon As a result, it is hardly surprising that prices across much of the country are continuing to be squeezed higher with property set to become ever more unaffordable."

Little Wing live at the Latin Lounge - Southport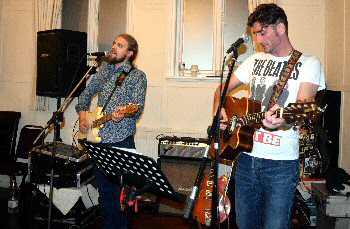 THERE was a Spanish theme at the Latin Lounge, with Spanish Language posters displayed because the owner, Sandy, teaches at that venue Lounge It felt like being at a venue on the Costa Brava, thanks to the amazing temperature outside and the warm breeze blowing... Oddly, that was not what was attracting large crowds to go in to the venue this time... The true reason was that the extremely popular local group, known as Little Wing, who had performed and returned to Southport for what is likely to have been a one off show, at The Latin Lounge, as 1 of the 2 members is now teaching English in China... He is heading back in 8 weeks, so we hope they do perform again though, as do many of their fans... The fabulous venue is the ideal party venue, hidden down a long passage way, easily missed by locals and tourists alike, making it feel very exclusive. It is a true hidden gem, so it is no surprise the lads would pick it! The inside has amazing acoustics as well, making it a fitting location for this special event to be held in. The venue was packed out and sadly more people wanted to attend then the venue could accommodate. For those who did attend, the well balanced vocals and very skilled guitar playing made for an extremely lively and entertaining night. "It is good to see both Paul Mullen and Adrian Gautrey playing together again. They always deliver an amazing performance. It is just a shame they have never made it out of the local area as an act! They are far better than the vast majority you see and hear on the radio and on TV." said an audience member to us, and we tend to agree with them! Even sitting in the office with the window open, hearing the tunes echoing and vibrating around the hot summer air, they sounded amazing! Well done lads and please do keep performing together!