7 years behind bars for man in Liverpool Lime Street drugs arrest
MICHAEL Paul Ault was removed from a train at Liverpool Lime Street after he was spotted buying drugs has now been jailed for 7 years. The 40 year old, from Macclesfield, was found guilty of possession of heroin with intent to supply, and possession of cocaine, with intent to supply. He was sentenced on Thursday, 13 August 2015, at Liverpool Crown Court. The court heard how on 5 June last year, Ault was spotted by three officers from the National Crime Agency exchanging cash for a large quantity of white power wrapped into a ball' from a group of 3 men on Bolton Street, in Liverpool. Ault was seen to put the package into his pocket before heading to Lime Street station and boarding a train bound for Nottingham. 2 of the officers followed him onto the train and removed him. Ault resisted the officers and a violent struggle ensued which saw him restrained on the ground. During the scuffle a number of items fell from Ault's pockets, including the suspected drugs package which turned out to contain smaller plastic packs of heroin and cocaine with a street value of more than £2,000. British Transport Police officers alerted to the incident attended the scene and assisted with Ault's detention, taking charge of him and transporting him to a local custody suite. Investigating officer Detective Constable Martin Melia said:- "It is in no small part thanks to the actions of the 3 National Crime Agency officers who spotted Ault exchange cash for the drugs, and followed him onto his train before alerting British Transport Police officers that he is now behind bars. Drugs ruin lives and destroy families and communities. A seven year prison term reflects the court's view that continued involvement in the supply of drugs should be dealt with severely. I hope the sentence sends a warning to others that being involved in the supply of drugs will lead to custodial sentences, which will increase if previous convictions have not proved to be a deterrent. BTP carry out regular operations, including the use of detection dogs, to catch those carrying illegal substances and the cash proceeds of those transactions on trains and in stations, and will continue to do so."

The Prince's Trust Team Southport wants you!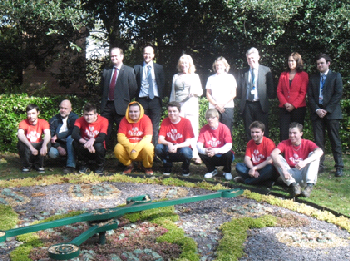 THE Prince's Trust Team Programme is designed to give young people, aged 16 to 25, the chance to gain and improve their skills so they can move into employment, further education or training. This is a 12 week development course which includes a fully paid, 4 day residential which happens in week 2 of the course. The Prince's Trust also place young people in a 2 week work environment suitable for that person, which will enable them to gain valuable work experience and a suitable reference. You will also gain a qualification at the end along with other certificates. The course is appropriate for a range of people and additional support is offered to those who need it. If you are interested or know someone who is, get in touch with Southport Prince's Trust. This course does not cost anything and you will not lose your benefits.
For more information please contact the Team Leader, Ben Duffy on:- 07500606740 or email him. The courses are to be held at:- Southport Football Club, Haig Avenue, Southport, PR8 6JZ. The 12 week course will run from Monday, 14 September to Friday, 4 December 2015. If accepted you will become a member of Team 5.