Homes for a Pound applications top 2,500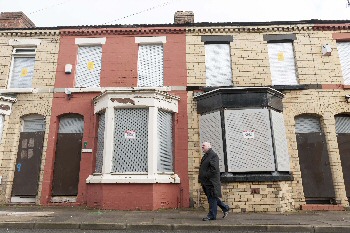 MORE than 2,500 applications have been received for Liverpool City Council's newly expanded Homes for a Pound Plus scheme. Following the success of a pilot project involving properties around Granby Four Streets and Arnside Road, the initiative will transform empty terraced homes off Smithdown Road in Picton. People had until 31 July 2015 to apply; and by the closing date 2,560 applications had been received.

Deputy Mayor, Councillor Ann O'Byrne, said:- "We have had tremendous interest in this scheme and we will now begin the hard job of assessing the applications against the eligibility and priority criteria. We know from previous experience that some people who apply aren't eligible, while others decide during the process that it isn't for them or the properties aren't what they are looking for. Ultimately, this is about giving people the chance to get on the housing ladder as we seek to drive up the quality, standard and range of properties in the City. Homes for a Pound is just one of a range of measures we are using to bring a total of 4,000 houses across the City back into use."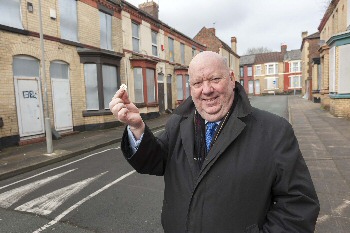 The homes targeted as part of the scheme are located in and around Britannia Avenue, Altcar Avenue, Childwall Avenue, Dorset Avenue, Bird Street, Richardson Street, Garrick Street, Tunstall Street and Webster Road.

To apply, people needed to meet the following criteria:-

► Live or work within the Liverpool City Council boundary.
► Be in paid employment.
► Be a first time buyer.

Additional priority is given to applicants with dependent children, who have a good credit history and can demonstrate that they have savings to fund the renovation of the property.

Successful applicants are required to:-

► Live in the property for a minimum of 5 years.
► Refurbish the property to the Decent Homes Standard.
► Comply with an agreed schedule of works.

The scheme is being split into separate phases based upon condition and geography and the City Council will carry out remedial works on the properties that are in a particularly poor condition to make sure that they are viable for people to work on. People who have applied will be contacted by the end of October 2015 and advised about the next stage of the process.

Breakfast time with a twist for nursery kids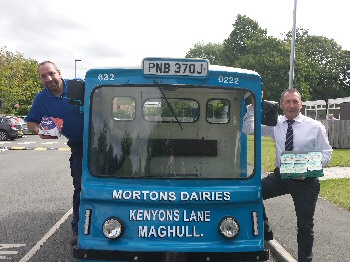 BREAKFAST time at local nurseries will be served with a twist over the summer as milkmen launch a campaign to dish up dairy treats in a traditional milk float.

Mortons Dairies, the Merseyside dairy company, launched the initiative at It's the Little Things Day Nursery in Maghull to help educate children about dairy products and launch its new range of Muller Yoghurts.

The family owned dairy has delivered milk on its traditional milk floats to neighbourhoods in Liverpool and surrounding areas since the 1920's.

Kids at the nursery sampled the new range of Muller Yoghurts which has been introduced by Mortons Dairies at a 68p promotional price.

Simon Holt of Mortons Dairies, said:- "We're delighted to have added Muller to our range and we're touring local nurseries to give local children a sample, tell them about how yoghurt is made and let them sit aboard one of our famous milk floats. Our milkman are usually out on the road in the early hours and many children have never seen a real milk float in action before."

Becky Sheel, deputy manager of the award-winning nursery set on a 42 acre woodland estate in Maghull, added:- "We're proud of the fact that we cook all our food fresh on the premises, so it's great being involved in this initiative by Mortons. We're always keen to introduce new experiences to our children and this one went down well."

Mortons Dairies is a Merseyside based family run dairy company which has been operating and delivering milk and yoghurt to the local communities since the 1920's. The company has grown significantly over the past 80 years to become the North West's largest dairy, with more than 55,000 customers and 230 staff.

The established dairy business only sources milk from 25 Red Tractor accredited farms situated within 20 miles of the head office in Maghull.

See MortonsDairies.Co.UK and ItsTheLittleThings.Co.UK.
Cigarette smugglers must repay stolen Tax
THE ringleader of a gang that used an airline's staff discount travel programme to smuggle cigarettes through UK airports has been handed a confiscation order for £348,705. HM Revenue and Customs (HMRC) found that flight attendant Dennis Connolly, 44, from, Southport, had organised over 130 smuggling trips for himself and 5 others, using discounted staff tickets to travel. The gang hid cigarettes and tobacco, worth £180,000 in evaded Duty and Taxes, in their luggage. Connolly and his accomplice, Terence Steele, 58, of Liverpool, were each issued with confiscation orders under the Proceeds of Crime Act, at Manchester Crown Court, this week.

Zoe Ellerbeck, Assistant Director, Criminal Investigation, HMRC, said:- "Airline employees hold a position of trust and abusing this privilege is a serious matter. Connolly organised subsidised travel purely for smuggling purposes. There are no excuses for smuggling, whatever your status, and HMRC are determined to recover stolen Taxes. Tobacco fraud costs honest taxpayers more than £2.1 billion a year, undercutting honest businesses, and drawing people into wider criminality. Anyone with information about illicit tobacco sales or smuggling should contact the Customs' Hotline on:- 0800 59 5000."

Connolly and Steele made large purchases of duty free tobacco in Spain and Portugal for the gang to smuggle back to the UK. Connolly received a confiscation order for £348,705 and Steele received 1 for £111,671. After assessment of their available assets, Connolly was ordered to repay £21,543 within 3 months or 15 months will be added to his jail sentence, and Steele was ordered to repay £109,297 within 3 months or serve 2 years in jail.