Mapping Out Our UK Humour

Report with thanks to Ordnance Survey.
MAPMAKERS at Ordnance Survey today prove that when it comes to humour, there's no place like home.

In the run-up to Comic Relief night, they reveal that Red Nose is officially on
the map! It's a headland near Cromarty on the east coast of Scotland - and it's next door to Blue Head.

Scores of other place names that ought to raise a smile can be tracked down in Ordnance Survey's awesome online gazetteer of 250,000 British place names at www.ordnancesurvey.co.uk/rednose

You can pinpoint Blowup Nose (Aberdeenshire), Long Nose (Pembrokeshire/Sir Benfro), and even Pig's Nose (Devon).

To boost the charity's coffers, a £1 donation will be made by Ordnance Survey for every site-centred OS Select - Landranger Map sold on their web site on Comic Relief day - Friday March 14. Each map is created to put any chosen place right at the heart of the sheet, making it centre of attention.

For fun, this year's Comic Relief Red Nose theme is a bit on the Hairy Side (Northumberland). Such Hairy Ness (Scottish Borders) may need a Hairpin from the Isle of Man. Whatever you do, don't Knockenhair (Dumfries and Galloway).

Whether you're down in Happy Valley in Conwy or on top of Joy Hill in Lincolnshire, down a Laughter Hole or at Laughter Tor in Devon, join the
Jollyboys in Essex and the Merry Maidens in Cornwall to do your bit for Charity (Highland).

You can share a Porth Joke (Cornwall) and send a Splatt (Somerset) to give them the Giggleswick (North Yorkshire). It's the Laughing Law (Scottish Borders) down on Joy's Green (Gloucestershire) and Funton (Kent) this Friday Street (Suffolk).

And don't forget, Comic Relief is of Good Intent (North Yorkshire). Hope (Derbyshire) you, too, can help.
Southport V Doncaster

Report and photographs by Sally Devine.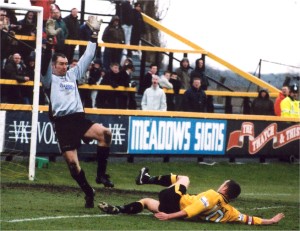 Southport faced a strong Doncaster side who are currently 2nd in the Conference. This was never going to be a easy match.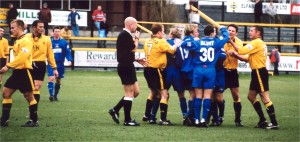 Doncaster pushed forward in the fist 5 minutes of the match, missing a chance when Gill could only shoot tamely at Southport's goalkeeper. The constant pounding broke Southport's defenses by the 25th minute as Pall Green scored. After half time Doncaster scored again on the 52nd minute thanks to a powerful header by Gill. The weather then changed for the worse and thunder and lightning brought hailstones and heavy rain, lashing down on the players and the Doncaster fans in the open part of the ground. The final goal came in from Greens leaving Southport 0 and Doncaster 4.
Interest note... Lee Ashcroft made his debut for Southport, only being signed midweek from Wigan Athletic as player coach.
Attendance 1265.
PLEASURELAND OPENING TIMES
Pleasureland is open every weekend during March from 12pm to 5pm. It is also open throughout April bar the first two weeks during the week.

_______________________