Karen Potter Craven Minor JFL
Fixtures Week Ending 13 December 2015
Under 12
S&A Red v Trinity White
Hesketh Colts v Phoenix
Redgate Rovers v Formby JSC Black
Crosby Stuart v Formby Athletic
Trinity Blue v S&A Blue
Under 13 John Disley Cup
Redgate Yellow v Formby JSC Black
Formby JSC United v Burscough Green
Under 13 Premiership
S&B Red v Birkdale United
Under 13 Championship
Mitch Red v S&A Amateurs
Maghull Youth v Phoenix
Redgate Black v Redgate White
Formby JSC White v Burscough White
Under 14
Birkdale Black v Ormskirk
Crosby Stuart v Southport Trinity
S&A Amateurs v Southport FC
Formby Athletic v Redgate Rovers
Formby JSC v Birkdale R
Hezsketh Colts v Birkdale SAC
Under 15
S&A Amateurs v Hesketh Colts
Southport Trinity v Maghull Youth
Birkdale United v Redgate Rovers
North Sefton v Southport FC
Under 16 Adam Bell Cup
The Hares v Redgate Rovers
Under 16
Formby JSC v Southport Trinity
Churchtown Athletic v Birkdale United
Under 18 Geoff White Memorial Cup
Southport Trinity v Churchtown Athletic
Birkdale United v Redgate Rovers
Under 18 Premiership
Southport FC v Lydiate
Under 18 Premiership
Trinity Blue v Formby JSC
Hesketh Colts v Jaguars White

Results Week Ending 6 December 2015
Under 12
Phoenix 2-9 Crosby Stuart
Formby JSC Black 0-9 S&A Red
Under 13 Chamionship
Redgate White 3-1 Southport FC
Under 14
S&A Amateurs 0-5 Birkdale SAC
Redgate Rovers 4-0 Ormskirk
Southport Trinity 6-0 Hesketh Colts
Under 15 Tom Owen Cup
Birkdale Black 3-4 Hesketh Colts
Under 15
Southport Trinity 2-2 S&A Amateurs
Under 16
Southport Trinity 4-1 Churchtown Athletic
Under 18 Geoff White Memorial Cup
Hudson 6-1 Southport FC
Under 18 Championship
Redgate Rovers 9-0 Trinity Blue

Southport fundraisers secure £15,000 for cancer research in just 12 months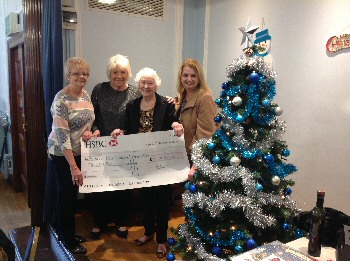 A team of fundraisers from in and around Southport has raised £15,000 for the region's leading cancer research charity, North West Cancer Research.

The Southport based committee of North West Cancer Research (NWCR) celebrated the end of its annual fundraising efforts, announcing that it has raised a combined total of £15,000 in the last 12 months.

To mark the occasion, the committee hosted a Christmas coffee morning at Masonic Hall, Duke Street, to thank local supporters who have helped to raise thousands of pounds over the past year.

NWCR CEO Anne Jackson was presented with a cheque for the amount raised on behalf of the charity. The money will be used to facilitate cancer research projects across the North West, including at the nearby University of Liverpool.

Over 2015, the Southport fundraising committee has hosted numerous fundraising events including regular coffee mornings, a fashion show, cheese and wine evening, summer sparkle and a strawberry tea at Hillside Golf Club.

Supporters have also completed their own fundraising challenges, which have included skydives, marathon runs and golf days.

Olive Cutts, chair of the Southport Committee, said:- "It has been a wonderful year. I can't believe how generous everyone has been over the past twelve months. Their kind support and donations will spur the committee on to make next year even more successful. On behalf of the committee, I would like to thank everyone who attended our Christmas coffee morning and making it another fantastic event. It was a great way to say thank you to our supporters for their continued and generous support."

North West Cancer Research has committed to funding more than £11.2million of cancer research projects over the next five years. Projects include those at the University of Liverpool and Bangor and Lancaster Universities, helping achieve a better understanding of cancer.

Anne Jackson, CEO North West Cancer Research, said:- "This is a fantastic achievement and a testament to the hard work and dedication of our Southport fundraising committee. I would like to thank everyone involved for their generosity and for their continued support year after year. Without the vital work of our local fundraising committees, like Southport, we wouldn't be able to sustain or fund the world class research projects, which directly benefits people living in the region."
Make time to talk this winter
GIVE your local talking therapy service a call this winter and take a load off your mind. The run up to Christmas can be a stressful and often lonely time of year. Speak to your local, friendly NHS service for advice and support about how to handle the festive blues. Access Sefton provides help for people with anxiety, depression and stress, as well as other common mental health conditions such as Obsessive Compulsive Disorder and Post Traumatic Stress Disorder.
Anyone over the age of 16 living in Sefton can tap into this useful local service, provided in partnership by Cheshire and Wirral Partnership NHS Foundation Trust (CWP) and Insight Healthcare. If you need to speak to someone, getting access to the service is easy; ask your GP or self refer online. "We offer a wide range of talking therapy treatments from a number of convenient locations across the borough of Sefton, as well as online or over the phone:- 0151 955 3210 to arrange an appointment." said the CWP.