Liverpool volunteer wins national award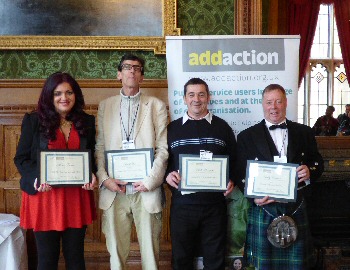 A volunteer who helps young people in Liverpool has won a national award, recognising her hard work and dedication. Alexia Zavros, who has been volunteering at drug and alcohol treatment charity Addaction in Liverpool for more than a year, received the Marsh Christian Trust Volunteer Award. Alexia was honoured at a ceremony in the Palace of Westminster on 2 December along with three other Addaction volunteers from across the country. During her time with Addaction, Alexia ran the Baby Project, a 6 week course for young people thinking about having a baby. This includes asking teens to make a diary of their daily lives and considering how a baby would affect them, as well as taking home an electronic baby. When some of the girls expressed concern about self harm during the course, Alexia arranged an expert speaker to address self harm. Alexia also supported Addaction staff with their group sessions in schools. Alexia says:- "I work with children and was looking for ways to help people and expand my skills. I took a chance when I applied [to volunteer], I really didn't think I'd get through. There's been a lot of firsts for me as a volunteer. I'm gaining so much through it."
Union says:- "Credit is a waste of talent and money."
THIS week the GMB, the union for local government workers, commented on the statement by Department of Work and Pensions Department, that as Universal Credit is introduced it does not propose to make any staff transfer arrangements for Council staff who currently work on Housing Benefit, for people of working age. This was written statement made by Mr Iain Duncan Smith, the UK's Secretary of State for Work and Pensions, on 10 December 2015, in Parliament, on Universal Credit and Local Authorities. Justin Bowden, GMB National Officer, said:- "Announcing mass redundancies before the new system is implemented risks not only the livelihoods of thousands of dedicated public sector workers, but also the essential payments that millions rely on. No changes should even be considered until the new system has been successfully implemented. Spending taxpayer's money making redundant capable and willing individuals with obviously transferable skills and experience who in most cases could administer Universal Credits with the minimum of training so a new workforce can be employed is a waste of both talent and money." Please let us know if this change affects you and also what your views as readers are on any of the changes being made. Email us to:- news24@southportreporter.com and tell us what you really think of this national rolled out of the "Universal Credit" system, that starts in full from from May 2016, and due to be completed by June 2018.

Next stage of Stonebridge Cross rebirth proposed
THE next stage of the regeneration of Stonebridge Cross in Croxteth is set to be approved by Liverpool City Council. The area is a Mayoral priority for jobs and investment; and there has already been a huge amount of work over the last few years, including:-

► Development of the first phase of Stonebridge Business Park West including a new £12 million Geopost DPD parcel delivery facility, creating 250 jobs; opens early 2016.

► New Marston's pub and restaurant (Vikings Landing) creating 40 jobs; opening sometime in October 2015.

► The re-alignment and de-culverting of the River Alt to improve ecology and bio-diversity; completed spring 2015

► Creation of a new 20 acre landscaped park, Alt Meadows - completed spring 2015.

► The new £18 million St John Bosco Arts College - opened September 2014.

Now the Cabinet has been asked to give the green light to actions which will further progress its rebirth. It would see a new traffic junction created to connect a million square foot Stonebridge Cross development site to the East Lancashire Road, funded by a loan from the Government's Growing Places Fund. The site; which falls within one of the City's Mayoral Development Zones; has the potential to create many hundreds of jobs and is currently being marketed to potential occupiers as a warehouse and distribution hub. Also being proposed is the acquisition of the former Altbridge and Langholme Tower Block sites, where Cobalt Housing would build a total of 50 new homes.
Mayor Joe Anderson said:- "Over the last few years there has been a huge amount of progress in regenerating Croxteth to improve life for the local community. The new St John Bosco Arts College is enabling our young people to get a great education in modern classrooms, we have attracted hundreds of new jobs and improved the environment with a new park. It has helped reverse the neglect of an area which had gone on for a number of decades with a number of false dawns. I hope we have given the community the confidence that we are serious about delivering improvements, but we know there is much more to do and are not complacent. In relation to the Stonebridge Cross development site, we are in positive discussions and hope to be able to say more about it in the new year."

A planning application for the 2nd Phase of Stonebridge Business Park West which would see 4 additional units created with the potential to create hundreds more jobs has been submitted.
Councillor Malcolm Kennedy, Cabinet member for regeneration, added:- "The area is perfectly placed next to the major road network and we know it has the potential to create many more, much needed employment opportunities for local people. This next phase of work is part of our commitment to making sure Croxteth is a great place to live, with great local amenities and the chance to secure a job locally."