JET PROPELLED CITY TO CREATE JOBS.......
A SERVICE which has helped thousands of unemployed people back to work in parts of Liverpool is being expanded across the city.

The JET - Jobs, Education and Training – service started in 1996 to offer practical help in education, training and employment issues. It works with residents and businesses to ensure that local people have the necessary skills to take up jobs in their own community and that business can recruit a workforce with the right skills locally.

Five such schemes have been piloted across Liverpool already, building on their success by linking together to provide a service that operates throughout the city via integration of information available throughout all local resources.

Councillor Mike Storey, Leader of the City Council, spoke at the event with Neil Pakey, Managing Director of the expanding Liverpool Airport.

"The JET Service is a real success story." said Councillor Storey. "Thousands of people have been helped into work and hundreds of businesses have been able to recruit the right person for the right job.

But we want to build on what has already been achieved and make the service even better for both residents and businesses. In future, the JETS will be providing access to jobs opportunities on a citywide basis.

JETS provide impartial help and advice for those looking for work, employers, training organisations and community groups. They are playing a very important role in the regeneration of Liverpool and their role will increase in importance in the future.

Liverpool is recognised officially as the Capital of Job creation, creating more jobs than in any other English city in the last year outside London. With major developments planned, there will be more investment taking place.

We are determined that these new jobs will go to Liverpool people and the new look JET service will be a key element in helping us achieve that."
If you have a story email us it today!
Sefton Chamber of Commerce & Industry - Women in Business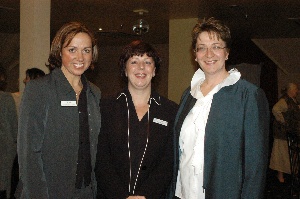 CLAIRE Curtis Thomas was guest speaker at the second meeting of the year of the Sefton Chamber of Commerce Women in Business, led by Gill Fell of Impact Business Coaching. The meeting was opened with an
address from Odri Crewe newly appointed chief executive of the Chamber with who stated that she was 'delighted that the womens group was developing into a crucial and significant part of the chamber'.


She continued by thanking the Claire and the women attending for their support and to Gill Fell for organising and leading the meetings'

Lesley Winsland proprietor of Tree Tops Country House Hotel attended and commented that the networking meetings were 'exceeding good,useful business meetings, giving like minded women the opportunity to promote their own businesses and meet other business women.'

Claire Curtis - Thomas gave a powerful, from the heart speech which left the group, totally in awe of this amazing women, she openly gave insights into her life as a trainee engineer, her education and her determination to succeed, but more importantly to help others along the way. She confirmed that she is totally backing the group and has offered to run a 'teach in' for the women who are interested in sitting on company boards, Claire has committed to the group whole heartedly andwill be attending as many future meetings as she possibly can.

Yvonne Halliday from Bibby Factors in Bootle attend the event said, "Wow, what a powerful speaker, Claire gave an emotive talk leaving us all feeling empowered to take our businesses to new heights and made us feel that we are part of a special group who can make a difference"

The next Women in business meeting is on Monday April 7th 6.30pm at Tree Tops Country


House Hotel and Restaurant. The guest speaker is Pam Lazano a life coach and there is also a presentation named 'speed networking' by Yvonne Halliday and Gill Fell
for more information about the event please contact Gill Fell 07813 166426