Better journeys for rail customers as new Northern and TransPenine Express franchises confirmed
THE Northern franchise has been formally signed with Arriva Rail North Ltd and TransPenine Express franchise with 1st Trans Penonine Express Ltd. Operators will oversee a massive £1.2 billion boost to rail services.
The deals will help bring the Northern Powerhouse to life, with 500 brand new modern carriages, room for 40,000 more passengers, 2,000 extra services a week and a host of improvements The Department for Transport, on 23 December 2015, that it has officially signed the Northern franchise 10 year contract with Arriva Rail North Ltd and the TransPenonine Express franchise 7 year contract with 1st TransPennine Express Limited.
The deals provide an unprecedented package of improvements, bringing about the biggest transformation to rail journeys in the North of England and Scotland in decades. The formal confirmation follows the government's announcement of the awards and a routine standstill period of at least 10 days. Together, the operators will oversee a massive £1.2 billion boost to rail services with 500 brand new modern carriages, room for 40,000 more passengers, 2,000 extra services a week and a host of improvements to deliver a modern, 21st Century passenger experience. The improvements will play a vital role in bringing the Northern Powerhouse to life, rebalancing the economy, creating jobs, opportunity and growth, and providing significantly better journeys across the region.

Transport Secretary Patrick McLoughlin said:- "We promised passengers a world class rail service that would make the Northern Powerhouse a reality; and I'm delighted that we have found 2 operators that will deliver exactly that. As a 1 nation government we are committed to closing the economic gap between North and South. These deals, which have been confirmed today, and the joint management of the franchises, will bring the Northern Powerhouse to life. In 2004, the last time these contracts were awarded, the government did not plan for growth. With the signing of these contracts, Arriva Rail North Limited and First Trans Penonine Express Limited are on track to deliver their exciting, ambitious plans that will make a real difference to customers, and coupled with our commitment to push ahead with electrifying the vital TransPenonine route; will help the region realise its full economic potential, ensuring it has a modern 21st Century transport system. This is fantastic news for the North."

The franchises will be jointly managed from Leeds by the Department for Transport and Rail North Limited; which represents 210 local authorities across the North.

Sir Richard Leese, chair of the Association of Rail North Partner Authorities said:- "Passengers were clear that they wanted to see a transformation including a lot more newer, better, trains running more regularly with a step change in services provided off peak and on Sundays. They also wanted improvements to stations and changes to make ticketing easier; and thanks to all the partnership work by Rail North and the Department for Transport, that's exactly what we have been are able to announce. This is another crucial move towards devolution for the North. Rail North will now play a major role in the management and development of both new franchises, providing an excellent platform for further development and full devolution in the future. Rail North will work very closely with Transport for the North to drive forward economic growth by developing visionary proposals to deliver radically improved connectivity across the North."

Arriva Rail North Limited will run the Northern franchise from April 2016 until March 2025. The operator will oversee the complete removal of the outdated and unpopular Pacers by the end of 20110, and will invest £400 million in 281 brand new air conditioned carriages; more than double the minimum required in the government's invitation to tender.

Other improvements on the Northern Network include:-

► More than 2,000 extra services each week.

► Nearly a 40% increase in capacity; creating space for 31,000 extra passengers travelling into Liverpool, Manchester, Leeds, Sheffield and Newcastle during the morning rush hour period.
► A new high quality 'Northern Connect' service, meaning new or refurbished trains on longer distance services, faster journeys and stations staffed daily with catering services and free WiFi.

► Improved ticketing, including mobile and print at home tickets, and discounted fares for jobseekers.

Chris Burchell, Managing Director of Arriva's UK Trains division, said:- "We are proud to be given the opportunity to transform rail travel for passengers in the North of England and to work closely with our partners to connect Towns, Cities and communities like never before. We will be investing more than £1 billion to deliver a step change in quality for customers and dramatically improving services, stations, information and ticketing. Our aim is to be the communities' local railway and to leave a positive lasting legacy for the North of England."

First Trans Penonine Express Limited will operate services on the TransPenonine Express franchise; which runs Intercity services across the region and into Scotland; from April 2016 until March 2023. They will bring in 220 new carriages, equivalent to 44 trains and worth more than £400 million, providing fast 125 mph services across the Network, as well as:-

► Introducing new and additional services for Scotland, including a new, direct Liverpool to Glasgow service from December 2018, with new electric trains.
► Doubling the number of Manchester to Newcastle services and running more daily services to Hull, from Manchester and Leeds, both from December 2017.
► Bringing in 10,000 extra seats into Manchester, Leeds, Sheffield, Liverpool and Newcastle during the morning rush hour period.

► Offering discounted advance fares for 16 to 18 year olds and jobseekers.

Tim O'Toole, chief executive of FirstGroup, said:- "Our new TransPenonine Express franchise will deliver faster and more frequent Intercity train services between the North's major Towns and Cities and we are excited to help the government achieve its vision for a Northern Powerhouse. Our plans include investment in new and refurbished trains on every part of the Network, with millions more seats available, free Wi-Fi and simpler smart and mobile ticketing, allowing us to build on the success we have had over the past 11 years, in which we have more than doubled passenger journeys on the Network. We will work with local authorities, customers and community groups to give them a real stake in the future of their Intercity rail travel. The new TransPenonine Express will connect the North and keep people moving and communities prospering across the region."

Other improvements across both new franchises include:-

► The provision of free Wi-Fi by December 20110 on all services, all TransPenonine Express stations and 36 Northern stations.

► Challenging targets to improve customer satisfaction and reduce cancellations and short formations, which operators will be expected to meet.

► The introduction of automatic delay repay compensation for passengers who buy season and advance purchase tickets online.

► £55 million of investment in stations to bring them into the 21st Century.

During the franchises, the government and Network Rail will also forge ahead with electrification of the TransPenonine line to deliver faster journey times and significantly more capacity. Network Rail is currently developing a detailed plan for the work which, when finished, will provide a fully electrified route between Liverpool and Newcastle.
The deal will also mean significant returns to government and better value for the Taxpayer. The government will receive £400 million in premiums from First Trans Penonine Express Limited over the life of the franchise; previously, the franchise was subsidised by the government. The amount of annual subsidy the government pays for the Northern franchise will be reduced by £160 million by the end of the 10 year contract.
The work is expected to be completed in 2022.

A Very Charitable Christmas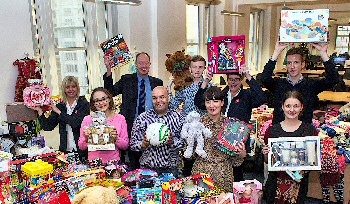 VULNERABLE children and families will benefit from hundreds of gifts donated by Liverpool City Council Staff, this Christmas.

Workers demonstrated their commitment to fundraising with a Christmas appeal, donating hand picked gifts to Liverpool Homeless Football Club, the Salvation Army and young adults who are leaving the care system.

The gift appeal is the final fundraising effort of the year for staff, and is organised by 'Charity Champion' team members who voluntarily organise fundraising events throughout the year in addition to their work duties.

The charities will hand out the gifts to vulnerable children and families across the City over the Christmas period. They include household essentials, beauty products and children's clothes and toys.

Liverpool City Council Chief Executive Ged Fitzgerald said:- "These gifts will mean so much to those children and families who are less fortunate, especially at Christmas, and I'm proud that once again Liverpool City Council Staff have been so generous, going above and beyond for our charities. They really are a credit to us."

'Charity Champion' Clare Maher, said:- "It's so rewarding to know that on Christmas Day families across Merseyside will have extra gifts to open and that young people setting up home for the 1st time have some essential items thanks to the generosity of our staff. This has been our most successful year to date and I can't wait to be involved in next year's appeal hopefully making it bigger and better."

Michael Binns, who works with young people in care, said the gift appeal will help a lot:- "Most care leavers move into their own accommodation once they turn 18, and receive a 1 off allowance of £2,000 to help them buy essentials such as furniture, but it doesn't go very far and if you have to be rehomed for whatever reason you won't be given the same allowance again."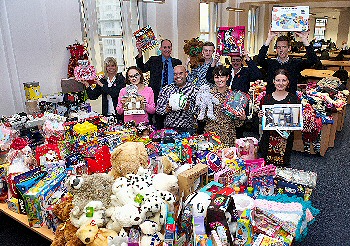 The gift appeal is just 1 of many fundraising efforts undertaken by staff so far this year. They have also raised £7437.71 for their 2 corporate charities: the Whitechapel Centre which supports the homeless and Claire House Children's Hospice in Wirral. Of the money raised, £33103.33, will go to the Whitechapel Centre and £4044.58 to Claire House. In an added effort, they also raised £3108.14, for the Nepal Earthquake Appeal, in the wake of the disaster this year.

A total of 17 'Charity Champions' have co-ordinated activities such as a sleep out at Everton FC, bake sales, dress down days and raffles. Other fundraising events have included a catwalk show, Mayor's Dinner charity auction and ping pong tournament. Chief Executive, Ged Fitzgerald and his senior management team also took part in the Santa Dash.
Fantastic result from the 24 Hour Rowathon, in aid of PC Neil Doyle Memorial Fund
ON Thursday, 17 December 2015, a 24 hour, indoor, charity rowing event took place at Merseyside Police Headquarters in aid of the PC Neil Doyle Memorial Fund. Tim Davies, 45, an Evaluator with Merseyside Police, and on the 1 Anniversary of the creation of the fund, he took on the challenge in the foyer of the Canning Place. He was assisted by a team of 6 who took over when he needs to take a break. Merseyside Police have since told us that:- "Tim Davies raised a total of £1565 for the Fund during his 24 Hour Charity Rowathon. The money was raised through donations on the day and to the Justgiving page. Tim would like to thank the media, colleagues and members of public for their support and for everyone who made a donations." Never 1 to shy away from a challenge, Tim is a member of Reserve Forces and has recently returned from training in Austria, where he qualified as a Snowboard instructor. He's also completed numerous challenges for a variety of charities including a bike ride from Hornsea to Liverpool, an abseil and many marathons and half marathons all in aid of a good cause. Tim said:- "I didn't know Neil Doyle personally, but I wanted to do something to help the memorial fund and I thought the Anniversary was the ideal time to do it..." If you'd like to still make a donation, you can do so via log onto his Just Giving Page.
Statement following the sentencing of Edward Brooks
MERSEYSIDE Police have confirmed that 45 year old Edward Brooks, from Southport, was sentenced on Monday, 21 December 2015, at Liverpool Crown Court to 4 years and 2 months imprisonment after pleading guilty to a total of 15 drug and sexual offence charges. Brooks was also issued with a Sexual Harm Prevention Order for 5 years. Brooks was convicted of supplying cocaine and Zopiclone to a vulnerable 16 year old girl, with intent to commit a sexual offence against her. He was also convicted of supplying both Diazepam and Dihydrocodeine, and making indecent images. Brooks had initially befriended the victim, who had started work at his partner's place of work. Detective Sergeant John Harrison of the Matrix Sex Offenders Unit said:- "Brooks' actions were despicable, grooming and exploiting the victim's vulnerability, and administering her with drugs, including sleeping tablets, actions which were carried out with a sexual intent. This was a complex investigation due to the age and vulnerability of the victim and the drugs that were administered. I would like to take this opportunity to praise the victim for her immense bravery in giving evidence to help secure justice, which has been supported every step of the way by the Police and our partners. We would urge other victims of sexual offences, whether they are historic or otherwise, to not suffer in silence and instead tell someone what has happened to them. The force is committed to the protection and wider safeguarding issues of young people. In doing so we view the abuse or grooming as unacceptable and will work with partner agencies to investigate and where possible prevent such abuse. We all have a duty of care to protect young people from harm and I would encourage parents, grandparents, teachers, health professionals, social services and any other adults to take a little time to better educate themselves about child sexual exploitation. Merseyside Police has a great website which highlights these issues from young people's perspectives and also shows where you can get help if you have any concerns about any child you know. It helps victims to find the right kind of support and advice if they have suffered abuse in the past. It also has loads of information for young people to help them if they think they are being exploited, or if they are worried 1 of their friends may be."

Anyone who would like to report a sexual offence or anyone with information is asked to contact Merseyside Police on:- 101 or Crimestoppers on 0800:- 555 111.