Happy New Year, 2016 is here, what install?
IT'S hard to think it's over 15 years since the millennium, but as 2015 passes into the history books, what 2016 has in store is anyone's guess. From the introduction of the new Pension System to immigration, sports and more, we are in for a very active year, that promises to be interesting. What we can say is that 2016, if you did not already realise is the 16th year of 21st Century. 2016 is also a leap year and there will be an extra day in February. Yes 1 extra day to work… 29 days not 28! With loads of issues, that will affect us all in the UK, we would like to know what you think will be the biggest things that will affect you this year? Please email your thoughts and predictions to:- News24@southportReporter.com.

With banking, we are expecting quite a few more banks to face legal action, as well as more movement over the high fees charged by Pay Day Loan companies. On the technology side, Contactless Card Security will become a very hot topic. Should we be worried about our credit cards in 2016? While the current daily spending limit for contactless cards in the UK remains at £30 for now, some banks want to increase this! But the worry is that thieves could easily continue using cards on a daily basis without reproach, after being stolen if they are contactless enabled. As 2015 closed, The Guardian newspaper found that UK Banks may not be able to cancel cards in their entirety, as not all contactless payments are checked immediately. Recent security scares within the UK have highlighted the risks involved with such technology. Talking about technology, the convenience of the Web of Things (WoT) is ever growing, but this will become more of a target for hackers in 2016 and after... If you are not aware of what the term is about, it describe approaches, software architectural styles and programming patterns that allow real world objects to be part of the World Wide Web. Other technology issues will include more focus on drones, as insurance companies start to block the ability to calm on policies following accidents with any remote controlled equipment. Interestingly, that might also impact on Web of Things! Small businesses are also increasingly at risk from hackers, so expect insurance policies to start to include hacking covers as standard, and moves by insurers for tests of business IT security. If introduced, this cover might require mandatory levels of security levels being widely introduced for all businesses in the UK. With the news, IMPRESS is looking at being launched, but as of yet its full remit and who and is not covered by them, still remains up in the air, as does a launch date. Other things to watch out for will be in November... Lots of sport as the 2016 Olympics will be held in Rio de Janeiro in Brazil...

With health of the nation being headline news throughout 2015, it will also pop up again, like a bad apple in 2016. Sadly, this bad apple includes the apple might just keep the doctors at bay for real this year, as well as other health care professionals. 1 of the issues that will be of huge concern will be the introduction of far stricter immigration rules for working people. This new law being comes into effect from April 2016, and it is alleged that this may result in nearly 3,500 nurses being kicked out of the country under this legislation, according to the Royal College of Nursing! This is due to the low pay nurses have in the UK and the new rules that state, if you come from outside the EU and you've been working here for more than 5 years, you must be earning more than £35,000 a year! If you do not earn over that you will be shipped off back to your country of origin and there is no there is no apparition obligation under the new rules to consider that some jobs are essential, and that people like nurses are asset to our society and need protection. Watch this space such of legal action hitting the headlines over this issue!

Also with work, the headlines are going to be filled over 2016 with warnings about the move to get the national minimum wage of £9 per hour by 2020. Many small businesses are struggling to keep up, and now larger businesses are also issuing words of warning to the press. With the minimum wage, for workers over the age of 25, increasing to £7.20, in April 2016, in the largest real terms increase since 2007, putting added pressure on what businesses say is a fragile recovery, giving those warnings causes even more concern.

Gender pay gap in workplaces must be reported from this year. This new legislation being rolled out in 2016 will be forcing employers to disclose this information each year, so expect some high profile headlines over the pay gap between men and women. Will this have any real time effect or is this just added paperwork to make the government look like it is making the workplace more equal?

EU legislation could see 'vapes' and 'e-cigs' disappearing from our public spaces. This will probably be a bigger issue over 2016, as will issues over the use of so called:- 'hoverboards.'

Within Rugby, will England and France start to change their fortunes under new coaching regimes? In Super Rugby, Japan and Argentina throw teams into the ring as the global games are expected to continue to grow.

Football, Liverpool FC have had many pundits and national media having their say, but expect to see some interesting changes ahead that could see the team having another major winning streak. The massive improvements and expansion of Anfield Stadium, are currently on target for completion during the 2016/17 season will be bound to boost morale in the team.

Prophecies of Nigerian pastor Enoch Adeboye, are making the rounds on the internet, with the influential pastor issuing some dire predictions for the coming year. Will he be the next Notradarmus? Expect lots more globe warming issues, flood related issues and even drought warnings to hit headlines, nationally and locally.

Development will be a major hot topic of 2016 locally, as many building firms try to build on flood plains across the region and other areas, which the public feel should be protected. But it will not be all bad news. Not only the 54,000 seats at:- 'The Reds' stadium that has already made a huge change to the skyline is set to open as we said above, this summer, Liverpool will have some amazing developments due to be finish in 2016.

The Shankly Hotel redevelopment is set to be completed in 2016, as well as Signature Living's 'Eden' rooftop bar and wedding venue, built onto the roof of the hotel.

This year the low cost airline Easyjet is celebrating its 20th birthday. But for Liverpool it will also be marked by the airline opening a new offering to Liverpool's hotel accommodation. The 'super budget' EasyHotel in former office space above Castle Street's Salthouse Bacaro, is set to open later this year.

Herculaneum Quay is set to be completed late next year on the Liverpool Waterfront. This development will also radically change the skyline.

60 Old Hall Street, next to the Liverpool Echo has been called:- "the ugliest building on Old Hall Street", but that is about to change thanks to Signature Living.

Then in Liverpool you have Baltic Village, Pullman Hotel, Club House, Liverpool ONE and many more.

In Southport, keep an eye on Pleasureland as new rides are set to be brought in and with Formby, RAF Woodvale will find out soon what its long term future will be.

Commuters travelling from Kirkby, Ormskirk or Southport or to Hunts Cross will have to go to Liverpool Central are to be facing an interesting time as over 2016, facing some disruption to their journeys as Moorfields Railway Station is temporarily closed for refurbishment. We will also start to see new services from Southport and Liverpool being introduced on the rail network, along with more news about the replacement of the old rolling stock on the Merseyrail lines. With the Mersey Ferries, major announcements are to be made, for both replacement of the old ferries and also possible change to services. On the buses, a brand new, updated bus time display system will be introduced across the Merseyside area. It is hoped that it will deliver what bus firms say will be correct, up to date estimated times of arrival for buses at most major bus stops.

This year we are expecting some fantastic entertainment with many of blockbuster movies, like:- "X-Men: Apocalypse" and the "Deadpool" plus many others… Also expected to hit the headlines over and over again through out 2016 will be the animated film called:- "Rogue One: A Star Wars Story" that's due out in December 2016.

On 9 May 2016, a fantastic astronomical event will take place, when Mercury will make a rare transit between the Earth and the Sun. The next transit will happen in 2019 and then again sometime after 2039. Also NASA's New Frontiers Program, Juno is due to reach Jupiter on 4 July 2016.

Expect lots of Terrorism headlines though out 2016, as well as lots of news about our armed forces.

China will be celebrating its New Year on 8 February and according to the Chinese calendar, 2016 is the:- "Year of Red Fire Monkey."

Events, well take a look at our event calendar for some of the amazing events on offer over 2016 by clicking on here now. Also, if you are running an event on or near Merseyside, please let us know in advance and we will look at adding it to our listings for you.

We are also making some major changes to our service, so keep an eye on here for news on that over 2016!

Please do email your thoughts and predictions for 2016 to our Newsroom via:- News24@southportReporter.Com or post on our Facebook Page.

The inaugural Fernley Event is a resounding success
Photographs by Patrick Trollope.

SO what did you do on the 1st morning of 2016? For some it was a run and an icy swim, in aid of charity, as on 1 January 2016, for the inaugural The Fernley Event. The idea being, to help raise funds for the local Lifeboat services and to commemorate the bravery shown of the 27 local lifeboat men from both Southport and St Anne's crews, on the night of 9 December 1886.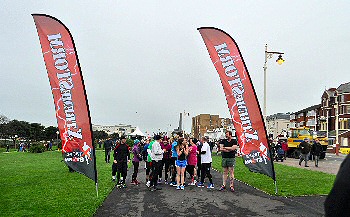 In 1886, a very strong storm left the German cargo boat called the Mexico, stranded on a sandbank. The stricken vessel then, in the heavy seas, capsized in the Ribble Estuary. As this happened, the both the Eliza Fernley, from Southport and neighbouring St Anne's lifeboat, the Laura Janet had been launched, in a effort to rescue the crew. Sadly, all hands on the Laura Janet were lost as to all, but 2 of the crew of the Eliza Fernley. This rescue attempt was to become the World's worst lifeboat disaster ever.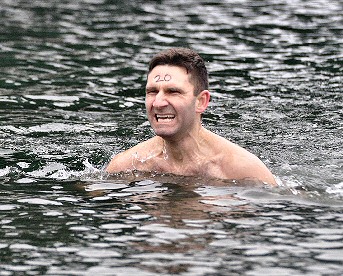 This year's Fernley event took place on a very cold morning, with lake levels far higher than normal, due to flooding from the resent storms over Christmas. Our video footage shows some of the brave runners who took part, swimming the lake, between the new bridge and the Pier, at the back of Funland.

The event was organized by a local events company, STORM Consultancy, whose Managing Director, Major Jonathan Cunningham, MBE, also ran and swam, with his teenage sons.

Special congratulations go to:-

► Winning female and overall winner was Kirsty Mackenzie, with a time of 19 minutes and 4 seconds.

► Winning male was Chris Grogan, with a time 19 minutes and 7 seconds.

► Winning international entry was Andy East, with a time of 22 minutes and 54 seconds.

► The youngest completions were Bertie Cunningham aged 14 and Edward Cunningham, aged 16.
More information and to sign up for next year (2017) go to:- TheFernley.Co.UK.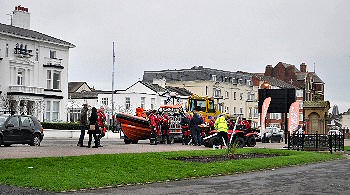 Did you know that the safety boats were provided by Southport Lifeboat Crews, from Southport Offshore Rescue Trust. A voluntary Lifeboat service and sea rescue charity which is not funded by the RNLI. For more information visit:- Southport-Lifeboat.Co.UK. The Media Paddle Board, with thanks to:- SUPNorth.Co and First Aid provided by St John Ambulance - SJA.Org.UK. Plus Sports Therapy provided by Holistic-Realignment.com.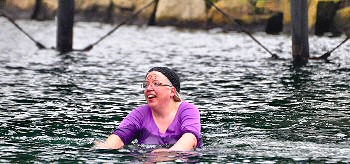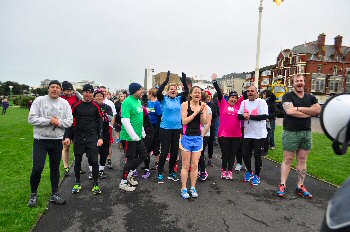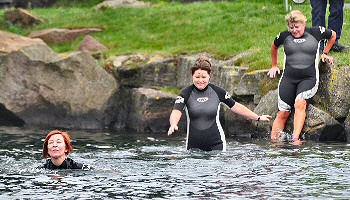 PAGE 1 OF 5
We hope you liked the photos, but please, don't copy them. Please help us to keep our copyright intact and to keep this site online. Click on here to find out how you can get you copy of these photos.