Game of Thrones fans in the North West, pay attention!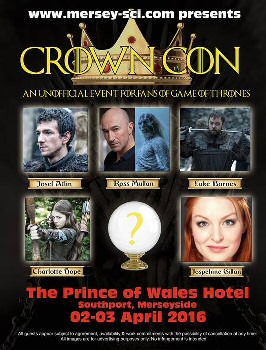 CALLING all Game of Thrones fans in the North West of England…. It might be an American fantasy drama, created by HBO, but since it 1st came out in April 2011, this television series has captured audiences across the world. Created by both David Benioff and D. B. Weiss, who would have thought it would now go on to Season 6?

If you want to share your interest with other GOT fans, chat about your fears that one of your favourite characters are about to be killed off or voice your views as to who should be… Take note, as some of the Game of Thrones cast along with the Iron Throne itself are heading to Southport very soon as part of a weekend dedicated to the HBO series.

The event will be raising awareness and funds for Southport support group Fibro Info Southport along the way.

Crown Con is being organised by Westeros fanatic, Andy Sciacca and he believes the convention, which is being held just few weeks before the hotly anticipated season 6 premiere hits the airwave will prove worth while.

Andy Sciacca said:- "We are bringing in actors to Southport to meet the fans, talk about their experiences of being in the show, sign autographs and pose for photos. It has always been one of my favourite TV shows. From previous experiences, all the Game of Thrones actors are really nice people and keen to get to know the fans. They will always make the effort to try and meet every person there."

Whitewalker actor Ross Mullan, Luke Barnes who plays Rast from the Night's Watch, and Josef Atlin who plays Pypar, friend of Jon Snow, will be visiting the event at the Prince of Wales Hotel on 2 April and 3 April 2016. Andy, from Southport, has done a bit of acting himself, and has plenty of experience with Comic Cons and specialist conventions, having visited them over 30 years. He said:- "We are so happy that local businesses such as Subway, Bar and Burger, Jo Rutherford Photography and The Geek Pit are getting behind this event and hope that other local businesses will help support us as well so this event, the only UK event dedicated to the show, can benefit the whole Town."

If you would like to attend Crown Con you need to purchase a ticket. For those that show loyalty to the event we offer a private meet and greet with our celebs for the 1st 30 tickets sold. All tickets are £70 per person, 15 years or older. Child tickets are £45, Under 5 years old are free of charge (See terms and Conditions). Please note that processing fees for payments are £2.50 per item. Any money left after costs are covered will be donated to help fibromyalgia sufferers in Southport.

There are still tickets available for the weekend at:- Mersey-Sci.Com and as well as getting you through the gates, they come with entry to the evening parties and all the talks being held.

'Winter is Coming to The Prince Of Wales Hotel', over 2 April to 3 April 2016, maybe Jon Snow will come with it?