Southport St John Ambulance Cadets at the Palace.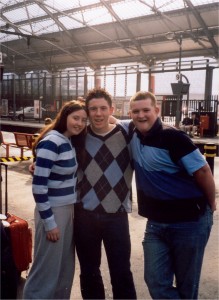 EARLIER this week saw three St John Ambulance Cadets from Southport receive the honour of invitation to Buckingham Palace to meet HRH the Princess Royal, Princess Anne, Commander in Chief of the Cadets.

Teenagers, Graham Pacey, Jack Menzies, and Becky Botton were chosen for their exceptional work within the organisation, competed against cadets all over Merseyside to become for the coveted annual National Cadet of the Year awards.

Jack and Becky had recently completed the Grand Prior Award, which required them to complete twelve proficiencies in various subjects on care, emergency aspects, communication, leisure and skills plus knowledge of the order. They had achieved the award over a number of years and were presented with their certificates at the end of last year.

They were accompanied by youth officers from the Southport Division on the day trip to London. After a briefing at the Metropolitan Police Station adjoining the Palace, they, and other cadets from other counties were taken into the Palace and into a reception hosted by the Princess.