The 'Festival Of Speed' is on!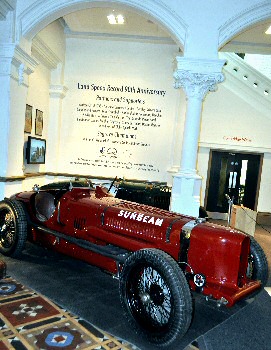 SOUTHPORT is currently holding a 'Festival Of Speed' to mark the 90th Anniversary of Sir Henry Seagrave's land speed record on Southport Beach, on 16 March 1926. The events started at the Atkinson, on Lord Street, with an Arts and Craft event along with an interactive performance about Sir Henry Segrave. Plus, in the foyer, there are both the record breaking Sunbeam Tiger, and the support car. Both of these remarkable vehicles are on loan, thanks to the National Motor Museum, Bealieu.

But the main events come on Wednesday, 16 March 2016 and will include seeing the amazing red vintage car return to the same stretch of beach where it will re-enact the record attempt in full view of the public! This will take place on Wednesday, 16 March 2016, from 10am, on Ainsdale Beach, thanks to the Aintree Circuit Club (ACC), Sefton Council, the Heritage Lottery Fund and most importantly, Thorley Melham Motor Racing. Spectators are able to watch for free, but parking is not allowed on the beach and will only be available at Pontins, priced £3 per car! If you are heading to work, we advise you not to use the Coast Road due to delays being extremely likely! Then, in the afternoon, join the Atkinson for a unique afternoon with a selection of talks about Sir Henry Seagraves's life and connection to Southport, the History of Sefton's ever changing coast and Southport's own special motor racing history. Tickets are just £25 and that includes a buffet...! Then in the evening, why not close the day with artisan pie and a pint of Southport Brewery Ale, and join the audience of the 'Seagraves Anniversary Talk.' This event will have 2 very special guest speakers, Stephen Seagraves, great nephew of Sir Henry, talking about his great uncle's life and Neville Hay, legendary race commentator and film maker, talking about his life in motor racing. Tickets for that event, include the pint and the all important pie, and will only set you back £20 per ticket!

But the action is not finishing on Wednesday, as it continues through the week and finishes on Sunday, 20 March 2016 at the Atkinson. The other activities on offer include, a Film Night, showing Senna (12a) at The Atkinson, on Friday, 18 March 2016, then on Saturday, 19 March 2016, in Kings Gardens, from 10am, a free Historic and Classic Car Procession.

We will be bringing you lots of photos in our next edition from this historic event.

More information can be found about this event can be found on the Southport Town Centre Tourist Information website.