International Liverpool
Expanding Business Horizons
Supported by Liverpool Chamber of Commerce & Industry, HSBC Bank, Liverpool Business Centre and SABRE
Gala Dinner, Crowne Plaza Wednesday 26th March 2003 & FREE Seminar programme & exhibition at the Liverpool Town Hall Thursday 27th March 2003

"Export-led growth has never been more important to Merseyside business. Like anything else, the rules-of-the- road of international trade have to be acquired, which is why International Liverpool - "Expanding Business Horizons" to be held in Liverpool Town Hall - is such a unique and important event. Its aim is to bring the experienced and the aspiring face to face, to network, to share experiences, to garner the latest information from knowledgeable export advisers and service providers. So keep a clear day. Your participation will help to make it even more successful." said Peter Ralphs Chief Executive, Liverpool Chamber of Commerce and Industry

An essential event for both, active or aspiring exporters of products and services. International Liverpool 'Expanding Business Horizons' is a unique exhibition being held for the second time, following its great success last year.

• Free over 20 exhibiting organisations providing an extensive network of export support, from Government sponsored incentive schemes; business advice and training; financial services for exporters; overseas trade missions; market information & research; e-commerce & documentation; freight forwarding & shipping services.

• Free Admission to seven seminar presentations on current export themes – keeping you updated on current issues. Including The Euro, the US and German markets, Beijing Olympics/Shanghai World Expo 2010, and Custom procedures.

• Free Consular briefings throughout the day outlining Country profiles, regional variations and trading 'etiquette'

• Free a drop in clinic for 'want to be exporters' – come for a free consultation and talk to the experts and seek their advice and guidance.

There are currently 1800 active exporters on Merseyside, many of whom will be in attendance on the day. For those anticipating entering the export market this event is a must and will offer the ideal opportunity for effective networking.

So whether you are an experienced or aspiring exporter, this is a FREE event, you must attend. For further information or to book your place at the exhibition, please contact Ian Bulmer at Liverpool Chamber on 0151 227 1234...
Prostate Cancer Awareness Week
Photograph by Patrick Trollope.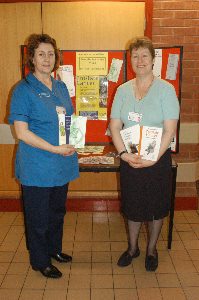 PROSTATE cancer kills almost 10,000 men in the UK each year, which is why Southport and Ormskirk Hospital NHS Trust is encouraging men to be aware of the killer disease in Prostate Cancer Awareness Week over March 24th to April 1.

The cancer of the prostate is the second most common cancer in men, after lung cancer. More than 20,000 men are diagnosed each year and, more worryingly, the numbers are rising. Figures released show the risk is greater in older men, with a staggering 95% of cases found in men over the age of 60.

In order to raise awareness the Southport and Ormskirk Hospital Trust had an information stand at both Southport & Formby District General Hospital and Ormskirk Hospital during the week. Leaflets and posters could be picked giving advice, information and aimed at encouraging men to go and see their GP, if they have any worries.

Jan Franklin, Uro-Oncology Nurse, said:- "Men are notorious for only seeing their doctor when they have been prompted to by their wife. But, however you feel, don't be afraid, it is important to go and see a GP if you have any concerns."

Symptoms to look out for include:- the need to rush to the toilet frequently, a weak urine flow, difficulty to pass urine, other signs are blood in the urine, lower back pain as well as or pain in the hips and pelvis.

Jan added:- "It is important to realise that these symptoms can be caused by other problems, but it is always best to get checked out if you are unsure."

The Trust also supports The Prostate Cancer Charity, which raises vital funds needed for more research into the disease and a cure. If you would like to support the charity or organise your own fundraising event, contact the fundraising department on 020 8222 7644.

More information can be obtained from The Prostate Cancer Charity, 3 Angel Walk, London, W6 9HX. Or on the charity's web page on www.prostate-cancer.org.uk.