GOING SPORTS MAD!!!!!!
Photographs
by Patrick Trollope.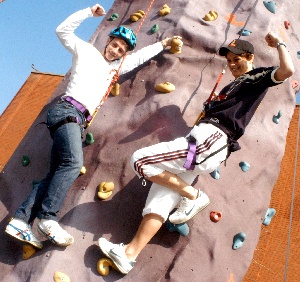 YOUNGSTERS are being urged to go sports mad as part of a new campaign to promote a healthy lifestyle at a young age.

A recent event at Everton Sports Park last week entitled 'A Celebration of Youth Culture', hosted by former television Gladiator Eunice Huthart, came just a week after the city council opened the country's first family gym at Peter Lloyd Leisure Centre in Tuebrook. Where a number of sport activities and arts such as dance and drama took place for the benefit of the young children and adults.

It is one of a number of initiatives designed to dissuade youngsters from becoming couch potatoes. Councillor Warren Bradley, Executive member for Leisure and Culture, said:- "More than 8,000 children take part in our health and fitness programme SportsLinx every year, and we are committed to providing facilities where young people can come and enjoy themselves and get fit." SEE MORE PICs.