SIR PAUL BACKS LIVERPOOL'S CAPITAL OF CULTURE BID

POP Legend Sir Paul McCartney is supporting his home city's bid to become European Capital of Culture in 2008.

The former Beatle, who will be back in Liverpool for a concert at the Kings Dock on June 1, who also has the freedom of the city, gave a heartfelt comment about the city, "Liverpool is most rich in the history of its architecture, its music, its politics and much else besides. But most of all, Liverpool is rich in the spirit of its people and for that I support its claim to be not just a cultural capital of Europe but the capital of the universe."
More than 150,000 people have signed up to the Liverpool Culture bid. Sir Paul is the latest in among many names to offiert support for the city in a list that includes Alan Bleasdale, Atomic Kitten and Michael Owen.
Liverpool city Councillor Mike Storey said, "We are absolutely delighted that Sir Paul is supporting our bid. We know he has always maintained very strong links with his home city and he clearly recognises that Liverpool deserves the title."

Liverpool's 2008 bid takes off!!!
Photograph by Patrick Trollope.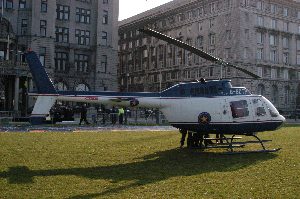 LIVERPOOL'S official bid document to become European Capital of Culture in 2008, lift off in a specially chartered helicopter
on its way to London. Professor Peter Toyne, chair of the Capital of Culture bid, took to the wind to personally deliver the
case-load of documents that forms Liverpool's high-flying bid. Speeches by Liverpool City Council leader Mike Storey and the
Chair of the Capital of Culture bid, Professor Peter Toyne opened what was a fantastic display of cultural diversity that is
you fund in liverpool. Will a spectacular send off, from stilt walkers, Chinese dragon, a marching band and a Chinese pagoda orchestra on the city's
historic waterfront under the Royal Liver Building in the full view of the UK's media.