OUTDOOR PURSUITS DRIVE PUTS SEFTON ON THE MAP
Janet Cardiff, Forty-Part Motet (2001).
Lent by Pamela and Richard Kramlich and the American Fund for the Tate Gallery, fractional and promised gift, 2003.
Photograph courtesy of the Artist and Luhring Augustine.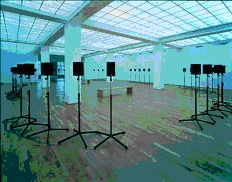 Her latest piece of work - Forty-Part Motet, is a large sound sculpture, first presented at Salisbury Cathedral as part of the Salisbury Festival, 2001 in which her latest offering at the Liverpool Tate Gallery on April 12 offers a new perspective on combined visual-audio art.

Working with a cathedral choir, Cardiff created a version of Thomas Tallis' sixteenth century motet Spem in Alium using 40 audio speakers. Each speaker reproduces the voice of one member of the choir.

Forty-Part Motet allows the audience to experience sound from the viewpoint of the choir and to move around and through the work. Surrounded and engulfed in the polyphonic sound the audience is able to listen to different voices, creating a very charged emotional atmosphere experienced in a very public way, which breaks from previous works such as Muriel Lake Incident. In that, her approach has been much more of a private and secluded experience that tackles structures of narrative in the manner of a story telling tradition.

Tell us your news, and keep the Reporter as your voice to the world.
West Side Story

Report by Gill Fell and photographs by Patrick Trollope.

Local Formby girl Micki Miller is set to put on another outstanding performance at Southport Arts Centre, this time West Side Story.

This classic love story set in the 1950's is cast with 50 local teenagers, from Micki's drama groups 'Another Planet Workshops' It's a tale of tension between rival gangs the 'Sharks' and the 'Jets' elicit love and tears.

Other productions including 'Annie' and 'Once Upon This Island' have been huge successes.

And with the help of Choreographer Victoria Harrocks the show is destined to be
energising and moving. Playing an important role in its production is Kenny Thompson
Director of the fight scenes, Kenny is a graduate of Southport College and
Micki praised the college for helping develop such individuals "The BTEC in Performing
Arts at Southport college is producing students of an excellent standard, they are highly motivated, creative, professional and self motivated and Kenny is no exception"


The teenage cast are from Range and Formby High Schools and Merchant Taylors, the performance dates are Thursday 10th and Friday 11th April in the Cambridge Theatre in the Southport Arts Centre. Tickets are available priced at £6 and £4 for
concessions please phone the Box Office to reserve tickets 01704 540011