A fantastic showdown.
Report and photographs by Patrick Trollope.
ON the 3rd April 2003 the gloves were off as the showdown of the finalists of Southport Pleasurelands' Fame, Search for a Star competition got under way. With autograph hunters were out in force on the door, stopping all the contestants and asking them to sign books. The night was off to an good start. Judges from the Visitor, Pleasureland and Clear Channel Entertainment were had a hard night ahead picking the lucky winner.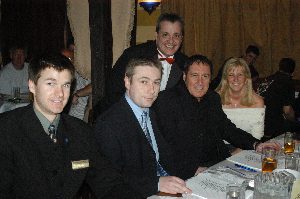 One contestant, who has been in the real Search for a Star competition said, "It is hard to compete here. It is far more intermit than at the Arts Centre, so you do get a lot more nerves as you can see the audience. It is also due to you see your relatives and friends… That puts you off. This has been a fantastic event and I will enter again."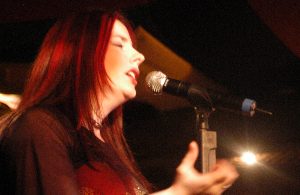 The finalists were as follows:-
Katherine Daggers,
Leyland

Nicky Spofforth,
Netherton
Rebecca Fuller.
Liverpool
Kathryn Pemberton,
Halifax
Samantha ]ones,
Tamworth
Sarah Dav'ies,
Devizes
Benny O'Connor,
Liverpool
Suzanne Morris,
Liverpool
Chris Mason,
Southport
Leanne Tagoe,
Liverpool
Benny Smith,
Little Lever
Samantha Halliwell.
Bolton
Anthony Webb,
Liverpool
Matthew O'Shea,
Birkenhead
Andrew "AY" Weller.
Bolton
Liz Rushton,
Southport
Bernie Tranter,
Wirral
Zoe Bodnarec,
Bolton
Anthony Finbarr-
Smith, Bolton
Alison Ward,
Liverpool
Debbie Moore,
Winsford
Terri~Ann Devine,
Southport
Ceri Wood,
Litherland
Nina Fossard.
Liverpool
To give a brake from the mounting tension as the climax moved ever closer, to what was an amazing night; a member of Cassas' bar staff dressed as a transvestite, singing songs from the "Rocky Horror Show". Also as the judges deliberated, the gap was also filed by one of the stage schoolteachers taking to the stage as "Shire."

The winner Liz Rushton from Southport, was presented a cheque for £500.00 by Phil Picket, Pleasureland's General Manager and Tom Bright a Comedian and Radio Personality (Blackpool Pleasure Beach). They to also handed prizes to second place Samantha Jones and third place to Terri~Ann Devine from Southport.

All the contestants left with a bottle of Champaign and a huge round of a pleasure from every one.

Liz told me "I was shocked. I herd my name being called out, but I thought it must be a mistake or I miss heard it. It was such a hard competition and to think I came first is both a shock and a huge pleasure. It is an amazing feeling. I would like to say the other contestants were fantastic and deserve credit as well for a fantastic evening."

Pleasurelands spokesman said, "We're absolutely delighted with the success of "FAME". It was our first attempt at organising this kind of event, and it's exceeded all our expectations. A lot of work has gone into organising "FAME", and a big thank you goes out to everybody who was involved, from the judges right through to the bar staff at Casablanca.

We'd also like to extend our gratitude to the sponsors, with out whom this wouldn't have been possible, Parr Street Studios, Clear Channel and Willought's Wine Merchants. They've been extremely generous and accommodating in providing both prizes and judges for each night.

Finally, a big thanks you to all the contestants. The standard throughout the competition has been truly excellent, and I'm sure anybody who came along will have gone home thoroughly entertained. In the end they're the reason the competition has been so well supported, and we wish them every success in the future and hope to see them all again next year for FAME 2004."
Page 1 of 5