Unity Theatre awarded £133,900 from Arts Council England in Catalyst Evolve Funding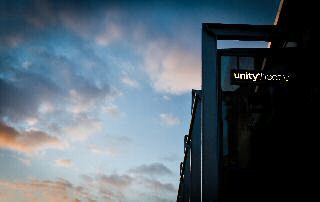 UNITY Theatre is delighted to announce that it has been awarded a Catalyst Evolve grant of up to £133,900 from Arts Council England towards a £230k creative and organisational development programme. The award will enable the Liverpool theatre to deliver an ambitious and exciting creative programme over and above its existing work: including new commissions, a Digital Artist in Residency programme, support for producers and the wider creative community and a series of Ideas Labs.

Critically, the award will also enable the theatre to test and develop a range of new methods of income generation, building on its recent past experience of fundraising for the capital programme. This will include establishing new corporate relationship, a re-launched regular giving programme and increased work with trusts and foundations. It will continue to help bring fundraising into the heart of the organisation.

The award is having an immediate impact on the Unity's work. Under the Ideas Lab strand, the first 2 events have been announced. In August the theatre will be working with Annette Mees, one of the WIRED UK Creative Fellows to deliver one of five nationwide Future Assemblies which will bring together young people and over 65s to uncover visions of possible futures that can inspire us all.

Then in September we will be working with the hub to deliver a 3 day lab called HACKstage where technologists, technicians and creatives are invited to come together to explore how digital technology can open up new forms of interaction in the theatrical / digital space. Over those 3 days of intensive sharing, making and testing, ideas will be shared, teams will form around them, and these ideas will be developed into (paper) prototypes.

Chair of Unity Theatre, Chris Bliss said:- 'This is a really exciting investment in Unity Theatre by Arts Council England, which is being made at a critical time. This will enable us to deliver more programme wise, with a wider impact, but it will also help embed fundraising into the heart of the organisation. It will allow us to develop our recent success in individual donor fundraising, it will help us continue to develop our relationship with trusts and foundations and I'm particularly keen to see how it can support the development of new relationships between Unity and the private sector. With every pound raised for the creative programme being matched through the Catalyst Evolve investment new donors will have an even greater impact on our organisation'
Future sporting stars encouraged to bid for funding boost
BUDDING Liverpool athletes are being encouraged to bid for money to help them achieve their sporting goal. 3 bursaries of up to £300 are available, targeted at youngsters aged from 9-18 who are aiming to, or have already been selected to represent the City nationally in their chosen field. The bursaries are provided by Liverpool Sports Forum, and the money should go towards travel costs and entry fees. The criteria for applicants are:-

► Athletes must be between 9 and 18 years old.
► All applicants must live in Liverpool.
► Any application must be supported by any Sport England recognised National Governing Body (NGB) who can confirm levels achieved and events entered.
► Any successful recipient will not be allowed to apply for this scheme again for 3 years.

► Anyone interested must submit a written application of no more than 500 words outlining their level of performance, success achieved to date, training details and the cost to the individual of pursuing their ambitions. Other financial support and sporting aspirations/targets for 2016 should be outlined and a reference must also be provided by a NGB representative.

► All applications or queries should be sent to via email, by 5pm, on Thursday, 1 September 2016.

Assistant Mayor and Cabinet Member responsible for sport, Councillor Wendy Simon, said:- "We are committed to doing anything we can to support young people who are trying to achieve their sporting ambitions. Travel fees and costs associated with entering competitions can mount up, so these bursaries go a long way in covering expenditure which youngsters and their families would generally have to pay out for. We have a huge pool of sporting talent in Liverpool, and I'm pleased we can offer these bursaries which will go some way to enable our future stars to reach their full potential."

Record breaking year for filming in Liverpool
A recorded number of film and TV productions were made on location in Liverpool over 2015. A report going to the Culture and Tourism Select Committee, on Tuesday 9 August reveals during 2015, 257 film and TV projects came to the city, resulting in 1,067 filming days and bringing in £11.5million to the local economy. This is a 50% increase on the previous year, with the main rise being the number of days of filming per project. 1 of the major productions filmed in 2015 was:- 'Fantastic Beasts and Where to Find Them' – a 'Harry Potter' prequel, written by J.K Rowling and starring Eddie Redmayne. Liverpool was the only non-studio location used, and key scenes were filmed inside:- St George's Hall and the Cunard Building. The Warner Brothers film hits cinemas in November 2016, and during its time here more than 1,000 cast and crew stayed in 10 City centre Hotels, resulting in over 5,000 bed nights and generating more than £1.5million directly into the local economy.

Other production highlights included:-

► Rocky spin off, Golden Globe winning and Oscar-nominated Creed saw filming take place in Goodison Park.
► Florence Foster Jenkins starring Meryl Streep and Hugh Grant turned Water Street in to 1920's New York.
► Peaky Blinders returned to the City for its 3rd season filming at New Brighton, Croxteth Hall and the Welsh Streets.
► Stephen Poliakoff BBC 2 drama Close to the Enemy will air later this year, and saw stars Freddie Highmore (Charlie and the Chocolate Factory 2005),
► Angela Bassett (American Horror Story, ER, What's Love Got to Do with It) filming in and around the City.

► Acclaimed Sky1 drama The Five, which was written by bestselling author Harlan Coben, shot scenes for all ten episodes at locations across Merseyside, including Old Hall Street, Crosby Beach and Lark Lane.
And the success continues as Liverpool's small Film Office team predict that 16/17 will be another bumper year; so far 147 productions have been filmed resulting in 312 film days. One of the most high profile films to be shot in the City so far this year is:- 'Film Stars Don't Die' in Liverpool which saw actors Annette Bening and Jamie Bell in Liverpool last month.

More money is now being generated by the Film Office thanks to the introduction of the 'Income and Commercialisation Strategy'.

For the first time, the collection of fees was centralised which made using council services much easier and more efficient for production companies when booking road closures, parking in the city, street cleansing and filming in council owned properties such as the Cunard Building, St George's Hall and the Town Hall. This resulted in a direct income for the council of £468,619, meaning for the first time the City council received an economic impact directly from filming activity.

There are also future plans to:-

► Introduce a film permit based on best practice of the London Boroughs which facilitate filming. It is predicted this will generate an additional £10,000 of revenue.
► Develop new guidelines and work with all residents around the high volumes of filming in the Georgian Quarter which includes Hope Street, Falkner Square and Rodney Street.
► Work more collaboratively with both Wirral and Sefton Council's, to exploit opportunities which would benefit the whole region.

Mayor of Liverpool, Joe Anderson, said:- "Camera crews are getting to be a regular sight on our streets as we are one of the most filmed cities outside of London. Liverpool has a huge amount to offer production companies; amazing and diverse locations and a dedicated Film Office that is overflowing with local knowledge and a can do attitude which sees directors and producers return to the City time and time again. The development of a £25million film studio on Edge Lane is testament to the creative boom what we are currently experiencing; the demand is there for us to facilitate more filming in the city, so this is perfectly timed. And more than ever, it's essential that we look to our City region neighbours and see how our success can be shared with them, and working together in the future is key to this. It's fantastic news that the momentum is continuing and filming days are already at a high this year; so we'll be seeing a lot more of Liverpool on the big and small screen."

Film Office manager, Lynn Saunders, said:- "A huge amount of work goes in to attracting production companies to the city, and then working with them in the run up to, during and post filming to make sure all aspects run as smoothly as possible and they have a positive experience of the city. The number of TV programmes, adverts and films we are securing here is testament to our commitment to making sure Liverpool is at the forefront of Director's minds when they are considering where to film. It's important we don't rest on our laurels though and we are looking at doing things differently in the future which will improve the way we work and generate more funding and exposure for Merseyside as a whole."

For more information about Liverpool Film Office, or to see a special film showcasing some of their work, visit:- LiverpoolFilmOffice.TV.