LJLA's ready for its busiest weekend of 2016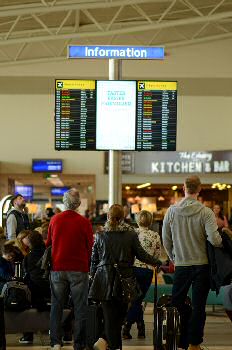 IT'S likely to be Liverpool John Lennon Airport's (LJLA) busiest weekend of the year, as the August Bank Holiday getaway begins once again on Friday, with around 70,000 travellers expected to pass through the Airport over the long weekend.

The Airport has continued to see increased passenger numbers throughout 2016 with almost 350,000 more passengers choosing to use the Airport so far this year. This weekend is likely to be the Airport's busiest Bank Holiday period for 5 years with the Airport expecting around 8% more passengers compared to the same period in 2015.

The majority of the region's holidaymakers are likely to be heading off somewhere warmer from Liverpool, including the sunshine resorts on the Mediterranean as passengers take advantage of the wider choice of holiday destinations available from LJLA. Weekend breaks are expected to be popular too with passengers travelling to various European Cities and further afield to the likes of New York on Aer Lingus' North American flights via Dublin.

This year has seen 2 new operators commence services from Liverpool with Spanish airline Vueling flying to Barcelona 3 times a week and the start of the TUI weekly flight to Palma.

Bookings with TUI from Liverpool have sold so well, that the tour operator announced earlier this year that it will be expanding its Liverpool programme for Summer 2017, by adding a further weekly departure to Palma, in addition to new weekly services to Tenerife and Ibiza, with flights for Summer 2017 already on sale. In total, 6 new services have commenced this year, along with increased frequencies on a number of existing services too. Growth is expected to continue throughout 2016 with another new route to commence shortly, with Ryanair starting flights to Sofia at the end of October 2016.
Robin Tudor, Head of PR for Liverpool John Lennon Airport, commented:- "It's been our best Summer for many years in terms of passenger numbers and the August Bank Holiday weekend is set to be our busiest weekend of the year once again, with passengers from across the region taking advantage of the convenience of flying from Liverpool with even more great destinations now available."

Sisters News and Book Shop armed robbery
MERSEYSIDE Police are appealing for information to assist detectives investigating an armed robbery in Bootle that took place, on Sunday, 14 August 2016. We are told that at around 10.55pm, a man wearing a balaclava and in possession of a meat cleaver walked into Sisters News and Book Shop on Peel Road and approached the counter. He is then said to have placed a black rucksack on the counter and made demands for money, threatening the member of staff. The contents of the till were placed in the bag and the man left the shop on foot towards Rimrose Road. The man is described as white, medium build, in his 20's and wearing a green coat, with his head and face covered by a hoody and balaclava. A silver or light coloured Skoda Octavia Taxi was seen close to the shop at the time of the offence, the driver of which may have seen some or all of the incident. Detective Inspector Mike Dalton from Sefton CID said:- "Although thankfully not injured, the victim was understandably left upset by this incident. We are determined to find the man responsible and bring him to justice, and will continue to provide reassurance and advice to local businesses in the area. We believe that other customers in the shop may have seen a man acting suspiciously across the road. I am also appealing for any Skoda Octavia Taxi drivers who recall dropping a fare at this location just before 11pm to contact us urgently, as your information could be key to identifying the offender."

Anyone with information is asked to call Sefton CID on:- 0151 777 3059, call:- 101 or Crimestoppers anonymously on:- 0800 555 111.
6 arrested in Southport after warrant executed
MERSEYSIDE Police arrested 6 people after a significant quantity of what is believed to be Class A drugs and cannabis was seized at an address in Southport, on Friday, 19 August 2016. Police Officers executed a Misuse of Drugs Act warrant at an address on Hampton Road, Southport, at about 10.40am and recovered around 200 wraps of white and brown powder, and cannabis. The wraps have been recovered for forensic examination and are being examined by Crime Scene Investigators. A 19 year old man, from Walton, a 45 year old man of no fixed abode, a 41 year old woman, from Southport, a 43 year old man, from Southport and a 40 year old man, from Southport, were all arrested on suspicion of possession with intent to supply controlled drugs (Class A). Sergeant Stuart McLoughlin, from the Matrix Serious and Organised Crime unit, said:- "Merseyside Police treats all drug supply seriously and the discovery of this quantity of drugs has significantly disrupted the supply of this drug in to our communities. We believe this was a sophisticated operation and I have no doubt that this involved organised crime. The fact we have prevented a significant quantity of drugs from reaching the streets, where they fuel so much other crime, is extremely satisfying. Criminals make considerable money through the sale of drugs and this is money made on the back of misery that drugs bring to our communities. Today's arrests and seizure shows Merseyside Police will do all it can to take action against those who line their pockets to the detriment of our society." Anyone who has any information about those involved in the production or supply of drugs, is urged to contact Merseyside Police on:- 101 or Crimestoppers, anonymously, on:- 0800 555 111. We will act on all information.
Public welcome at Trust board meeting
SOUTHPORT and Ormskirk Hospital NHS Trust will hold its next board meeting on Wednesday, 7 September 2016, at 9.30am. This meeting will be held in the Clinical Education Centre, at Southport and Formby District General Hospital. Members of the public are welcome to observe the meeting. Anyone with a special requirement should contact the Trust in advance on:- 01704 704 783. The agenda will be available on the Trust website in advance of the meeting. Supporting papers will be made available on the day.