The Kings of the City Cup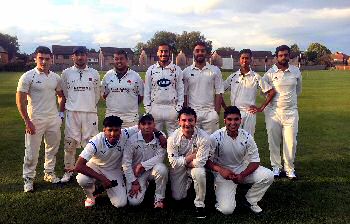 'THE Kings' from Manchester are the County winners of the ECB T20 City Cup in Lancashire for 2016 having fought off competition from cities and towns across the County through July and August. The City Cup in Lancashire is made up of teams formed on the back of the Lancashire Cricket Board (LCB) South Asian Talent Search and is a T20 Competition played on Friday nights through July and August.

The South Asian Talent Search aimed at youngsters, aged 16 to 23, of South Asian heritage, had trial venues taking place across Greater Manchester and Lancashire respectively. Over 100 players attended these trials which led to the formation of 5 teams; Kings, Royals, Panthers, Daredevils and All Stars made up players from East & West Manchester, Preston, Blackburn / Burnley and Ashton / Oldham.

The results of the Lancashire round of the City Cup Competition can be found online along with information around what is happening in other parts of the Country on this ECB programme.

The Lancashire Competition was a tight affair with anyone of four teams having a chance of winning going into the final round of fixtures. Despite a narrow defeat the Kings pipped the Panthers to the title by virtue of having a better net run rate, reflecting their fine performance over the entire competition.

Abid Hussain, coach for Kings, said:- "This has been a fantastic experience for all the lads being involved from start to finish. Everyone contributed one way or the other and they have been a credit to the Lancashire Cricket Board, and represented themselves very well. On behalf of myself and the players I would like to thank LCB and James Cutt for organising this competition."

The completion of this competition will now see 'Team Manchester' compete in the ECB National City Cup which started on Bank Holiday Monday, 29 August 2016, against Wolverhampton. If successful the team will go onto Semi Finals and Finals Day, which is scheduled for the 18 September 2016, at Grace Road, Leicester. There will be an opportunity for players to be skill tested by Performance Mangers from the ECB with a view to identifying talent from these groups of players who haven't necessarily come from traditional club cricket backgrounds.

Prior to this 'Team Manchester' took part in a fixture, on 26 August 2016, against the Lancashire County Cricket Club Academy at Stretford CC highlighting the commitment of the County Club to work with the LCB, around developing talented players.

James Cutt, Clubs and League Officer for the Lancashire Cricket Board, said:- "This programme is fortunate to have coaching support from Qasim Ali of Lancashire CCC along with local coaches Farouk Hussain, Raj Arora, Abid Hussain and Mo Patel who take a lead on teams that enter. My thanks go to the ECB, our coaches, umpires, host clubs, volunteers and players who have all contributed to our local City Cup and we now look forward to our involvement in the ECB City Cup nationally. I hope the players enjoy this experience and have some success from a team and individual point of view. We also hope to link players to local clubs where those relationships don't currently exist."

This programme is looking to expand in 2017 to other parts of the County, specifically into Liverpool. For more information please contact James Cutt on:- 07595 520536 or by email:- jcutt@lccc.co.uk.
Everton Football Club launches search for a local hero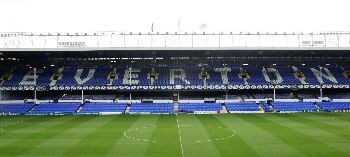 1 good turn looks set to deserve another, as Goodison Park launches a search for its very own:- 'local hero.'

The stadium, home to Everton Football Club, is holding its 1st ever 'Good Deed of the Year' awards and now the hunt is on to find the City's unsung community heroes.

Sodexo Prestige Venues and Events, which manages conferencing and events at Goodison Park, wants to hear about any business employee who goes an extra mile to help those around them.

And the person judged to be the most outstanding corporate community champion will be treated to an all expenses paid Christmas party night for them and up to 10 of their colleagues.

Debbie Slee, sales and marketing manager for Sodexo Prestige Venues and Events at Everton Football Club, said:- "This initiative has been created to hunt down and celebrate those unsung business heroes who have helped make Liverpool such a fantastic place. Heroes come in all shapes and sizes and whether they climb mountains in aid of charity, sponsor local youth teams or look after elderly neighbours, we want to hear about them. It's people like these who keep communities thriving and we believe it's time they started to receive the recognition they deserve. The winner of the Good Deed of the Year Awards and their guests will be treated to a 3 course festive feast at the stadium, beginning with arrival drinks and including party novelties an evening of entertainment."

The deadline for entries is 15 September 2016 and votes can be cast by filling in an online form.

For information about holding an event at the stadium, contact the Conference and Events team on:- 0151 530 5250.
Criminal past restaged
LOVEHISTORY, the producers of the popular 'Catacombs of Liverpool's Dark History' series and the City's most animated storytellers, will once again set to delve deeper into Liverpool's gruesome history to bring its criminal past to stage for St David's Church Friday Café Childwall.

The café will play host to a morning of crime, murder and mystery, on Friday, 2 September 2016, between 10am and 12 noon, re-enacting some of Liverpool's most notorious crimes. A team of versatile actors in period costume, will transport you back to the gruesome setting of the past with the infamous criminal stories.

The slums of Victorian Liverpool were a breeding ground for the criminal underworld, vice, fraud, violence and murder, a place where the morally corrupt would prey upon their victims and spread terror throughout the City. Liverpool crimes also involved the cunning, those that opposed violence and instead used their sharp wit to deceive.

Elizabeth Kirkbride, known as the baby killer will return to relive the horrifying tales and concealment of her new born babies.

The Liverpool Bank Robbery of 1878 relives the tale of a shrewder and more calculated plan where a young bank clerk, William Ohlman almost got away with the sum of £15,000, as he tried to escape the City with his mistress, Miss Mclean who vanished without trace.

The case of 'The Burning Woman' exposes the alcohol fuelled rage, when in 1884, a young prostitute Mary McNamara was burned alive during a horrific domestic dispute.

This event is the latest in a series of 1st Friday of the month, community events run at the church café. They were set up using some of the Mayoral Neighbourhood Fund allocation for local Councillors Jeremy Wolfson, Frank Hont and Liz Parsons and has run successfully for more than 3 years.

Councillor Wolfson said:- "We have had some very popular sessions, but any aspect of local history always attracts a lot of interest. This latest event, which marks something of a departure from our usual format, will look at some of the darker side of Liverpool's past, but will be done in a fascinating and entertaining way. Lovehistory have been a big hit at St George's Hall and we would like to thank the Hall's manager Alan Smith who has helped us stage this event."

Chance to join Liverpool FC greats at celebrity charity golf day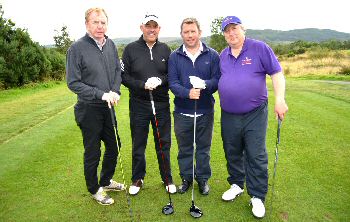 WHEN former Liverpool FC legend, Alan Kennedy launches his tee shot onto the first fairway at the Carrick Golf Course, Loch Lomond, at midday, on Thursday, 29 September 2016, it will signal his third consecutive appearance at the prestigious Caudwell Children Celebrity Golf Classic. The Carrick, 1 of Scotland's leading Championship standard courses, has played host to the event since its inception in 2008. The 2 day classic, which boasts an array of stars from the worlds of television, film, sport and music raises vital funds for Caudwell Children, the national charity that provides practical and emotional support to disabled children and their families. And this year (2016) Alan, nicknamed Barney Rubble by the Anfield faithful after the character in the cartoon series The Flinstones, will be joined by fellow LFC greats Mark Lawrenson, Ronnie Whelan, David Fairclough and David James.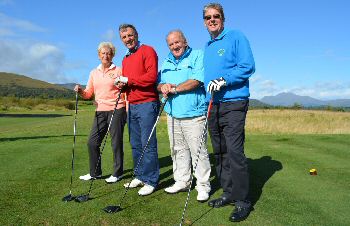 Alan's interest in golf began as his football career began to blossom at Newcastle United, in the early 1970's, and like many ex professional footballers his love of the game has remained long after he retired from football.

"I always loved watching the golf on television and I was a big fan of Tony Jacklin. It was 1971 and Newcastle had an agreement with a local club to let the lads play for free. That really kick started my interest in playing the game." explained Alan.

When he secured a dream move to Liverpool, in 1978, Alan continued with his golf, albeit in secret. "Bob Paisley, the Manager at the time, didn't like any of the players getting together to have a game. He'd let you do almost anything else, but not golf. He used to say that you could pull a muscle taking a swing at the ball, so if we wanted a round we had to do it in secret. As a result nothing was ever organised, it was all spur of the moment stuff. We'd sneak off to courses around Liverpool like Southport and Ainsdale, West Derby, Huyton and Prescott. It was all fairly easy going, but being professional footballers, it was very competitive."

Alan would get together with golf loving teammates like Kenny Dalglish, Alan Hansen, Terry McDermott and Steve Highway to play 2 or 3 times a month. Hansen, he says, could have made it as a golf professional. As he explained:- "He was tall and lean and he had a great swing. His timing was also immaculate and I'm sure he was good enough to have played at a much higher level."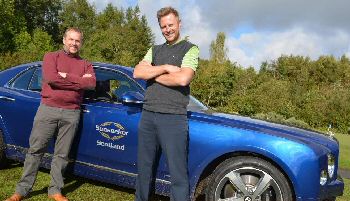 Although not an obsessive golfer Alan says that more often than not, when invited, he plays. "I'm playing a couple of times this week, including at Wentworth, but then I may only play 1 game next month. I'm not like my pal, and ex-Snooker World Champion, John Parrott, who plays two or three times a week. He's a fantastic player. I think he's got a handicap of 3. I play off 15 at the moment and to be honest I don't know if I'm better or worse than that. All I know is that every time I walk onto the tee my aim is to get a hole in 1!"

Alan says that he doesn't have a favourite golfing moment, but he does admit to having enjoyed some success against Merseyside rivals Everton recently. As he explained:- "As a former footballer I like nothing better than picking up trophies. So I was delighted when I picked up two nearest the pin awards against Everton, which made them all the sweeter! But the enjoyment of golf isn't just about the winning; I also enjoy how, by hitting a ball, you can get rid of some of your everyday frustrations. Although having said that after a bad day on the fairways or the green's you can come away feeling more frustrated than when you started..."

Alan is excited about supporting Caudwell Children again and says that the charity gives disabled children and young people invaluable help. He said:- "The equipment, treatments and therapies that they provide cannot be accessed through statutory measures, so without them children would go without wheelchairs, specialist sports equipment and short break activities. They even provide a once in a lifetime dream holiday to Disney World, in Florida, for children with life threatening conditions, which is just a great thing. I'm delighted that I'll be attending the event again and I'm looking forward to the spectacular views of Loch Lomond, the fantastic course and meeting up with an array of celebrities, including my former LFC pals."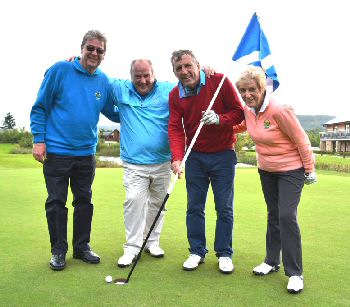 Kerrie Davies, Events Manager at Caudwell Children, is delighted by the line up of celebrities and says that the event is a great way for corporate ticket holders to entertain clients, network and promote their brand.

As she explained:- "It's a fantastic couple of days and teams have a great time mixing with the stars. They also enjoy two nights' accommodation at De Vere's flagship hotel, Cameron House, which provides 5 star luxury for the teams. This year, along with the LFC legends, we will be enjoying the company of amongst others John Regis, the 1st British athlete to run under 20 seconds in the 200 metres, James and Oliver Phelps, who played Fred and George Weasley in the hugely popular Harry Potter film series, and Manish Bhasin, presenter of BBC's Match of the Day. The world of Rugby Union will be represented by the former England stars Lee Mears and Shaun Perry, whilst Tom Lister, who played Emmerdale's arch villain Carl King, and Dean Andrews, the critically acclaimed actor and star of Life on Mars and Last Tango in Halifax, will also be playing."

Ticket packages are still available and Alan claims it's great value for the hospitality alone. "You get the most fantastic breakfast, lunch on the course, drinks at the 10th and 19th holes and two sensational evening dinners. It doesn't get much better than the Caudwell Children Celebrity Golf Classic."

For more information and to buy tickets contact the Events Team on:- 01782 600112 or email:- events@caudwellchildren.com.