Stoptober returns to Wirral to challenge smokers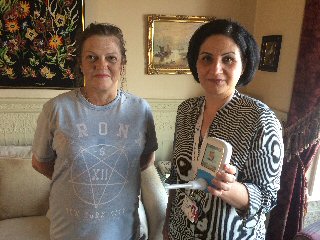 STOPTOBER, the 28 day quitting challenge is back for its fifth year after a successful 2015 which saw 1,422 smokers in Wirral sign up to quit smoking for good.

Stoptober has made a big impact on the local community already, helping to lower smoking rates to 18.9% in Wirral, however some areas in the borough still have rates as high as 32%. Wirral Council is encouraging local smokers to join the thousands of people making a change this October for a healthier future.

The campaign has returned with even more free motivational support including support via the Stoptober app, a daily email service and Facebook Messenger both which, when cravings strike, can provide instant support.

ABL Wirral's stop smoking service and pharmacies are also available to provide free, expert face to face support and guidance. People who quit with the support of a stop smoking service adviser are four times more likely to successfully stop for good.
You can contact ABL Wirral on 0151 541 5656 or text ABL to 60777.

Cllr Janette Williamson said:- "Stoptober is a great opportunity for smokers across Wirral to quit together alongside friends, family and hundreds of other people in our area. There has never been a better time to stop smoking, with lots of help and support available. It doesn't matter how many times you have tried before, call our specialist stop smoking advisers and take on the challenge this year."

Fiona Johnstone, Director of Public Health adds:- "Quitting is the single best thing you can do for your health. With the help of our local stop smoking advisers and the campaign's support and motivation, I am sure we will have another successful Stoptober. I encourage everyone in Wirral who smokes to take on the Stoptober challenge this year. You will start to see the benefits very quickly, not only to your health but also to the money in your pocket. If you stop smoking for 28 days then you are 5 times more likely to stop for good, improving both your own and your family's health."

Blind Viewers in Southport Urged To Take Advantage of TV Concession
PEOPLE who are blind (severely sight impaired), or live with someone who is, should make sure they aren't missing out on a concessionary TV Licence which allows them to save 50% on the cost. TV Licensing has been working with Action for Blind People in the North West to make sure anyone who is eligible to receive the concession is aware and takes advantage of the reduced TV Licence fee. There are 69 blind licences in force in Southport. Nationally, the number of blind concessionary licences has risen by 4% this year, with 41,392 blind concessionary licences issued in the UK, up from 39,700, the previous year. Increasing numbers of BBC shows are provided with Audio Description (AD), with over 20% of BBC output now audio described; above the target of 10% set for broadcasters by Ofcom. The service on digital TV, which allows you to hear a verbal description of what is happening on screen in between the dialogue, makes programmes more accessible to people with sight loss. Audio described programmes are available across a range of genres. The Vikings Uncovered was the most watched audio described show of the last three months, with over 19,000 audio described downloads of this history documentary. Louis Theroux's Drinking to Oblivion was the second most watched show, with over 18,000 downloads. The Great British Sewing Bee also proved to be a hit with AD viewers, with 16,640 downloads. As well as those who are blind (severely sight impaired), live in carers or family members could also benefit from the concession and enjoy AD programming themselves. A blind concession TV Licence costs £72.75 for colour and £24.50 for a black and white TV Licence.
Matthew Thompson, spokesperson for TV Licensing said:- "If you live with someone who is blind, they are entitled to a concessionary TV Licence, which is half the price of a full fee licence. This will cover you, as well as anyone else living in your household. There is a range of ways to pay; online with a debit or card, monthly or quarterly direct debit, over the counter and by phone or post."

Jenny Lloyd, who works for Action for Blind People in the North West, said:- "TV continues to be a popular form of entertainment for many blind and partially sighted people, thanks in part to new technologies such as audio description and the increasing range of assistive software for tablets and laptops making it easier than ever to enjoy programmes at the touch of a button. We would encourage those who are severely sight impaired to take advantage of the 50% reduction in the cost of their TV Licence if they haven't already done so."

If you live with someone who is eligible and already have a full fee TV Licence in your name, you can transfer the licence to the name of the person who registered as severely sight impaired and halve the cost. To do this, simply fill in the available online or contact TV Licensing on:- 0300 790 0366. Those who use a digital box used to produce sound only, do not require a TV Licence provided it cannot display TV programmes. Anyone who does not watch or record live TV on any device can let TV Licensing know by completing an online declaration. Anyone affected by sight loss can get TV Licensing information by email or in Braille, large print or audio by calling:- 0300 555 0300. An audio podcast about the concession is available online.