Children log on to new lingo...........!
SCHOOL CHILDREN in Liverpool are logging on to an internet based bi-lingual project aimed at breaking down barriers of learning.

The Internet learning zone named 'Lingoland', which aims to open up new opportunities for pupils who speak little English, aimed at children in the city who speak Somali and Arabic to overcome language barriers in the classroom.

Liverpool city council launched the website, as lack of understanding of English in the classroom is often a barrier to learning and achievement.

The 'cool' site is packed full of support material on English, maths and science lessons for 11 to 14 year-olds highlighted by video clips, interactive games and video conferencing, allowing other schools to join in the bilingual lessons on the web.

Barbara Higgins, the city council's equality and achievement officer who set up the scheme, said:- "The new website has been designed to give additional support to children whose first language is not English. It's exciting, fun and is already a big hit with the children."

"It's proving a great help to parents, too. They can also go on-line and help their children with their schoolwork."

Around 120 Somali and Yemeni Arabic children are already benefiting from the new Internet site, and it will be introduced to other schools in the city in coming weeks.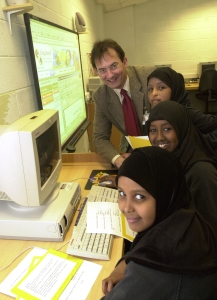 Mum gives birth in Southport Hospital car park...
IT was no ordinary delivery for midwives at Southport & Formby District General Hospital when they were called to assist Jill Farrington who gave birth to her newborn in the car park at the hospital!

After giving birth to three other children Ainsdale mum Jill thought giving birth to her fourth child would be pretty much the same - tucked up comfortably in the maternity ward at Southport Hospital.

How wrong she was………

On Tuesday morning (April 8) 36-year-old Jill was on her way to the Town Lane hospital with her boyfriend, Wayne Thompson, when she felt the all too familiar contractions.

Too late to do anything else Jill went into Labour in the car. She said:- "The baby's head was out when we were at Bentham's Way and by the time we reached the hospital car park the baby was practically on my knee. It all happened so quickly that I didn't have time to feel scared, in fact I was pretty calm."

Her boyfriend's mum, Maureen Patterson, who was in the car with them, ran over to the hospital building from the car park to seek medical help. The team from the midwifery section then rushed to her assistance and brought her straight into the hospital where she was looked after and made comfortable in the maternity ward.

Lynn Wissett, head of midwifery, said:- "When they arrived at the hospital one of the relatives quickly sought help and the midwifery team immediately rushed to her aid. She was brought into the hospital, where she was cared for by one of the midwives. Both mother and child were fine and are doing well."

Jill gave birth to a healthy 6lb baby girl, who she has named Rebecca.

And she was full of praise for the midwifery team at Southport. "They were brilliant," she said. "They rushed to our aid the minute they knew what had happened and took care of us the whole time."

And just in case Jill decides to have any more children she has vowed to leave the house much earlier next time to avoid any early arrivals!

Report by Nicky Williams