Helping City Region and Merseyside businesses plan ahead for Wirral loop line track renewal works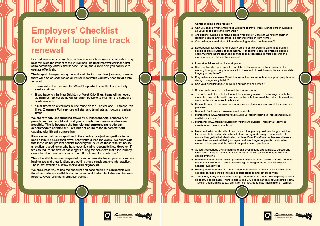 BREAKFAST clubs to flexible working hours… Businesses and organisations have started to share what measures they're putting in place during the Wirral loop line track renewal works, that will start on 3 January 2016. The case studies by Merseytravel and Liverpool and Sefton Chambers of Commerce aim to give other employers ideas so they can play their part in keeping the City Region and Merseyside moving, while continuing to operate effectively and minimising the impact for their staff.

They have been developed alongside a 'checklist' that employers can use to facilitate discussions about the impacts of the work on staff, contractors and service users and whether opportunities exist to support them further.

The key advice to businesses is to encourage their staff to stick to public transport, recognising that an increase in car journeys, particularly cross-river and at peak times, will cause significant congestion in the Mersey Tunnels and surrounding routes, significantly increasing journey times for everyone.

Other hints and tips in the checklist include:- establishing how many staff will be affected, considering ways to reduce cross river travel, such as opportunities for home working or hot desking at other sites, flexible working patterns, giving consideration to the start and finish times of meetings, ensuring staff know all the travel options available to them and seeing if suppliers may be able to make deliveries outside of peak times.

Employers are encouraged to use the checklist and case studies in conjunction with the other materials available via an online toolkit which includes web banners, posters, FAQs and the customer information booklet. These can also be accessed in electronic format, or be requested in hard copy online.

Said Wayne Menzies, Chair of the Liverpool City Region and Merseyside Major Events Transport Board and Head of Rail for Merseytravel:- "We want to work with businesses and organisations to reduce travel during peak periods, particularly cross river, to help people get to work and to keep the City Region and Merseyside moving. This guidance assists with that. We completely appreciate the inconvenience caused by the changes to people's travel arrangements and that many of the tips may not help those with set hours, a location based job or who have specific caring responsibilities. However, if we can help businesses mitigate the impact and reduce the flow of passengers during the peaks we make the journey easier for all; those who can be more flexible and those who can't."

Jan Chaudhry-van der Velde, Merseyrail's managing director, added:- "We appreciate that the work taking place will inconvenience our passengers in the short term, but the renewal of the track in the tunnels is essential and will give us a more reliable infrastructure for decades to come. We have worked hard to ensure that the alternative travel arrangements put in place enable people to continue getting around and cause as little disruption as possible. This goes not just for our own passengers, but also the travelling public throughout the City Region."

Details of the transport options that will keep the Liverpool City Region and Merseyside moving during 6 months of work on Merseyrail's Wirral line, including 6 weeks of full cross river closure from 3 January 2016, are available online.

Network Rail will be replacing the most challenging sections of concrete based track in the 'loop' originally laid in the 1970's, while making the most of the opportunity to carry out other work, including replacing the conventional track under the riverbed.

Network Rail, Merseyrail and Merseytravel, have been working over many months, with local authorities, operators and other partners, to come up with a plan that balances the need to get essential and complex work done with the need to keep people moving and the City Region and Merseyside 'open for business.'

The work, which would also support a new Merseyrail fleet on the network from the early 2020's, is part of a £340m investment in the Liverpool City Region and Merseyside (LCR)'s rail network over the next 3 years.

We're encouraging businesses and organisations to share what they're doing to prepare themselves and their staff for the track renewal work via following Twitter, with the hashtag #trackrenewal.

Aughton fundraisers hit 50 year milestone of support for cancer research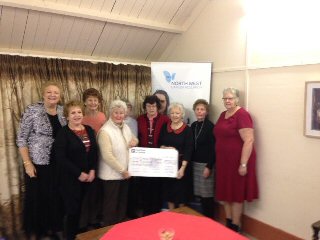 A group of local fundraisers is celebrating more than 5 decades of fundraising activities, helping secure thousands of pounds for cancer research projects in the region.

The Aughton based fundraising committee of North West Cancer Research was formed 50 years ago by founder Amy Armitage, who, along with a group of friends, wanted to help those with cancer and their families by funding research in the region.

With just a handful of volunteers the group started by organising regular coffee mornings and grew steadily over the years. Today, there are 10 volunteers who work tirelessly to organise regular events and activities including coffee mornings, quiz nights, stamp selling, race nights, local concerts and even a fashion show.

Since 2012 the group has raised £30,733 for North West Cancer Research, which funds lifesaving cancer research projects at the University of Liverpool, Lancaster University and Bangor University.

Longest serving member Pauline Welsh has been fundraising with the committee for the last 35 years. She was motivated to join after her mother sadly died of breast cancer. Pauline believes advances in cancer research are vital if we are able to overcome this killer disease. She said:- "What we know about cancer and cancer treatment has developed so much since my mother had cancer all those years ago, but there is still much more research to be done to save more lives. That's why raising money for North West Cancer Research is so important to me. There are people out there who want to do the research to one day eliminate the disease, they just need funding to do so and that's where we come in. By organising regular fundraising events, we are helping to raise funds and increase awareness of the importance of research in the fight against cancer. Thanks to fundraising, cancer research has improved so much, which is why every penny we raise is so important."

All money raised by the Aughton fundraisers has supported lifesaving research, including projects looking at skin cancer and head and neck cancers at the University of Liverpool. It has also helped to fund the next generation of research scientists, as North West Cancer Research currently funds 16 PhD studentships as well as 7 intercalating students.

Current chair of the Aughton committee, Anne Holland, became a member by way of accident, after she volunteered to help with a tin collection in her local pub. She said:- "After 50 years of fundraising and raising awareness of cancer research, it's inspiring to see the work that is being done on our doorstep to tackle one of the region's biggest health problems and makes us more determined to carry on contributing to the fight against cancer."

North West Cancer Research is the regions' biggest cancer research charity and raises money to fund projects to develop a better understanding of cancer. It has committed to funding more than £13 million of research over the next five years across the North West and North Wales.

Bobby Magee, fundraising manager at North West Cancer Research said:- "The Aughton committee has done an incredible job over the past 50 years. Its success is testament to the hard work, time and energy its volunteers devote to support us year after year. The money raised has made a huge difference to North West Cancer Research, allowing us to fund scientists working locally to help in the fight against cancer. Thanks to research, half of all people diagnosed with cancer will now survive. We want to ensure a constant flow of research to further improve our understanding of cancer and to ensure that in the future everyone diagnosed with cancer will have a chance to survive."

The next Aughton committee event will be a quiz night hosted at the Aughton Institute, 27 September 2016.
Reminder - Southport Cruisers are inviting bikers to join them for annual Christmas Charity Run
A group of local bikers, known as the Southport Cruisers will be setting off from Leo's Bar on Nevill Street, on Sunday, 11 December 2016, at 11am. The bikers club will be taking some festive cheer to Clumber Lodge, in Freshfield. To donate cash for the charity who run Clumber Lodge, or to take part in the ride, please contact Pete on:- 07843669912 or email them via:- andyrob9@live.co.uk. Riles will apply to any taking part, so you must register if you want to take part in advance.