Formby Fitness Toy Appeal 2016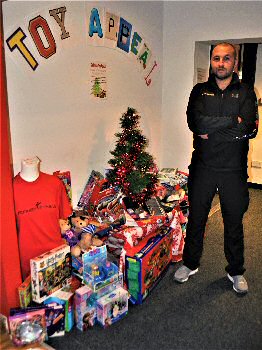 FORMBY Fitness is holding a Toy Appeal for children visiting Ormskirk Hospital Children's Department over Christmas. The fitness centre got the idea after 1 of the owners had to take his son into Hospital, over Christmas last year (2015). Barry said:- "The staff were all fantastic with my son, who had a severer, life threatening, asthma attack. He was well looked after and it made me think about what it must be like for a child, at Christmas, in hospital. So I have decided to hold this year's appeal. Anyone can drop toys in to us. Toys must be new and suitable for any age, between 0 to 16 years. You can drop them off between 6am to 9pm, Monday to Friday, or alternatively from 9am to 4pm, on Saturday and 9am to 1pm, on Sunday. Toys will be taken by our staff to the hospital, on 9 December 2016."
Formby Fitness is located on Green Lane, opposite the Grapes Pub.

We are also aware that the gym has a few extra tickets to its Christmas Party, on 3 December, at the Formby Cricket Club, non-members and members alike are welcome. Tickets are just £15. A cash collection will also be taken on the night, for the toy appeal. Tickets are available from the reception at the gym or by calling:- 01704878887.
North west children's charity receives £10,000 'boost' from juice bar chain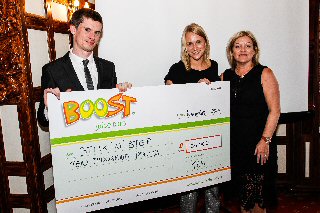 NORTH west charity Stick 'n' Step has announced a giant boost from Boost Juice Bars, with the news that the juice bar chain has raised a remarkable £10,000 for the charity so far this year and has pledged to support it throughout 2017 as well. Boost Juice staff have raised the money for their 2016 Charity of the Year in a variety of ways including running marathons, being 'Tough Mudders' and even taking part in sky dives.

Merseyside residents casts their votes for local community scheme grants
TESCO customers have voted in their millions to help good causes on Merseyside bag a share of a £12.5m carrier bag charge fund.
The supermarket teamed up with Groundwork to launch the 2nd round of its 'Bags of Help' funding initiative, which sees grants of £12,000, £10,000 and £8,000; all raised from the 5p bag levy; being awarded to local outdoor community projects. Millions of shoppers in England and Wales voted in stores up and down the country.
The winner in Southport can now be revealed as Redgate Community Primary School, which will spend the £12,000 grant on its project Community Gardening Project. The runners up were West Lancashire Borough Council and West Lancs Borough Council who bagged £10,000 and £8,000 grants respectively.
The results have been announced and the groups will now use their award to bring their projects to life and transform their community. Mark Thomas, Tesco Corporate Affairs Manager for the North of England, said:- "Bags of Help has been a fantastic success. We have been overwhelmed by the response of our customers and it's been great to give people a say on how the money will be spent in their community. We can't wait to see the money being used to bring these projects to life."
Voting ran in stores from 31 October to 13 November 2016; with customers choosing which local project they would like to get the top award using a token given to them at the checkout in store. Tesco estimates that around 6 million votes were cast in stores up and down the UK. So far, 'Bags of Help' has awarded more than £24m across 2,421 local projects.
From 1 December 2016, customers will be able to vote for local groups all year round, every time they shop; meaning that thousands more projects will benefit from the scheme.
The funding will now be awarded to groups who are seeking to use and develop outdoor spaces in ways that will benefit their local community, and money will be available in smaller amounts, making it more accessible.
Customers will get the chance to vote for 3 different groups each month. At the end of each month, when votes are collected, three groups in each of Tesco's regions will be awarded funding.
Groundwork's national Chief Executive, Graham Duxbury, said:- "It's just the beginning for Bags of Help and we're really excited about the future. The scheme will be permanently open for applications and as grants can now be used for not just the development but also the use of local outdoor spaces, we expect even more groups will now have a chance to benefit. Its projects like these that really help to capture the public's imagination by illustrating what can be achieved when communities are given the support and the encouragement they need to create better places where they live."
Anyone can nominate a local project and local organisations can apply. To find out more visit:- Tesco.Com/BagsOfHelp.
2 arrested after warrant executed in Netherton
2 men, aged 48 and 51, have been arrested on suspicion of possession with intent to supply Class A drugs and suspicion of possession of Section 1 Ammunition, after a warrant was executed, at a property in Netherton. Officers attended at the house on Chester Avenue at 8.15pm, on Wednesday, 30 November 2016. The ammunition, believed to be bullets, have since been forensically recovered.