Liverpool ice rink gets 'seal' of approval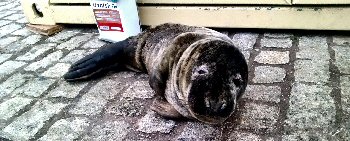 A young grey seal was released back to the water, on 30 November 2016, after straying to an ice rink at Liverpool's Pierhead.
Members of the public 1st spotted the cheeky critter, on Tuesday, 29 November 2016, and again at around 8.30am, on 30 November 2016, after he had found his way behind the ice rink.
The seal had strayed to the back of the ice rink complex at Liverpool's Pierhead, and whilst not injured, couldn't find his way back to the nearby sea.
RSPCA animal welfare officer (AWO) Matt Brown said:- "This little chap had somehow got himself up onto the pier and then onto the ice rink, who knows how. Thankfully he wasn't injured, so we were able to guide him back towards the sea. He was a little reluctant to get back into the water, perhaps he wanted another go on the ice, but after some encouragement, off he went and we watched him swim away."
We advise anyone who finds a seal pup on the beach who is not in immediate danger and looks fit and healthy to monitor the animal. For very young pups, if the mother does not return within 24 hours then call us for advice.
A healthy pup will look big and fat without a neck whereas a poorly pup will look thin and will have a visible neck. If a sick, thin or injured pup is found then calls us on:- 0300 1234999.
If a seal is on a busy public beach with people, children or dogs around, it is likely to be sick or injured.
We advise people not to touch seals, as they can give a nasty bite, not to let dogs or other animals near the seal and not to try and put the animal back into the water, as it could be washed out to sea and lost as it may be too young or ill to survive.
To help the RSPCA to continue rescuing, rehabilitating and re-homing animals in desperate need of care, and to support the winter Love Animals, Hate Cruelty campaign, please visit:- RSPCA.Org.UK/LoveHate2016.
Keys in the ignition warning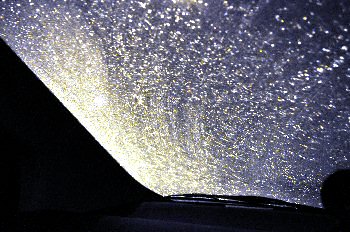 POLICE are reminding motorists across Merseyside not to leave their keys in the ignition following a number of vehicle thefts during the recent cold snap. Opportunist thieves have targeted vehicles left running but unattended in many parts of the force area. Most recently, cars left insecure while owners de-iced the windscreen, warmed the car interior, opened driveway gates or even went back inside their house have been stolen. All the offences have happened early in the morning, usually when the owner is preparing to drive to work and has gone back into their house to get something.

Detective Superintendent Richie Salter said:- "Leaving your car, even for a few seconds, presents the opportunity to thieves to steal your car. These criminals are targeting early mornings when people are de-frosting their cars so do not be fooled that your car is safe left running. Taking shortcuts like this can leave your property vulnerable and could mean that your insurance is invalidated. Neighbourhood officers will be patrolling hot spot areas to deter criminals and raise awareness amongst residents about what they can do to help stop it."

Merseyside Police has issued the following advice to avoid becoming a victim of car thieves:-

► Never leave your vehicle unattended with the engine running. Offenders watch and wait to see who does this, especially on cold and frosty mornings when heaters are left on to defrost the vehicle and warm the cabin.

► Consider using a windscreen cover to stop it freezing over in the 1st place.

► Never leave car keys in the ignition or within reach of your front door or letter box.

► If possible, park in a secure garage overnight or in well lit area outside your house.

► When locking the car make sure that any security devices are activated and don't leave valuables on show inside.

Exciting new show to visit 23 venues during UK Tour 2017
Photo by Brian Doherty CC Small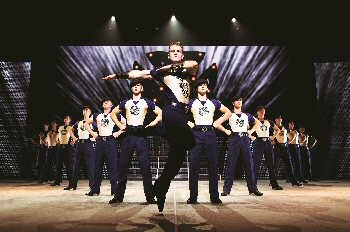 MICHAEL Flatley's spectacular 'Lord of the Dance - Dangerous Games' returns to the UK, early in 2017, hot on the heels of a successful World Tour and the 23 City, major new, National UK Tour, will open in Liverpool, this coming January 2017.
Following a 2015 sell out UK tour, the talented cast embark on a nationwide tour between January and April 2017 to celebrate 20 years of Lord of the Dance. And the Liverpool Empire Theatre has been announced as the opening location to start the new nationwide tour.
'Lord of the Dance - Dangerous Games Tour 2017' is created, produced, choreographed and directed by Michael Flatley; and the mshow is set to wow audiences and dance fans alike in the City.
The original Lord of the Dance show premiered at the magnificent Coliseum in London 2 decades ago, and in 2014, Michael Flatley transformed the show making it even more thrilling than the original.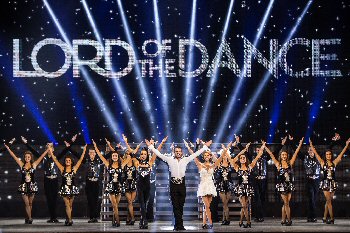 'Lord of the Dance - Dangerous Games' with music composed by Gerard Fahy premiered at the iconic London Palladium in September 2014 to mark the milestone 20th Anniversary, since Michael Flatley became an international sensation.
The show has since gone on to enjoy hugely successful runs in the:- West End, Broadway, the US, Canada, Ireland, Germany, South Africa, Australia and New Zealand.
'Lord of the Dance - Dangerous Games UK Tour 2017' comes to the Liverpool Empire Theatre, from Monday, 9 January 2016 to Saturday, 14 January 2016, for 7 performances. Tickets are on sale now.
'Lord of the Dance - Dangerous Games' continues to thrill audiences around the globe with its intoxicating mix of dance and music that fuses the traditional with the contemporary in a classic tale that showcases the exceptional talent of the cast.
The spectacle will feature 40 of the world's most outstanding young performers directed by Michael Flatley, with new music by composer Gerard Fahy. This latest iteration combines the best of tradition with all the excitement of new music and dance. And now, celebrating 20 years since the debut of the show, fans of the 'Lord of the Dance - Dangerous Games' extravaganza will be able to see Michael Flatley's protégés James Keegan, Fergal Keaney and Matt Smith in the role of the 'Lord.'
The new Michael Flatley DANCE Academy will be working in conjunction with the show to bring pop up sessions to dance enthusiasts throughout the tour. With all the precision and thrills of the original, Lord of the Dance: Dangerous Games features new staging, new costumes and choreography, world champion acrobats, special effects lighting, dancing robots, and cutting edge technology including a giant Radiant flat screen that spans the width of the stage.
Michael Flatley comments:- "Our fans in the UK have been incredibly loyal for the last 20 years and many of my talented dancers hail from diverse parts of the country. We have a world class cast, many of whom will be performing in their home Cities and I am delighted to be able to showcase their remarkable talent."
For more information visit:- LordOfTheDance.Com and to book your ticket visit the Liverpool Empire Theatre book online now.