The Cure live in the North West
Photos by Jo Forrest.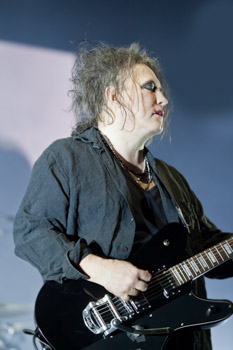 THE English rock band, The Cure's has been celebrating its 40th Anniversary year in style with a world tour. 1 of the latest stops for the band has been Manchester Arena. 12 years since the band last played in the City, it was no surprise that it only took a few minutes to sell out. This hugely anticipated event, that took place 29 November 2016, was extremely well received by fans. The set was not as long as many would have expected, but nearly all came away saying it was a glorious night and was well worth the wait. If you attended please do let us know what you thought of this event via emailing us to:- News24@SouthportReporter.com. These are a few photos by Jo Forrest, taken at the concert. To see more information about the tour go to the bands website.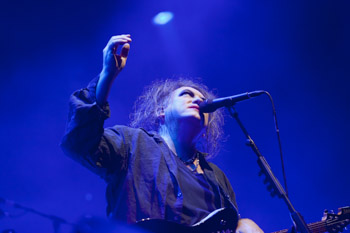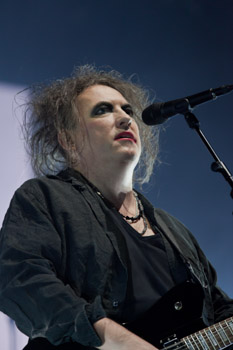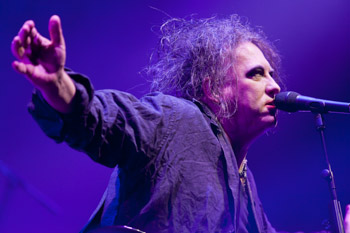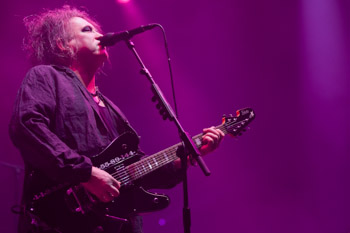 Sofie Hagan Review
Review by Jo Forrest.
SOFIE Hagan is a danish comedian as was winner if the Edinburgh's Comedy award for 2015 Best Newcomer and she was also the winner of Chortles Best Newcomer of 2014 and it hard not to see why.

Sofie played to a packed audience in the basement of Liverpool's atmospheric Slaughter House, a small and very intimate venue and a great setting. Everyone was personally greeted by Sofie as they entered and the evening starts with her stood on the small stage, hiding behind a clipboard and introducing herself and then bursting out from behind it as though she hadn't been there the whole time.

The show begins with Sofie saying she had actually played at Liverpool once before, she had a 20 minute slot, travelled all the way from London where she now lives, for 6 hours only to have the act before her run over by 15 minutes and she was left with a 4 minutes slot.

She compares the politeness of playing in Newport to the more aggressive Leamington Spa where the people there were more likely to say:- "you're dam right you're in Leamington Spa." The evening processes with Sofie going between her life as a child and now, she talks about her estranged father, who left when she was a child, came back and then left again.

Listening to Sofie is like listening to your best friend tell stories of growing up, of marrying a stick of wood with her grandma on the phone reading from the Bible. Her love life and how difficult it is being rejected, her best friend who "could not possible be gay" who then went on to meet and fall in love with another woman. Sofie explains her hatred of crowds of people at parties / nightclubs and how she prefers to hide in the toilets and having 4 walls around her is like having 4 hugs, but just not be people.

The evening was a huge hit with the audience, she kept everyone entertained with stories that ultimately had an undertone of sadness. Definitely one to watch in my opinion, she is incredibly funny and approximately 75 minutes she had everyone totally engaged before personally thanking each and everyone for coming as they left.
Merseyside Waste collections suspended over winter and festive period
HOUSEHOLDERS in Liverpool are being reminded not to leave their green bins out for collection between 5 December 2016 and 26 February 2017. The green waste collection service is being suspended, but there will still be a number of collection points for Christmas trees throughout the City after the festive period. For all information on Purple and blue bin collections see:- Liverpool.Gov.UK. Liverpool Councillor Steve Munby, Cabinet Member for Neighbourhoods, said:- "We know there is a low demand for these services over the winter, and this is something we have done for the last few years. We can make better use of our crews carrying out other tasks which are needed and dealing with the waste and recycling collections over the Christmas and New Year period effectively. We have placed stickers on all bins to notify people about the arrangements."

On the Wirral if you are scheduled for a collection, on Monday, 26 December 2016, your bin will be collected, on Saturday, 24 December 2016. All other collections over the Christmas period will take place as normal. But please remember that there will be no garden waste collections over the Christmas and New Year period. The last collection will be 16 December 2016 and re-start on your scheduled collection day from 17 January 2017 onwards.

For Knowsley area, there will be no blue bin (garden waste) collections, between Monday, 28 November 2016 and Friday, 3 March 2017. Green waste can be taken to the Household Waste Recycling Centres at Huyton or Kirkby during this time. Shredded paper can be stored in the blue bin over the winter period.

| | |
| --- | --- |
| Usual collection day | We will collect your bins on |
| Monday, 26 December 2016 | Saturday, 24 December 2016 |
| Tuesday, 27 December 2016 | Wednesday, 28 December 2016 |
| Wednesday, 28 December 2016 | Thursday, 29 December 2016 |
| Thursday, 29 December 2016 | Friday, 30 December 2016 |
| Friday, 30 December 2016 | Saturday, 31 December 2016 |
| Monday, 2 January 2017 | Tuesday, 3 January 2017 |
| Tuesday, 3 January 2017 | Wednesday, 4 January 2017 |
| Wednesday, 4 January 2017 | Thursday, 5 January 2017 |
| Thursday, 5 January 2017 | Friday, 6 January 2017 |
| Friday, 6 January 2017 | Saturday, 7 January 2017 |
Also see Knowsley.Gov.UK for more information Christmas and New Year waste collections for St Helens Council can be located on its online advice page. In Sefton all the bin collection information can also be located online.

More advice can be found on the Merseyside Recycling and Waste Authority website.
Leo's Bar - 80's Christmas Party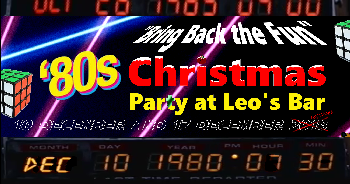 LEO'S Bar, in Southport will be holding 2 fantastic 80's Party nights, on Liverpool 10 December and 17 December 2016. Free entry, Fancy Dress and 80's themed Cosplay, plus authentic 80's style quiz and games... Prizes and more.... So unleash your inner kid and bring back the fun to Christmas... Pop on over from 7:30pm to 11pm and enjoy the retro atmosphere and fun.