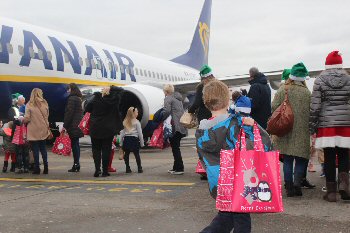 A number of young patients from Alder Hey came to Liverpool John Lennon Airport (LJLA) on Saturday for their very own Christmas experience and all finished off with a 40 minute flight out towards the Isle of Man and back.

LJLA recently announced that it is now a fundraising partner with Alder Hey Children's Charity working with them on various initiatives over the next 12 months and using its #LJLALoves charity branding. As a consequence, the Airport partnered with one of its largest airline customers Ryanair, who brought over one of its Boeing 737-800 aircraft from Dublin to Liverpool and made it available for the Airport to take a number of young patients and their families on a pleasure flight.

Helping to put everyone in a festive mood, the Airport created a Christmas grotto especially for the occasion in 1 of its hangars with a variety of entertainment provided for all the passengers including:- games and prizes and of course a visit by Santa himself. The VIP guests then ended their visit by boarding their special flight which took them out over the Irish Sea towards the Isle of Man and back.

Liverpool based retailer Matalan very kindly donated a number of gifts as did Everton FC that were given to each child before boarding their flight.

In addition, bus operator Arriva, kindly helped out too by taking visiting Ryanair employees and their families who travelled over on the flight from Dublin into the City Centre for a Christmas day out in Liverpool, which included a visit to the:- 'Dream Works Lights Lantern Experience,' at St George's Hall.

LJLA aims to raise around £100,000 over the next 12 months for the Alder Hey Children's Charity with various events planned including a world record wheel barrow pushing attempt to be held, on the Airport runway, on an evening in March 2017.
Letter to the Editor:– "Southport Scouts"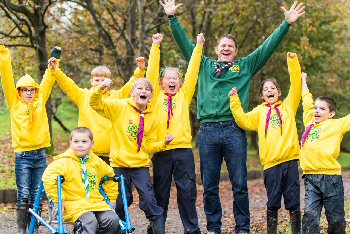 "2016 has been Cubs100, the centenary of the Cub Scout movement, and I'm lucky and proud to be ambassador for their monumental birthday party. The 16 December 2016 will be the 100th Birthday and like the Cubs from Southport, I will be renewing my Cub Scout promise. It's been an incredible year so far with trips, fundays and camp outs, but the best is yet to come with Cubs 100 Birthday parties taking place across the country. For 100 years Cub Scouts have been helping in their communities and this year has not been any different. Through our "A Million Hands" project Cubs in Southport have been helping to make their community a better place to live and work. I would also like to shout out to the volunteers in Southport for their dedication each week to giving Cubs the chance to experience big adventures and take part in activities that could be life changing. Volunteers... We salute you! During this special week, I would just like to say a big happy birthday to cubs past and present as we look forward to another 100 years of endeavour; learning new skills, having fun and making lifelong friends. Yours in Scouting..." Steve Backshall, Cubs100 Ambassador.