SPREADING THE TOURISM WORD
TOURISM officers promotion of Southport to the group travel market have returned from two of the country's leading exhibitions and say they were the most successful yet.

Officers attending 'Great Days Out' in Bolton and the British Travel Trade Fair in Birmingham received more than 200 quality enquiries from coach operators and group travel organisers.

Visitors to the Southport stand were greatly impressed with the wide range of new measures launched at BTTF by the resort to assist operators and organisers when planning visits to the town.

Lord Fearn, Sefton's Cabinet Member for Economic Development and Tourism, said:- "The quality enquiries certainly justified Southport's presence at both travel trade fairs. The group travel market is extremely important to Southport and is an area that is growing fast. The British Travel Trade Fair was therefore the ideal platform to launch our new range of initiatives."

The new measures incorporating a new group's branding include a 'coach driver's incentive scheme' where drivers can collect stickers every time they visit to be redeemed for vouchers in many high street stores.

Other steps already taken include a new quarterly newsletter and the appointment of coach hosts to 'meet and greet' drivers and visitors.

Alun Jones, from Flint-based Jones Holiday Tours, told tourism officers at BTTF:- "Southport is one of our most popular day excursions destinations. Southport always puts the customer first."
NEW KIDS IN TOWN
THE Hong Kong stopover is one of the biggest changeover ports of the Clipper 2002 Round the World Yacht Race. As many crew that started with the boats left and replaced with new crewmembers for the next phase of the race to begin.
As the new recruits tentatively reacquainted themselves with the joys of the galley and those headsail hanks that they will grow to love, some faces were a little nervous. For some it has been nearly six months since they even saw their boats!
The Royal Hong Kong Yacht Club is itself gearing up for a high level of participation for this year's biennial San Fernando Race. Considered one of Asia's classic offshore races, the 480nm race heralds the start of the fourth crew leg of Clipper 2002 and will get underway on April 17.
Winds are often strong as the fleet departs Hong Kong and sails across the South China Sea, but when the yachts reach the Luzon coast, lighter winds call for tactical spinnaker flying as they near the finish line at the small resort town of San Fernando on the northwestern Philippine Coast.
Report with thanks to Liverpool Council

LIVERPOOL JOHN LENNON AIRPORT HITS 3 MILLION PASSENGER MILESTONE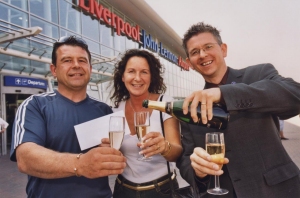 THE FIRST quarter of 2003 has seen passenger numbers at Liverpool John Lennon Airport continue as staff at the airport were pleased to announce the milestone of 3 million passengers had passed through its terminals as the airport gains popularity.
Up to the end of March 2003, passenger numbers were up by 33% compared to the same period last year helping to bring total throughput for the past 12 months to 3 million passengers as celebrated today by Airport staff.
Amanda Fisher from Worsley, Manchester was the unsuspecting passenger who became the centre of attention today having checked in for the 14:15 easyJet flight to Alicante and unknowingly became the Airport's three millionth annual passenger. To help celebrate the occasion, the Airport presented Amanda with two return tickets for flights from Liverpool to Paris and joined her for a glass of champagne.
Liverpool continues to 'buck the trend' with growth levels in excess of many other UK airports. Additional easyJet and Ryan air scheduled services combined with a successful 'Summer 2002-charter' program with three times the level of Winter Mediterranean holiday charter flights, accounted for the continued growth.
EasyJet launched their new Alicante service in January, which is already proving popular. Whilst frequencies have been increased over the past 12 months on the airline's services to Paris, Geneva and Belfast to cater for passenger demand.
Meanwhile other low cost airlines at the airport such as Ryanair, who operate to Dublin and Brussels Charleroi from Liverpool, also continue to perform well.
Neil Pakey, Managing Director, Liverpool John Lennon Airport commented, "We are naturally delighted to have reached yet another significant milestone in what has been an exciting period in the Airport's recent history."
"This news adds to my belief that Liverpool is now a 'Premier League' airport and clearly demonstrates the need for the recently announced next phase of Airport expansion which is now underway, continuing to bring a range of economic benefits to the region. This will undoubtedly prove to be another difficult year for the aviation industry as a whole. However at Liverpool John Lennon Airport I am confident we will continue to experience healthy growth."