Sefton Corporate Cup is a runaway success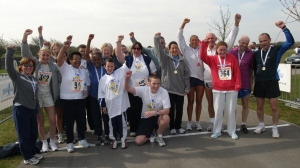 FEW people could boast that they were only seconds behind Britain's super athlete Paula Radcliffe – but that's exactly what Phil McGlory can say after touching the finishing line at the Sefton Corporate Cup just behind the England runner!

Phil completed Sunday's 11am 5k run/walk at Southport in 15 minutes 37 seconds - he was just behind Paula Radcliffe, who pipped him at the post in the London Flora Marathon, where she crossed the line at 11.15am.

Phil, who was running for the Hattons Model Railway 'Off The Rails' team, was one of almost 500 people who took part in the Sefton Corporate Cup on April 13.

It was the second year for the Sefton Corporate Cup, which proved to be another runaway success.

Lisa Corkhill, Events Manager at Healthstart, the organisation behind the Corporate Series, said:- "It was a wonderful day, the weather was kind to us and we had just under 500 people who took part in the run/walk, including wheelchair participants, which was good to see. Everybody enjoyed the event and it was nice to hear the positive comments about the new, scenic route in and around Southport's beautiful Victoria Park."

Jean Hunt, Sefton Council's Senior Officer for Travel Awareness, was also full of praise for the popular event.

She said:- "Everybody thoroughly enjoyed this year's Sefton Corporate Cup and it was nice to see a lot more walkers take part this time. It has certainly become more of a family event with relatives and friends coming along to support those taking part. One thing, which was good to see, was that people were in no hurry to go home afterwards and made the most of the good weather."

"It is definitely an event that is going from strength to strength."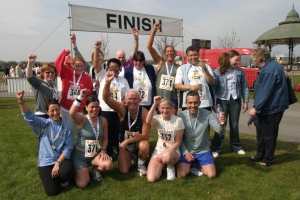 The overall winners are as follows:-
· First male – Phil McGlory
· First female – Jenny Clague
· Overall Winning Team - Hattons Model Railway, Off The Rails
· Division One – Liverpool City Council, Picton Mafia
· Division Two – Hattersley Newman Hender, Three Men And A Lady
· Division Three – St Edwards Sports College, Beer Bellies
· Charity Shield – Holly Lodge Girls College, Holly B


The Corporate Cup kick-started this year's Sefton Healthstart Festival, which runs from June 4-28, to promote healthier lifestyles and encourage people of all ages to take part in more physical activity to help prevent cancer and coronary heart disease. It is developed in partnership between South Sefton and Southport and Formby Primary Care Trusts, together with Sefton Council, and organised by Healthstart.

The Festival's official charity beneficiary in 2003 is the British Heart Foundation.

But if you missed the Sefton Corporate Cup you can always enter the next one in the series, which is the fifth St. Helens Corporate Cup on Sunday, April 27. Alternatively, there is always the Wirral Corporate Cup on June 1.
Report by Nicky Williams (Healthstart)