HSE WELCOMES APPOINTMENT OF RAIB CHIEF INSPECTOR
THE Health and Safety Executive has welcomed the appointment of Carolyn Griffiths as Chief Inspector of the Rail Accident Investigation Branch.

Alan Osborne, Director of Rail Safety at HSE said, "The appointment of Carolyn Griffiths is another important milestone in the implementation of Lord Cullen's recommendations relating to future accident investigation on the railways."

Alan continued, "I look forward to working with Carolyn. One of our first tasks will be to develop the necessary working protocols between RAIB, HSE and the British Transport Police so that RAIB will be in a position to start its work as soon as possible. The protocols should ensure that investigations of rail accidents are undertaken effectively, with RAIB inspectors taking the lead to establish the cause and, where appropriate, HSE inspectors taking necessary regulatory action to ensure continuing safety on the railways." Report with thanks to the HSE.

Scientific trickery… "Abdullah's Dilemma"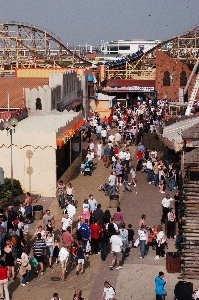 Scientific trickery… "Abdullah's Dilemma"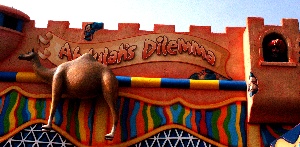 JUST opened this week, the newest £250,00.00 attraction to Pleasureland, Abdullah's Dilemma drew a lot of attention. On the outside it is not much to look at, but as soon as you go in, it is very confusing…. Mark Lee, Marketing Officer for Pleasureland took me in, but we soon got lost in the "Maze of Mirrors". Mark said, "It is fantastic addition to the original 1001 Trouble Mirror Maze, this attraction is a fantastic. It has surprised me as I can not work out the way through and I work here!" Visitors trying to unravel "Abdullah's Dilemma" will then have to solve impossible pictures and countless conundrums. The final challenge comes in the shape of the Haunted Swing - if you're brave enough to try it you'll really appreciate the gravity of the situation!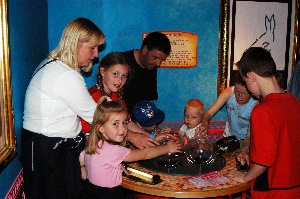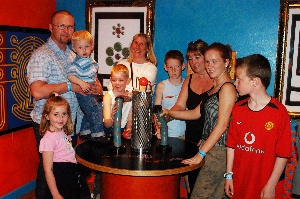 Photographs by Patrick Trollope.

All Old Woodworking Tools Wanted.

Workshops cleared. £100 minimum paid for NORRIS planes. Old model or pond yachts wanted. Best Prices Paid. TONY MURLAND 01449 722992.

Email:- tony@antiquetools.co.uk
Website:- www.antiquetools.co.uk