HEAT WAVE!
Photographs by Patrick Trollope.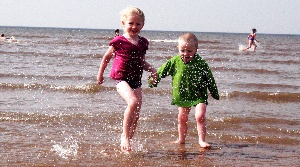 THE hot sun drew thousands of people to the beaches on Good Friday. As the high tide was in, the cars backed up on Friday morning to Woodvale trying to get parked on Ainsdale beach. By about 12:30 things had started to move and the public soon drove on to the beach as the tide flowed out. The high tide proves fun for the children and adults who managed to find a place to park. One local resident from Banks said, "It is fantastic to come down to the beach and let the children play under the warm sun. It is not your normal bank holiday. I just hope it lasts." The children added with a splash. "Mum, are you coming in?" One of the Sefton Fishing Club said "the weather is fantastic and the high tide should bring some release to the hot occupants of the cars waiting to get on. We had a fantastic time, as the see is like a millpond."

All Old Woodworking Tools Wanted.

Workshops cleared. £100 minimum paid for NORRIS planes. Old model or pond yachts wanted. Best Prices Paid. TONY MURLAND 01449 722992.

Email:- tony@antiquetools.co.uk
Website:- www.antiquetools.co.uk
Scientific trickery… "Abdullah's Dilemma

Photographs by Patrick Trollope.
DESPITE the heat the cool interior of the newly opened St. James church, Birkdale was home to a very special performance. Interestingly the church was that was home to the maker of the Eagle Comic Book, just thought I would add it in. The atmosphere and aquatics leaned perfectly to the orchestra who preformed Vavaldi, Bach, Mozart, Pachelbel and Tchaikovski. This was not only stops, but one of many on a tour that takes them all over the North West of England, but the flue player said that "So far this has been the best venue. The audience is fantastic and the setting is even better."