It'll be lonely for carers this Christmas, finds new study by local charity Revitalise
ON the eve of Festive Season, disability charity finds carers feel exhausted, sleep deprived and lonely. With many of us looking forward to enjoying the festivities this holiday season, a new study by local disability charity Revitalise, which runs the Sandpipers respite holiday centre in Southport, has worryingly revealed that many carers have far less reason to be jolly this Christmas.

The charity's research found that 37% of the UK's carers will be lonely, 30% of whom were aged 70 or over. Worse still, at a time when most people are looking forward to relaxing with family and friends, the Revitalise study found that 60% of carers feel unable to 'switch off' from their caring role, with 69% saying they are always tired, feel mentally exhausted (63%) and 61% admitting they have trouble sleeping. And, with the New Year fast approaching, it's evident that the plight of unpaid carers all across the UK does not lend itself to an optimistic outlook for the future either. 52% of carers did not know how they would be able to cope if things continued the way they were. 40% also expressed concerns that they would end up ill, in chronic pain or disabled themselves; not surprising since 55% of carers had been caring for 10 years or more and a shocking 45% had sustained injuries or chronic health conditions as a direct result of caring, the survey revealed.

In light of the study's findings, Revitalise is calling for more funding from central government to enable local authorities to give unpaid carers all the support they need and is renewing its call for sufficient funding for respite breaks to be a fundamental element of all social care provision. Revitalise is also delighted to have the support of Revitalise Vice President, Dame Esther Rantzen, who is fronting the charity's 2016 Christmas Campaign:- 'Shining a light on loneliness.' Those wishing to make a donation to Revitalise's work are kindly asked to go online. Every penny donated will go into the Revitalise Support Fund to help those struggling to afford a break. Picking up on the key issue of loneliness, Dame Esther Rantzen, added:- "It is thanks to the dedication and commitment of the 6.5 million carers in the UK that not only are our parents, siblings and children looked after with love and compassion, but also the UK economy benefits enormously. So it is somewhat depressing to find that 4 out of 10 carers feel lonely. This feeling of isolation must be felt even more keenly at Christmas, a time of year devoted to family and togetherness. That's why I'm urging you to support Revitalise's campaign to give unpaid carers the recognition they deserve and help combat the damaging effects of loneliness. Please, give what you can; and help us rekindle the true spirit of Christmas."

Revitalise is a national charity providing respite holidays for disabled people and carers. Revitalise provides short breaks, with 24 hour nurse led care on call and personal support, at Sandpipers in Southport and 2 other accessible centres in Chigwell in Essex and Southampton. Each centre offers a wide range of accessible activities and excursions in a holiday environment.
'None For The Road' this festive period
MERSEYSIDE Police are strongly urging the region's motorists to heed advice and have 'None For The Road' over the festive period. Already during this December's Police Operation, 105 people have been arrested for drink and drug driving. The Operation began on 1 December 2016, and to date 54 drink driving and 51 drug driving offences have been identified with 40 arrests last weekend alone. During the whole of the 2015 operation (across December 2015), only 66 drug drivers were arrested. Inspector Keith Kellett from Merseyside Police Roads Policing Unit said:- "We are less than half of the way into this year's operation and already over 100 people have been arrested. The reality is that this is 100 people who have ruined their own Christmases and those of their families, not to mention the huge dangers they pose on the roads. The incident in Walton at the weekend where a suspected drink driver crashed into a house on the corner of Grandison Road and Lauriston Road, is just 1 example of the huge dangers that drink and drug driving can pose. We are determined to make Merseyside as safe as possible by removing these people from the roads. Whether motorists are ignorant of the laws or are confident that they will not be stopped, I want to make it clear that our patrols will continue across the force and we are carrying out hundreds of breath and drug tests every day, including in the early mornings to ensure people driving the morning after a night out are also on our radar. If you know or suspect anyone of being a drink or drug driver, please report any concerns on:- 101 or Crimestoppers anonymously on:- 0800 555 111 and we can take immediate action."

Mayor of Liverpool experiences "breath taking" visit to the new Royal Liverpool University Hospital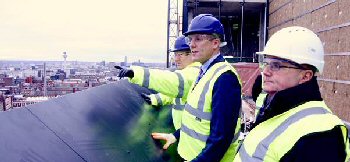 THE Mayor of Liverpool, Joe Anderson has attended an exclusive preview inside the new Royal Liverpool University Hospital. Mayor Anderson added:- "It's absolutely breath taking, it really is! I came to the topping out ceremony last Christmas and am excited to see how it has progressed since then. I am really looking forward to when the Hospital will be ready for occupation."

The Mayor also visited the inpatient wards on the 4th floor, and discussed the technology which will support patient safety in each of the patient rooms.

Visiting the critical care ward and theatres on the 2nd floor, the Mayor learned how state of the art technology will improve patient safety, dignity and privacy allowing nurses to monitor patients directly in each of their rooms.

Each in patient ward has a relaxation sitting area for patients and relatives to aid their recovery, something that isn't currently available in the existing Hospital.

Much work has also been dedicated to enhancing staff facilitates, including staff restrooms and staff changing facilities which are located on each floor.

The garden and courtyard facilities will provide much needed green space to enhance the health and wellbeing of patients. The tour also highlighted how the interior of the Hospital will display original artwork from artists and will house improved cafes and retail outlets.

Mayor Anderson said:- "I'm just absolutely amazed and overwhelmed with the scale and the size of the building. Seeing it for myself I can see how this facility will provide fantastic benefits to patients, staff and visitors."

1 of the most striking things that visitors to the Royal can expect is the bright and spacious atrium, the Mayor saw this 1st hand, as he was 1 of the 1st to walk through the new atrium, located at the heart of the new Royal.

Once open, the Royal Liverpool University Hospital will be the largest all single patient room Hospital, within the UK. The new Hospital will contain 646 beds, all in individual en-suite rooms, spread across 23 wards. There will be a 40 bed critical care unit and 18 operating theatres.

Mayor Anderson added:- "The new Royal Liverpool University Hospital is such an important development that's taking shape in our City; it will bring about world class healthcare for the people of our community and provide an essential partnership in innovation and advances in science and medical research."

Aidan Kehoe, chief executive of the Royal Liverpool and Broadgreen University Hospital added:- "The tour was a fantastic opportunity for the Mayor to visit the new Hospital and see for himself the hard work that is enabling the development to progress. We have worked tirelessly with our staff and Carillion to get this right for staff and patients, to ensure we are providing state of the art facilities and lead the way in supporting and treating patients with the best possible care. The Hospital forms part of the Health Campus situated in the Knowledge Quarter Liverpool which is a Mayoral Development Zone this is fast becoming one of Europe's leading innovation districts. The Mayor had the chance to see how much of an asset the new Hospital will be for the area and how it will bring about greater relationships with stakeholders and open up new opportunities for research and development in science and in health. Thanks to the Mayor, local MP's and Councillors for supporting the new Royal Liverpool Hospital development, the new Hospital will enable a significant advancement in healthcare in our City."